Imperial PalaceMoatThe mute swan, which is popular as a symbol of, is likely to disappear in the future. Next year will be 70 years since the first breeding of birds, but the initial 24 birds have decreased to 5 times, which is one-fifth, and the population is aging. It is difficult to take over from another facility from the viewpoint of animal welfare. (Hiroyuki Abe)
◆ Popular as a bird in Chiyoda Ward
According to the National Park Association, which manages the Imperial Palace Gaien, in 1953, through the "Meeting to release swans into the moat" created by volunteers of the Tokyo Zoological Park Society, the Imperial Palace Gaien Preservation Association (currently the National Park Association) received 15 birds from Ueno Zoo. A total of 24 mute swans, nine of which were presented by the Hagenbeck Zoo in Germany. The local Chiyoda Ward established it as a bird in the ward in 1984 with a familiarity with the mute swan.
Four of the current five are estimated to be over 20 years old, and two are of unknown gender. Breeding can no longer be expected, Sakurada Moat and Babasaki Moat, Wadakura Moat, Kikyo Moat,ClamThey release one bird at a time to the moat and feed it with solid food.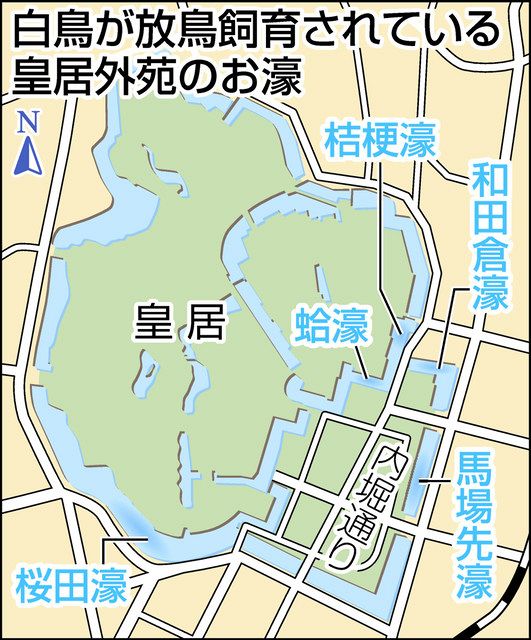 In the past, swan has been transferred or exchanged with Nagoya Castle (Nagoya City), Hikone Castle (Hikone City, Shiga Prefecture), and Ushiku Swamp (Ryugasaki City) in Ibaraki Prefecture. However, the number of breeding decreased due to illness, turf war, and accidents where the neck was caught in the gap between stone walls. Eggs and chicks were attacked by crows and moat soft-shelled turtles.
◆ Human ego? Agricultural damage in Chiba …
When raising exotic swans for ornamental purposes, either cut off the wind feathers that grow every year to prevent them from flying away, or be more careful with the wings.tendonSurgery is performed to cut and make it impossible to fly. The swan in the moat of the Imperial Palace has been operated on one wing to prevent it from being involved in a traffic accident.
According to Eiji Okamoto, General Manager of the Operations Department of the National Garden Association, the idea of ​​animal welfare has changed since 70 years ago, and swan lovers said, "It is a human ego to see a swan as a cool view of the Imperial Palace." It's a harsh environment. "
In 2010, the Ministry of the Environment announced a negative policy on the introduction and proliferation of new swans. Recently, agricultural damage caused by wild swan around Teganuma in Chiba Prefecture has become a problem.
Mr. Okamoto said, "It's time to find a direction in consultation with the people concerned such as the national government and the metropolitan area" for the breeding of moats at the crossroads.