The evening of June 19th, "Legendary Concert" Akina Nakamori Special Live 1989 Remastered Edition "" (NHK General TV) was scheduled to be broadcast. What was broadcast on NHK's BS4K and BS Premium this spring was a big hit, and it was rebroadcast on terrestrial broadcasting.
* Since the broadcast schedule has changed due to the impact of the earthquake that occurred on the 19th, some expressions have been changed.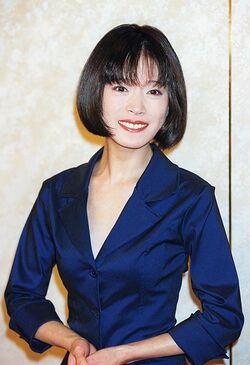 Akina Nakamori (Photo = Jiji Press Photo)
In the past, this "Legendary Concert" series broadcasts live performances of Candies, Tulips, Hideki Saijo, Checkers, Yutaka Ozaki, and RC Succession. Of these, Candies and Checkers are the dissolution live, and Ozaki is the last live of their lives.
On the other hand, Akina is just a commemorative live for the 8th anniversary of her debut. Nonetheless, it was a big hit because, in addition to her popularity, this live has a historical meaning that is comparable to "dissolution" and "end of life."
It was held in April 1989. The venue is "Yomiuri Land EAST," which was often used for idol outdoor concerts. Here she sang all the singles so far. Therefore, this was a live performance that tells a part of the history of songs in the 1980s.
After all, Akina made her debut in 1982 and made a break with her second song, "Shoujo A". In 1985 and 1986 she won the Japan Record Awards for the second time in a row. She is the second feat in history after Takashi Hosokawa. This is also the idol's monument along with Seiko Matsuda, who was called a rival, who won the top spot on the Oricon chart for 24 songs in a row.
In addition, Oricon's annual best 10 is 1983 "Second Love" 1984 "Jukkai (1984)" "North Wing" "Southern Wind" 1985 "Mi Amore" "It's not a decoration, tears" "SAND BEIGE" 1986 "DESIRE-Passion-" "Gypsy Queen" 1987 "TANGO NOIR" "Shipwreck" "BLONDE", 12 songs ranked in in 5 years. By the way, Seiko, who made her debut two years earlier, has only five songs in the seven years from 1981 to 1987. It is data that shows the fulfillment of Akina as her popular singer.