Iguazú (LaVozDeCataratas) Today is the day of the vet, we want to make visible these doctors who are behind and don't have time for posts or claims, they are trying to save an animal.
A few days ago we saw a post by the veterinary doctor Marina Ramosin which he had a situation that deserves to be addressed.
"I don't usually upload these types of posts but the reality we are living in makes me feel compelled to do so. Just as there are many people in our city who take great care of their pets, there is another great quantity that not only does not take care of them but also leaves them in a terrible state of health.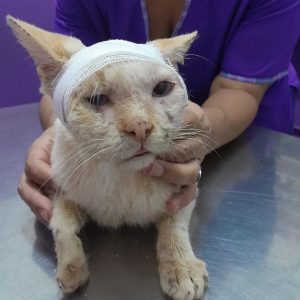 I am going to present this case to you as an example of what happens almost every day in our vete. ANDThis kitten came to consultation in the hands of Leticia, a person who takes care of abandoned animals.
He was in a total state of malnutrition, he did not eat, he did not drink water. A number of maggots were pulled out of his face. After cures and medication for several days, he improved. until through surgery the injury could be reduced. He will continue with treatment until he is cured and after his surgical sterilization he will be given up for adoption."
Marina emphasized fighting for responsible pet ownership. Surgical sterilization for females and males canines and felines. Mandatory anti-rabies vaccination for pets 3 months and older. Periodic deworming and treatment of external parasites.
"This issue in our city is already a Public Health issue. There are many zoonotic diseases, that is, they can be transmitted to humans that will have great consequences on our health.
"Let's each put our grain of sand and surely we will manage to improve the situation. The first step is for people to know the situation in which we find ourselves"
If everyone did their thing from responsible ownership, this would not happen.
Grateful to this doctor for dedicating her time and her love to save these animals.