To Seven: «Borges was very ironic. He told me: "I am convinced that they have never given me a Nobel Prize because they are convinced that they have already done so".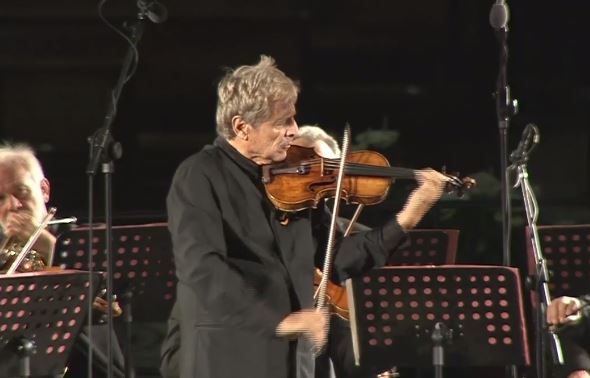 The Corriere della Sera Sette interviews the violinist Uto Ughi. He has been playing the violin since he was 5 and continues to study.
"Even today, when I'm 78, I study for at least two hours every day. Indeed, it would be better to say that "I train", because our life is not so different from that of athletes. Music is also and above all a physical fact ».
He first performed when he was 7 years old but rejects the label of child prodigy.
«In Italy you see a child who plays well and think about the miracle. But if we go, for example, to Japan, we find that this is normal. A question of method: there they adopt Suzuki, a didactic that starts from the assumption that the human being is a musical animal. In short, we are all born with music in our genes. A good musical education is enough, which unfortunately in Italy is not so taken into consideration ».
Not just classical music, it's about pop music.
"If I think of the Beatles, I think of noble ancestry, because in their repertoire we also find ancient Elizabethan songs, a popular but rich, varied, very beautiful genre. If I think of Måneskin, on the other hand… I think they are a social phenomenon, perhaps in fashion, but they have little to do with music ».
Keep on:
«I'm not saying that they are as harmful as some exponents of the so-called trap or rap, but I say that music is something else. Modugno was better, to give an example. But also Lucio Dalla, not to mention the great Mina. Pop music has its own depth and, even if I grew up with Bach or Paganini, I can recognize a well done piece. Because I know how to recognize the basic idea, the originality, the purity of the execution, the skill in singing. To me Måneskin seem like a band capable of setting trends, but nothing more ».
Among the many encounters of his life there is the one with Jorge Luis Borges. He describes him as a simple and humble and above all ironic man.
"He was gifted with a very subtle irony. He told me: "You see master, I am persuaded that they have never given me a Nobel Prize for the simple fact that they are convinced that they have already given it to me".
Not just writers: he also met many politicians, such as Andreotti and Bertinotti.
«Giulio Andreotti was a regular at my concerts. Well, but I must also mention Fausto Bertinotti, who once made me an involuntary witness to a worry about him. We met, we started talking and after a while he confessed to me: "Dear Ughi, but he knows that now I don't even know who to vote anymore?" ».
What does the idea of ​​happiness represent for you?
"Perhaps it approaches serenity. But in music it's different, he knows. There are happy musicians and musicians who are looking for happiness. Mozart, for example, was a happy artist, this state of grace was part of his identity. His manuscripts contain no corrections because everything in him was part of a blessed and unstoppable flow. Nothing was forced. Beethoven, on the other hand, was an artist who desperately sought happiness and, failing to find it, ended up suffering. I think they both represent a great life lesson. Music is not just a score, but it is also the life, the biography of the artists. And if at school music were not considered just an accessory, but a tool for growth, I think that the health and well-being of our children would benefit a lot ».
Napolista
ilnapolista © all rights reserved