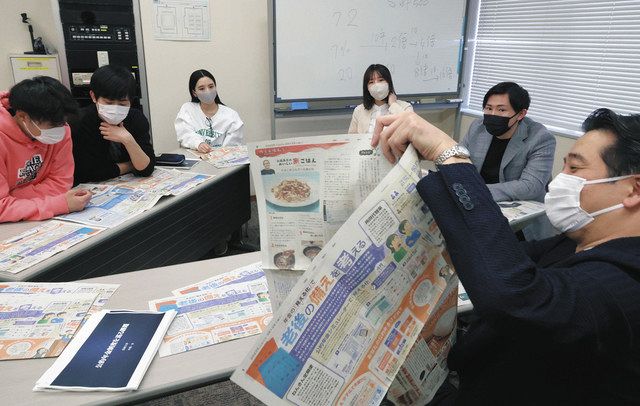 Can we spend our old age without worrying about money? Students from the seminar of Professor Kazumasa Oguro of the Faculty of Economics, Hosei University worked on learning to deepen the understanding of pensions and investment by the younger generation. The Tokyo Shimbun Sunday edition "Great Illustrated" (published on March 13), which was featured under the theme of "Thinking about preparations for old age with" visualization "of pensions," is also used. We exchanged opinions while referring to the paper.
A skyscraper Boissonade Tower towering over the Ichigaya Campus of Hosei University. Five students gathered in a room on the 25th floor, and first heard from Professor Oguro a detailed explanation of the issues surrounding Japan's public pension system.
"One is the problem that the basic pension is declining. How to secure the financial resources." "There is also the problem of the third insured person. The wife of a full-time housewife such as a company employee or a civil servant. You can get a basic pension. It is unfair compared to double-income households. " Professor Oguro listed the issues to be solved in order, saying, "If public pensions become stricter in the future, it is important to have a mechanism to promote asset formation from a young age as the second pillar."
All five students are in the third grade and are 20 or 21 years old. Even if I say preparations for old age, I still don't seem to realize it. However, when Professor Oguro asked, "Are you doing something?" About asset formation, one of the male students said, "My friend started NISA (with a small investment tax exemption system)." Another male student said, "It costs about 15,000 yen a month. It will be 20 million yen in the future …" He revealed that he is working on a small investment with tax incentives. The student also reads the Nikkei newspaper and English news services.
Professor Oguro told a female student, "I want to do it, but what should I start with …" "I should buy as many stocks as possible, but I can't buy as many as I can. Investment trusts can hardly charge a fee. There are also things. " She also touched on the "Effects of Long-Term Diversification" article, which was explained on the large illustrated paper with the headline "Investment is not gambling."
If economic growth is not expected, the pension system will not be enhanced. The younger generation will need to be more interested in improving the system and preparing for self-defense. One of the students pointed out, "If learning about money, such as asset formation, is done in school education from among children, wouldn't it feel more familiar?" (Mitsunori Higashimatsu)
On the 24th, we will introduce the learning of stock investment using digital newspapers at Tokyo Metropolitan High School. The Sunday version of the large illustration can be used for education. Please also use back numbers = from here.