September 22, 2022
9 min read
Source/Disclosures
Published by:
Source:
Healio Interviews
Disclosures:
Albert, Eagle, Gulati, Hayes and Salerno report no relevant financial disclosures.
We were unable to process your request. Please try again later. If you continue to have this issue please contact customerservice@slackinc.com.
Mortality from CAD has fallen dramatically in the U.S. overall during the past 40 years due to rapid progress in prevention and treatment strategies, yet data show younger women have not benefited from this trend.
Contemporary trends in the incidence of acute MI admissions indicate the annual incidence of acute MI hospitalizations among young women, generally defined as those aged 55 years and younger, did not decline from 1995 to 2014, despite an observed decrease among young men. Compared with young men, young women experiencing MI also had a higher comorbidity burden and were less likely to undergo an invasive strategy or be managed with guideline-based acute MI medications.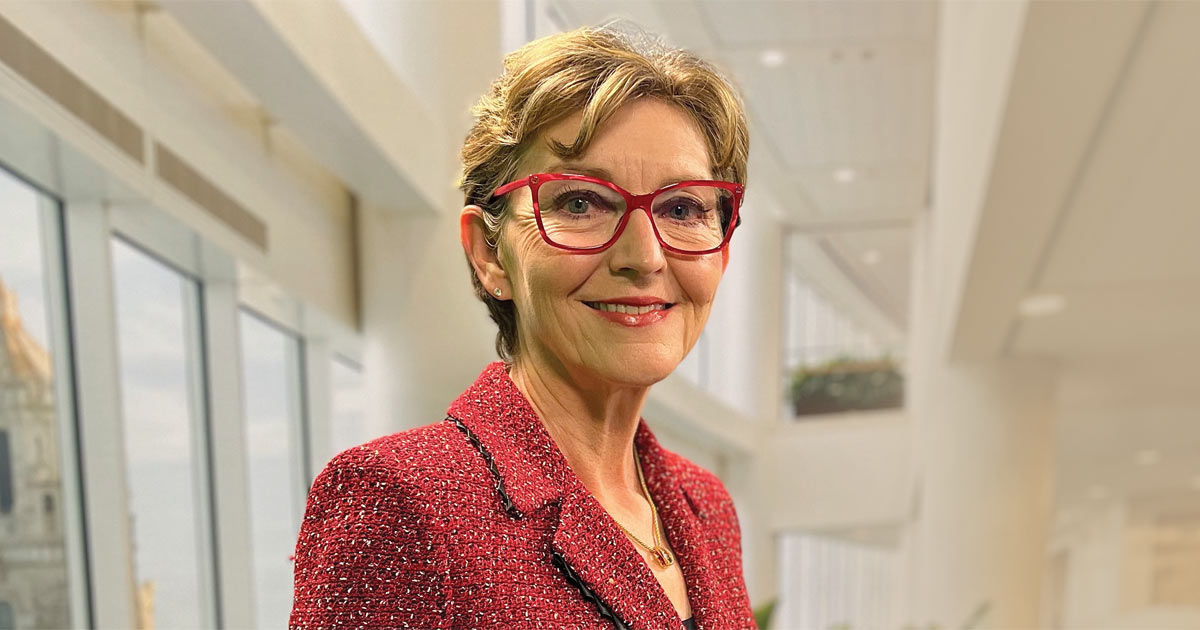 Sharonne N. Hayes, MD, FACC, FAHA, from Mayo Clinic, discusses myocardial infarction risk in premenopausal women. Source: Jeff Gansen. Printed with permission.
"The data are concerning because we have seen such dramatic declines in CHD, particularly for men," Sharonne N. Hayes, MD, FACC, FAHA, professor of cardiovascular medicine, former director of the Office of Diversity and Inclusion, and founder of the Women's Heart Clinic at Mayo Clinic in Rochester, Minnesota, told Cardiology Today. "Even during the past 5 or 6 years, we have seen improvements for older women, but this group — premenopausal women — are stuck. There has been a lot of speculation about why that might be."
Additionally, data from the CDC's National Hospital Ambulatory Medical Care Survey (2014-2018), published in the Journal of the American Heart Association in May, showed young women and people of color with chest pain waited longer to be seen by physicians independent of clinical features, whereas women were independently less likely to be admitted when presenting with chest pain. During an ED visit, women were less likely to be prescribed antiplatelet agents and antianginal medications compared with men.
"At the same time, we have seen increases in diabetes and hypertension, when women present with symptoms that may be suggestive of underlying heart disease or even having a heart attack, we are less likely to recognize them," Martha Gulati, MD, MS, FACC, FAHA, FASPC, FESC, president of the American Society for Preventive Cardiology, professor of medicine at the Smidt Heart Institute at Cedars-Sinai, director of CVD prevention and associate director of the Barbra Streisand Women's Heart Center, told Cardiology Today. "We still underappreciate women's risk for MI, and yet everybody will tell you that we are seeing younger and younger women having heart attacks. We need to get over our shock and get on to more aggressively identifying people at risk, not using age as a reason not to investigate."
'Treatment bias still exists'
The proportion of acute MI hospitalizations attributable to younger adults has been steadily increasing, making heart disease a leading cause of morbidity and mortality in this age group. However, research suggests there are significant sex differences in risk factors associated with acute MI and in the strength of associations among young adults.
In a matched case-control study published in May in JAMA Network Open,Yuan Lu, ScD, with Yale School of Medicine, and colleagues analyzed data from 2,264 adults aged 18 to 55 years with acute MI and 2,264 population-based controls. The researchers identified seven risk factors — diabetes, depression, hypertension, current smoking, family history of acute MI, low household income and high cholesterol — that were associated with a greater risk for acute MI in women. Among men, current smoking and family history of acute MI were the leading risk factors.
"Given that the prevalence of these modifiable risk factors is increasing in the U.S., the high prevalence of risk factors and the strong association with acute MI in young women together will put them at a substantial risk for future cardiovascular events," Lu and colleagues wrote.
Gestational risk factors also play a role for young women, according to Kim A. Eagle, MD, MACC, director of the Samuel and Jean Frankel Cardiovascular Center, the Albion and Walter Hewitt Professor of Medicine, and professor of health management and policy at University of Michigan.
"We know that gestational risk factors portend a greater risk for CV problems," Eagle told Cardiology Today. "It is not just 20 years later; it is in the next 5 or 10 years. A woman who has gestational hypertension or diabetes or eclampsia identifies themselves as being as higher risk."
Nontraditional forms of MI, such as MI with nonobstructive coronary arteries, known as MINOCA, are also more common in young women compared with men. Among women, spontaneous coronary artery dissection (SCAD) is the etiology of ACS in as many as 35% of women younger than 50 years, according to Hayes, and is the most common etiology of MI associated with pregnancy. The mean age among women with SCAD has been reported as 42 to 53 years.
"For years, we didn't recognize that," Eagle said. "Women would come in with typical cardiac symptoms, they get hospitalized, they undergo heart catheterization, and they were told their heart was normal and they had anxiety or something else. That literature biased beliefs for many years, until we started to recognize MINOCA, SCAD and all those less traditional types of coronary disease that are disproportionately present in women. That is a treatment bias that still exists."
Hayes said she repeatedly encounters women who have reported symptoms and were not believed.
"Women are often gaslit," Hayes said. "People have rationalized missed and delayed diagnoses of MI in women by citing that, 'Women have atypical symptoms.' No. A woman walks in and says, 'I have chest pain, am sweating and pain is going down my arm,' and no one thinks about the heart. That has improved, but I can tell you since my area of research has been women with SCAD, some young women come in saying they feel like they have an elephant on their chest and they are not believed, because they don't look like a heart patient."
Sex differences in imaging
Women have a unique phenotype of ischemic heart disease with less calcified lesions, more nonobstructive plaques and a higher prevalence of microvascular disease compared with men, which may explain in part why current risk models to detect obstructive CAD may not work as well in women, according to Michael Salerno, MD, PhD, MS, professor of medicine and radiology and section chief of cardiovascular imaging at Stanford University. In a state-of-the-art review published in August in JACC: Cardiovascular Imaging, Salerno and colleagues highlighted that a change in thinking that considers sex-specific difference in risk factors, coronary physiology and pathophysiology, and clinical symptoms is needed to provide optimal care for women presenting with angina.
"There is a growing recognition that CAD is different in men and women, with more nonobstructive disease and higher prevalence of microvascular disease in women," Salerno told Cardiology Today. "We have been stuck in the same mindset for a long time — thinking about CAD as one disease that is the same in men and women. At the same time, we have had an evolution in our imaging techniques that allow us to better assess nonobstructive coronary disease by CT, or myocardial flow reserve by MRI or PET. Many of our noninvasive strategies have been focused on the concept of detecting obstructive CAD, which is not serving our patients who have chest pain not caused by blockages in the coronary arteries."
Salerno and colleagues noted that women have smaller epicardial coronary arteries than men, even after adjustment for age, BMI, body surface area and left ventricular mass, which complicates accurate assessment of distal coronary arteries by coronary CT angiography. Women also have thinner myocardial walls, making it more difficult to detect non-transmural ischemia. PET imaging studies have shown that, compared with men, women have higher coronary blood flow at both rest and peak stress, but similar coronary flow reserve, he said.
"It is more technically challenging to image thinner structures or smaller vessels by any of the imaging modalities, which may result in a different performance of these techniques in men as compared with women," Salerno said.
Salerno said when evaluating women for suspected CAD, the pretest probability must be considered, and testing should be chosen wisely according to appropriateness.
"Given that we know women are less likely to have obstructive disease, it is important to make sure that we are using noninvasive techniques for assessing both anatomy and perfusion before sending patients on to invasive studies," Salerno said. "In this way, the cath lab is reserved for cases where patients are likely to have obstructive disease, need an intervention, or where we cannot figure out what is going on noninvasively," Salerno said.
Role of social determinants, mental health
In addition to traditional risk factors, risk conditions for young women are likely not accounted for in current risk estimation equations. Social determinants of health and mental health factors can contribute substantially to the CV risk of young women but are not routinely evaluated or managed, according to Michelle A. Albert, MD, MPH, FACC, FAHA, president of the American Heart Association and the Walter A. Haas-Lucie Stern Endowed Chair in Cardiology, director of the University of California, San Francisco (UCSF) Center for the Study of Adversity and Cardiovascular Disease (NURTURE Center), Admissions Dean for UCSF School of Medicine and professor of medicine at UCSF. Data show young women with MI have a more adverse sociodemographic and psychosocial profile compared with similarly aged men, including lower income and education, more life adversities, and higher symptom burden of depression and stress.
"Economic adversity is fundamentally a life course stressor and perhaps the major driver of health and educational inequities rooted in structural racism," Albert told Cardiology Today. "Recent research suggests, for example, that differences in outcomes between younger and older women and men with heart attacks relates in part to psychosocial stress, and in particular financial stress. Also, research from our team at UCSF shows that financial strain is associated with poor CV health.
"The group of women always most affected by heart disease is racial and ethnic minorities, and the decline in awareness is most notable among younger women," Albert said. "The AHA, pivoting on that, is focused on the issues of BP control, maternal health and COVID-19. The AHA's signature Go Red for Women program is currently focused on educating women and women's vascular health across the life course because these are major areas that contribute to this early morbidity and mortality in younger women."
Moving beyond 'bikini medicine'
In a research article published in 2019 in Circulation, the authors noted that there is an "enduring need" for effective preventive strategies to reduce the burden of CVD in the young population, especially among young women. These include ongoing primordial, primary and secondary prevention efforts to promote uniform and guideline-based care targeting acute MI, associated cardiometabolic comorbidities and adverse health behaviors in the young population.
There have been improvements in the treatment of women with MI, Eagle said, but much more is needed.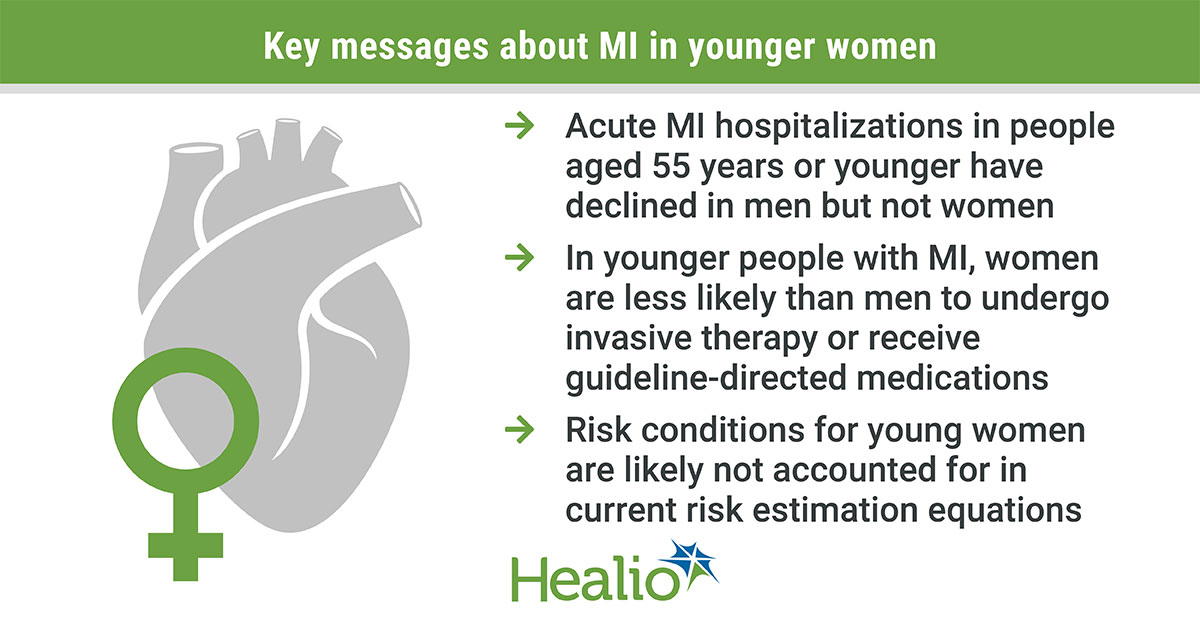 Click to enlarge
"There are now separate guidelines for how you think about coronary heart disease in women; there are separate documents talking about the challenges of imaging in women and trying to find these alternative types of coronary disease," Eagle said. "For the first time, most adult CV specialists are conducting gestational histories as part of a routine exam to identify additional risk factors beyond the traditional. We have come a long way. That said, we still need clinical trials to elucidate the best medical therapies for MINOCA, spasm and SCAD. Teasing these out, without doing very sophisticated coronary angiography studies using physiology, is difficult."
Gulati said national initiatives should be expanded or improved upon to increase awareness about CVD risk in young women.
"We have done an OK job with educating our community, but we still have not done enough," Gulati said. "We are never in the same knowledge sphere as breast cancer, for example. All my friends understand their risks for breast cancer, but not their risk for heart disease. I do not mean to minimize getting your Pap smear and your yearly mammogram. But we need to move well past bikini medicine when taking care of women. The earlier women can be proactive, understand their risk and advocate for themselves, the better."
Clinicians must also understand that women's MI symptoms are not "atypical" as past literature suggests, Eagle said; more recent studies suggest that most women who have a heart attack report similar chest discomfort compared with men.
"What was 'atypical' was we did not know that you could have a heart attack with normal coronaries," Eagle said. "What is the biggest thing to do to improve outcomes? Women need to be seen. Women need to have their risk factors evaluated and treated like any of us would want to be treated for the No. 1 cause of death in women in the world — coronary disease."
References:
Arora S, et al. Circulation. 2019;doi:10.1161/CIRCULATIONAHA.118.037137.
Banco D, et al. J Am Heart Assoc. 2022;doi:10.1161/JAHA.121.024199.
Gulati M, et al. Circulation. 2021;doi:10.1161/CIR0000000000001029.
Lu Y, et al. JAMA Netw Open. 2022;doi:10.1001/jamanetworkopen.2022.9953.
Rodriguez Lozano PF, at el. JACC Cardiovasc Imag. 2022;doi:10.1016/j.jcmg.2022.01.006.
Vaccarino V. Circulation. 2019;doi:10.1161/CIRCULATIONAHA.118.039298.
For more information:
Michelle A. Albert MD, MPH, FACC, FAHA, can be reached at michelle.albert@ucsf.edu.
Kim A. Eagle, MD, MACC, can be reached at keagle@med.umich.edu; Twitter: @keaglemd.
Martha Gulati, MD, MS, FACC, FAHA, FASPC, FESC, can be reached at martha.gulati@gmail.com; Twitter: @drmarthagulati.
Sharonne N. Hayes, MD, FACC, FAHA, can be reached at hayes.sharonne@mayo.edu; Twitter: @sharonnehayes.
Michael Salerno, MD, PhD, MS, can be reached at msalerno@stanford.edu; Twitter: @salernomdphd.