If you are more bored than a clam aquarium or you no longer know what to do to entertain the children after so many days stuck between four walls, let me offer you a solution. Or at least, a cool time. Because even if they don't dare to do the "edible" crafts that I bring them today, they will certainly at least smile when they see the explanatory drawings.
Once upon a time, back in the distant thirties of the last century, an editor named Juan Ortiz. He devoted himself almost exclusively to publishing in Madrid children's works, textbooks, instruction manuals and writing notebooks delightfully illustrated, with titles such as' Do you want me to tell you a story? ',' Strokes, a method of learning to read 'or' Las science at school '. There was also space in his editorial for more playful proposals, some as wonderful and surprising as the ones I am going to show you today, three booklets with instructions for making crafts based on everyday materials, especially food. Have you ever made an "octopus" by cutting longitudinal tentacles on a sausage? Have you created a smiling face with tomato and fried eggs on the Cuban rice? Well, something halfway between that and the dolls made with a stick and a cloth.
Of course, 90 years ago, children were probably better off than they are now and they would be more used to simple toys and reuse, but at desperate times, desperate measures. At the end of the day they are not so different from the thousands of proposals that during those days of confinement flood the nets to entertain the smallest of the house and also, what better way to use the banana peel or the peel of a orange?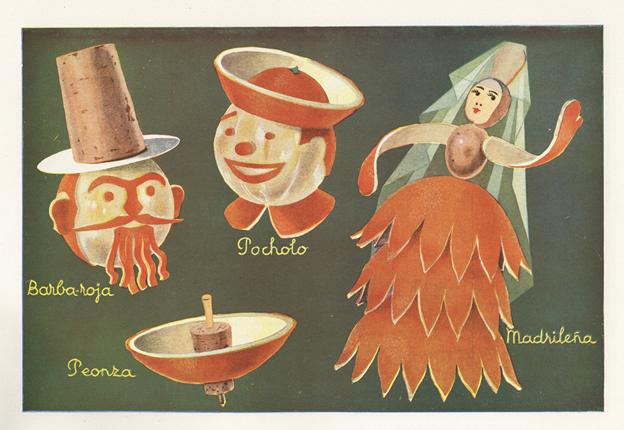 So, here come family leisure proposals included in three very nice books from the Editorial Estudio Juan Ortiz: '42 manual works made with bananas, potatoes, leaves, nuts, pumpkins, etc. ', '46 manual works made with cork, watermelon , lemon, cherries, reeds, etc. ' and '43 handicrafts made with melon, peanuts, egg, orange, shellfish, etc. ' Throughout the 24 pages of each manual, the illustrations with the appearance of each final work appear on the one hand and the instructions on the other. With lemons, for example, you could create pigs, chicks, carrot-billed marabou, while the ears of corn allowed you to get dancers, the melons served as a Phoenician boat, car or lantern and the acorns gave rise to rings, necklaces and tiny baskets. With three nutshells, some sticks and ropes, a mini playground was set up, and even peanuts and a lot of patience could form even an animal carousel.
In case it does not serve you with the mere illustrations, here are the practical instructions on how to make an elephant and a rhino from innocent potatoes. And have fun like the children of yesteryear:
POTATO AND PEANUT ELEPHANT:
A few peanuts of different sizes are taken and strung with a wire so that they go from largest to smallest, one end of the wire is bent and the other is stuck in a potato, and this will have the head and the trunk of the elephant. The eyes are black-headed pins, the tusks are peeled garlic cloves, and the ears are striped discs of smaller potatoes. The body is a large round potato and the legs are reeds stuck in it.
GARLIC AND POTATO RHINO:
Some garlic cloves to figure the two horns; incisions made in the potato that serves as the head draw the eyes, mouth and noses. The ears are made with pieces of potato. This head is attached to a large elongated potato to which elongated pieces of smaller potatoes are placed as legs.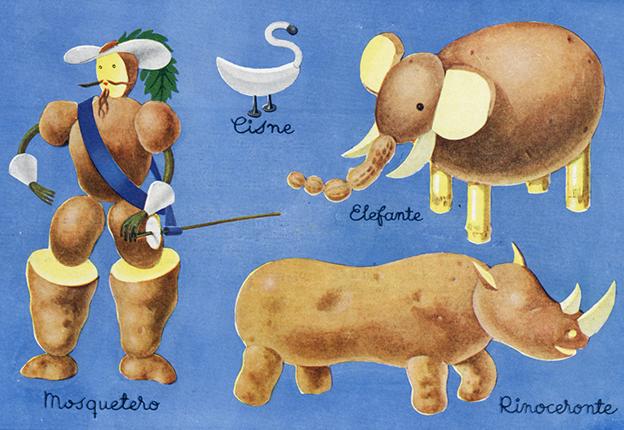 .