A work that reproduces the legendary creature "Kirin" in Chinese mythology with "waste wood" has attracted a lot of attention on Twitter. It is a dynamic work with a height of 3 meters, in which Kirin stands up with his front legs raised.
[Click here for more detailed original article]
Seiya Kaji, also known as a scrap wood remanufacturer (@scrapanimal), created this dynamic work. He is active as an artist who makes full-scale animals from scrap wood, and is currently taking on the challenge of a grand project to make 10,000 sardines from scrap wood.
The reason for creating Kirin, which is said to be a precursor to bringing peace to the world, is "I hope that the world will be peaceful." In addition, it seems that there is a desire to end as soon as possible in the recent Corona disaster.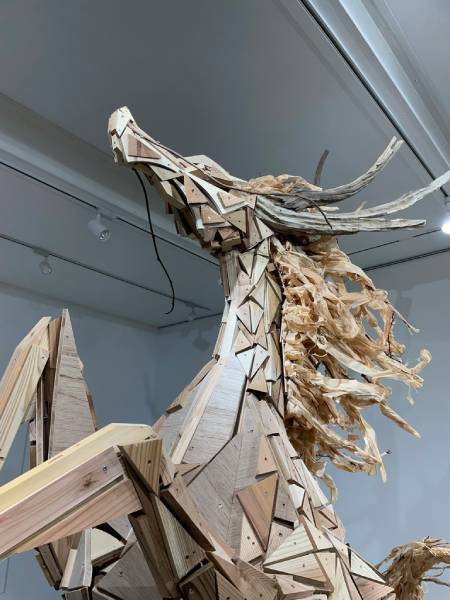 It took about a month to create a work that fused driftwood on the corners, plane scraps on the mane, plant vines on the beard, and building waste and multiple materials on the main body.
Normally, the size and flesh are expressed by referring to the actual photograph, but Kirin is a fantasy creature. He said he had a hard time not knowing what kind of pose would give him a sense of dynamism, the strength and structure to withstand that pose, and how to attach muscles. In addition, because the material was waste, I had troubles such as insufficient dimensions and different images.
Mr. Kaji says that he has a strong attachment to his work because of the pain of his birth. During the production, he was making praises such as "You are handsome" and "It's really cool". The finished work is a wonderful work that stands out for its dynamic feeling and cool pose.
Mr. Kaji himself said, "I was happy because I felt a sense of accomplishment and relief, and the result exceeded my expectations." In response to the great response received from the post, he commented, "I just hope that Kirin will bring peace to everyone who sees it."
This "Kirin" is on display until December 19th at the solo exhibition "SEIYAKAJI WORLD ART MUSEUM" being held at "Elderly Welfare Center Akamatsuso" in Murakami City, Niigata Prefecture, Kaji's hometown.
Wishing for the end of Corona, the world of Taihei,
I made Kirin

May peace reach you

"Kirin"
3580×2260×1420 pic.twitter.com/VrzXm1kBZa

— Waste remanufacturer: A man who makes 10,000 sardines (@scrapanimal) November 17, 2021

Waste remanufacturer: A man who makes 10,000 sardines (@scrapanimal)
(Hirogo Yamaguchi)
Related article link (external site)
"I couldn't get out …?" The cat in trouble is cute
Do you realize your longing for your first move?Empathize with the gap between dreams and reality
A cat who wants to keep warm on the owner VS rice cooker who wants to make a lunch box