Steven Müller was a football player and got into athletics only by chance. Now the Friedberger starts over 200 meters at Olympia. A curious story about torn shirts and the university cafeteria.
Steven Müller first packed two things in his suitcase for Tokyo on Sunday: his spikes and his beloved necklace as a talisman. On Monday evening he will fly to Japan for his first Olympic Games. In a preparatory camp in Myasaki, he will acclimatise to the conditions in Japan before things get serious on August 3: At 11:00 a.m. local time, Müller from the LG OVAG Friedberg-Fauerbach starts the 200-meter run competition. He took one of the strangest paths among the Olympic participants, because Müller was actually a football player.
He played as a wide receiver or kick-off returner for the Paderborn Dolphins in the third division. And so well that first division clubs from Marburg, Bielefeld and Remscheid tried to get him. Müller wanted to take the next step in 2013, but he wanted to improve his speed – for football mind you. A friend from the team recommended that he contact the athletics trainer Otmar Velte.
His trainer remembers: "Oh god, what kind of one is that?"
He remembers the first meeting with a smile: "There comes a young man like this, a torn off T-shirt, such wide pants … I thought: For God's sake, what kind of person is that?" Müller still knows that he was able to convince the coach with his times over 100 meters without a big warm-up program. "The trainer thought: If you can get it out of the cold pants and with such poor technique, you can get even more out of it," he said in an interview with hr-Sport. At the same time, he wasn't quite sure whether he should really switch to athletics.
"The decision was made around 2014. There was a change in my football team, a lot of friends left. In athletics I had the opportunity to start internationally." In his early runs, he narrowly missed the finals and was encouraged: "That scratched my ego." He wanted to continue – and had to change a few things to do this: his diet, training and his work.
No more fast food and no more part-time jobs
"In the beginning I was well packed on top of the football because of the football, I had to carry less bulk with me," he says. In football, the players indulged in fast food and too much carbohydrates. In athletics, Müller had to do without it from then on, also to prevent injuries. In addition, Müller said goodbye to his job at the cash register.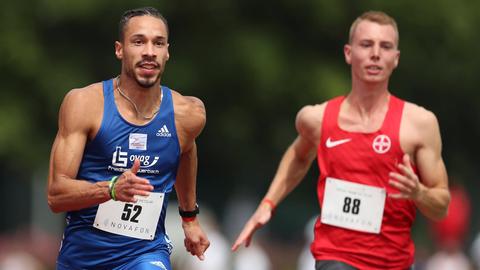 He is still studying vocational education in the subjects of sport and metal in Kassel, so he will soon prepare students at the vocational school for jobs such as mechatronics. He worked in the university cafeteria for a long time until his trainer Velte suggested that he give up the part-time job. Müller says of his coach: "With me, he turned a hobby athlete into a professional athlete." With success: Müller has been German champion several times and is now an Olympic participant.
He learns about the Olympics on the way to training
This year, too, participation was on the brink. "The season didn't go as we imagined," says Müller. He had actually already ticked off the Olympic Games until his colleague Aleixo-Platini Menga called him on July 3 and reported on Müller's nomination. At that time he was in the car on the way to training.
"That was so surprising that we first turned right and I looked at the link on the net." There the 30-year-old could read in black and white that he had made it onto the list for Tokyo because of the world rankings: "200 m – Steven Müller – LG OVAG Friedberg-Fauerbach". Before the big day, however, Steven Müller doesn't put any pressure on himself. "For me, a big dream is coming true. Why should I break this by thinking too much? I just want to enjoy every single moment in Japan." Moments that he probably would not have dreamed of ten years ago.