Takuma Ishii, a young pianist living in Vienna, Austria, will be held at three locations nationwide in February 2022.DAIKI GROUP Charity Concert-A Bright Future for All Children- "Takuma Ishii Piano Recital"Appear in. "I want to support the children who will lead the next generation," he said, and the entire admission fee for the concert will be donated to "Save the Children Japan" and "Japanese Red Cross Society" by the Daiki Group.
While focusing on good old classical music that is orthodox, the YouTube channel "TAKU-Sound TV Takuon" was launched in November 2020 with the concept of "making classical music closer". As of January 2022, the number of registered users exceeds 46,000. We asked him about his enthusiasm for the charity concert in February, his life in Vienna, where he lives as a student, playing the street piano, which is a hot topic in videos, and his future goals.
■ Piano or soccer? The starting point is "if your sound can make someone happy"
–Mr. Ishii graduated from Tokyo University of the Arts, Faculty of Music, Department of Instrumental Music, and from 2012, entered the Master's Program at the Concert Piano Department of the University of Music and Performing Arts in Vienna, Austria. Currently enrolled in the post-gradual course at the university. First of all, could you tell us about the reason why you started playing the piano?
I started playing the piano when I was three years old. I had three siblings, and both my two-year-old and four-year-old sisters were learning the piano. There is always a mother next to my sister practicing, and I can't play (with my mother) while practicing, so I feel like I've been taken away. I also wanted my mother to be able to stay with me once I started playing the piano.
――Did you originally like music?
Both my parents loved music, so music has been overflowing in my daily life since I was little. That's why I like music all the time. I especially liked classical music. My maternal grandmother is especially fond of music in my family, and after I started playing the piano, I was happy that my grandparents were happy to play. Sometimes I say harsh things, but my grandparents always support my musical life.
–Did you also do club activities at school?
Actually, I belonged to the soccer club from elementary school, and I was aiming to become a professional until the third year of junior high school. I longed for Shunsuke Nakamura, a former representative of Japan.
–Is that so! By the way, where was your position?
It is the middle stage. I learned the importance of team play during the nine years I was in the soccer club, which is the base of the attack.
――In order to connect the ball to the front line, you are required to move as a team.
Yes. Piano players tend to lack the part of cooperation because they are made up of themselves, but soccer does not lead to points unless it moves as a whole. I feel that the ability to see the whole thing that I cultivated in soccer is alive in the performance.
――Kyohei Sorita, whom Mr. Ishii is familiar with, also played soccer in his childhood. I heard that Mr. Sorita was also dreaming of a professional player.
That's right. There are many parts that overlap with Kyohei.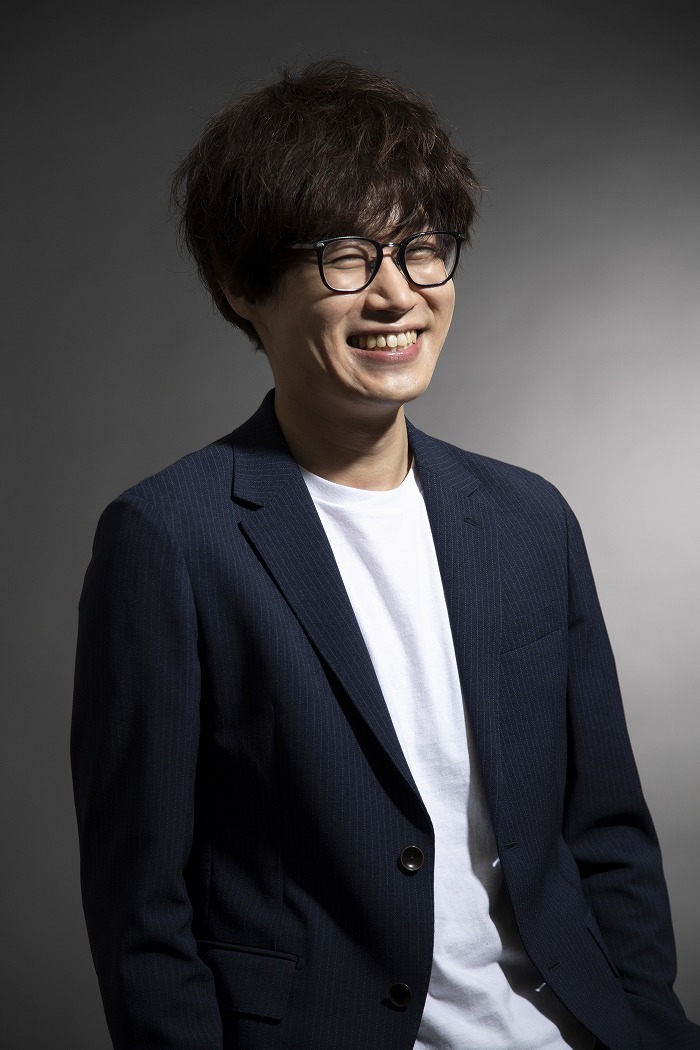 Takuma Ishii
――What made you think that Mr. Ishii, who was a soccer boy, made a break in soccer and went on to play the piano?
When I was in the third year of junior high school, the words I received from a woman who listened to my performance were the trigger. I played Ravel's "Sonatine" at the recital, and after the performance, a woman in her 50s said, "I was happy to hear your performance. Thank you."
――It's a great experience.
Until then, I had been playing piano and soccer in parallel, but this made me decide to live as a player. I was always wondering what to do, but when I saw the smile of a woman, I was convinced that "happiness is contagious." I was able to decide to graduate from soccer.
――You told me that you longed for Shunsuke Nakamura, who has a similar playing style in soccer, but are there any piano players who are targeted?
The living player is Ivo Pogorelić (Croatia). Now, for studying, I am devoted to Michelangeli (Arturo Benedetti Michelangeli / Italy). Not only how to play, but actually today's clothes are also conscious of Michelangeli (laughs).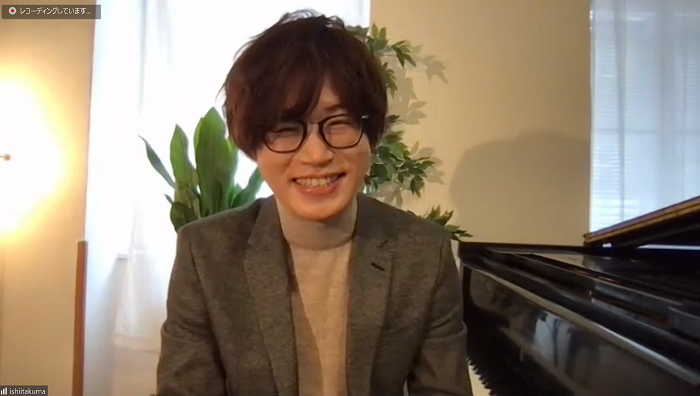 Interview / Interview with Vienna online
■ Living in Vienna-every day experienceConnected to music
–You have been living in Vienna since 2012. Why did you choose Vienna as your study abroad destination?
I'm from Naruto City, Tokushima Prefecture, but when I attended a summer class held at Tokushima Bunri University (Tokushima City), it was a big opportunity to meet Dr. Peter Effler. Some people decide where to study abroad in the city, but I decided to go to Vienna because I wanted to learn from Mr. Effler.
–Did the Corona disaster change your student life?
From February 2020 to January 2009, I was teaching completely online.After graduating from Tokyo University of the Arts(Editor's note: Graduated from Tokyo University of the Arts, Faculty of Music, Department of Instrumental Music, Piano Major)The University of Music and Performing Arts Concert Piano Department of Vienna was able to graduate from the master's program in February 2009 and is currently enrolled in the Post-Graduare course (at the same university). Although the course is specialized in practical skills, we also choose classes to learn about education.
――Why did you focus on education as well as improving your playing skills?
This is because we can directly teach the children who will shape the future what "classical music is". Sensitivity is very important for musicians, but I want to change the image of "that's it." Perfect effort is required to bring out the momentary brilliance in production. In order to get there, as a performer, I think that if you can't verbalize the sounds you express, you can't have outstanding talent.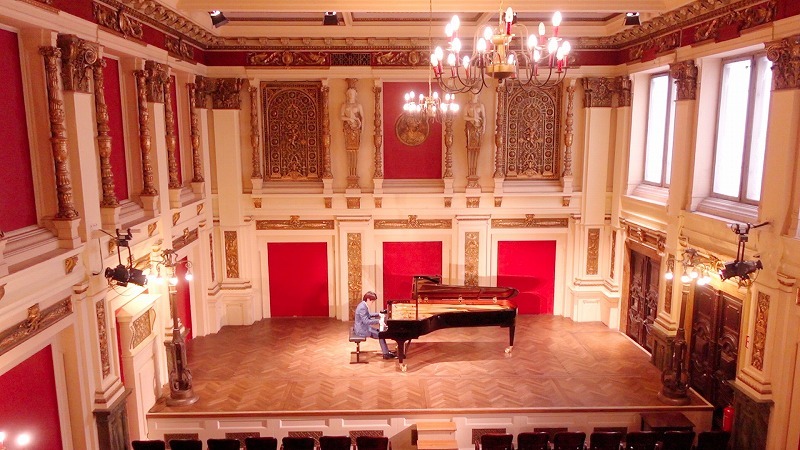 State in Vienna / From the music video of "Heroes Polonaise" (YouTube channel "TAKU-Sound TV Takuon")
――Living in Vienna is celebrating its 10th year.
In order to survive in a foreign land, I had to make a loud voice and assert myself, so my core became stronger. In my daily life, I am sometimes discriminated against because I am a foreigner, but I am now able to respect that person's way of thinking, saying that there are various ways of thinking. I feel that I have become a flexible personality.
――By the way, do you cook for yourself?
I love self-catering. Recently, I'm addicted to making tantanmen (laughs). I am very particular about it, and I start by adding chili oil to the sesame seeds. I really buy noodles, but I'm also interested in making noodles, so this is one of the things I'd like to try in the future.
――What kind of influence does living in the city where great musicians lived have on Mr. Ishii?
I feel that all my daily experiences are connected to music. For example, Mozart, whose birthplace is in Salzburg, suffered a lot of suffering such as poverty. It is said that the speed of composing was very fast and left over 900 songs, but I think I was writing the score even in the carriage to leave many songs. Vienna is still cobbled, so I realize it, but it's difficult to write notes in a wagon where the road surface is bad and rattling. I imagine that I was suffering there as well.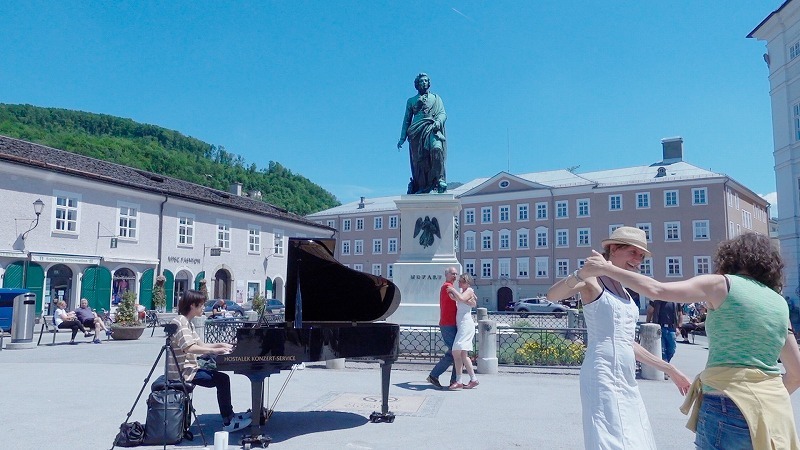 Street piano performance in Salzburg. Women who start dancing to the sound (YouTube channel "TAKU-Sound TV Takuon")
――Imagination, such as what it was like at that time, also leads to understanding the work.
Yes. Besides, I am keenly aware that the ears of those who come to the concert are fat. I've been listening to it since I was little, so my ears are very severe, especially for older people. As with buildings, there is a high awareness of valuing old things, and many people think of the piano as "reproduction art." A performance that reaches your heart without any strangeness. I feel that I am being asked to take a serious approach to the score. I learned from my grandfather the word "shuhari" that values ​​the basics, but I want to make it extremely difficult to play orthodox.
――There was a word earlier, "Seriously heading to the score." I feel that Mr. Ishii's sound is straight and clean. Is it a "innocent" state?
Music has no reality. But there are sounds that will remain in your mind forever. I am very happy to hear that you have the impression that it is a "beautiful sound." The sound comes out of all of that person. Things that can't be repaired or hidden. I always play with the feeling of exposing myself.
――Are there anything you are doing to improve your expressiveness?
I'm taking a walk. Vienna is dotted with many historical sites, including the Schönbrunn Palace, which the Habsburg monarchs visited as a summer capital, and the house where Mozart composed The Marriage of Figaro. When I'm sad, when I'm happy. I started walking around the city to introspect. When I came to Vienna, I realized that it was as important as the time to practice the piano.
While taking a walk in Vienna, I had a time when I realized that the blue sky was not one color. The sky is not a single color, but has gradations depending on the season, time, and light. The type of touch on the piano is like a palette of tones. I want to train so that I can express delicately like the shades of the sky.
■ The YouTube channel opened in Corona is very mature and the voices of fans are powerful.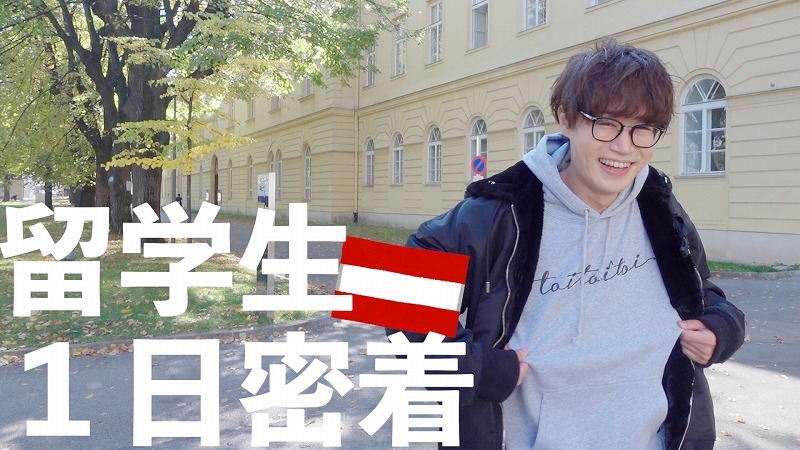 From before the lesson, when I was nervous and tense, to when I smiled at the school cafeteria.Adhere to the real face
–Mr. Ishii launched his own YouTube channel "TAKU-Sound TV Takuon" in the fall of 2020 of Corona. As of January 2022, the number of registered users has reached more than 46,000.
"TAKU-Sound TV" was decided to open with the idea of ​​"taking a pinch as an opportunity" because there were restrictions on performance activities due to the corona. Because of the corona, I'm heading to the piano with the desire to make someone happy with my performance.
–The most popular cream puff food repo in Vienna and performances at cafes. Delivery according to events such as Christmas is also attractive. The brave "Heroes Polonaise" that was shown in the luxurious hall was breathtaking.SalzburgWhen I played the street piano that was placed in the city, some people suddenly started dancing. The campus guide, which was taken once a week on the day of the one-on-one lesson, is full of real-faced Mr. Ishii, such as before the lesson when he is nervous and when he is released and shows a relief expression.
I can't do concert activities, so I'm making various plans to make me feel closer to me. I also want to change the image of classical music, which seems to be difficult, and the desire to deliver it to each and every listener. After opening, there are many people who comment on the distribution. It was a very shocking event for me.
――Why was it shocking?
I have two themes, "I want to make people who listen to the performance happy" and "I want to convey my favorite classical music", but I realized that these two are the places to come true. is. Nowadays, more than 40,000 people are registered, but right after the opening, about 50 people are registered. However, everyone gave us their impressions diligently. For me, regardless of the number of people, I can deliver it directly to the people who want to listen, and I can get their impressions. There is no such a happy space. Your voice is the power I play.
–Are there any particularly impressive voices from the fans?
The fan letter I received last summer was impressive. The contents are personal, so I can lie down, but it was very heartfelt. My grandmother, who I was reading with, told me, "Don't save people," and realized that if you were playing to make yourself happy, you could save them. It was something I didn't expect, so it left a lasting impression on me.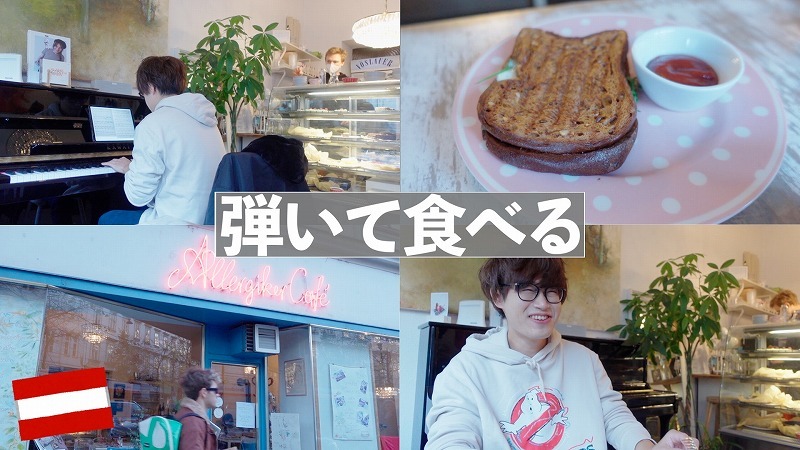 Show off a piano performance while introducing delicious things in Vienna. Which is the main? !!
■ It is our duty to connect classical music to children who create the future and to pass on learning from our predecessors to the next generation.
――At first, you were driven into the piano to please your grandparents. The scale of activities has grown from domestic to overseas, but at the root of it is the desire to make people happy. A charity concert will begin on February 10th.
In Vienna, I play at elderly housing with care and engage in charity activities on a daily basis. It's my first time to perform at a charity concert in Japan, so I'm really looking forward to it.
――The subtitle of the performance is "~ A bright future for all children ~".
The goodness of classical music is that its spirituality has been passed down for hundreds of years. Just as I was taught classical music, I want to play a role in conveying classical music to the children who will create the future.
――It was revealed that Schumann's "Waldszenen", which he plays, has memories of his deceased uncle.
Yes. As with the "shuhari" I talked about, my grandfather taught me a lot. When I was in the first year of junior high school, I was wondering whether it was soccer or piano, and I laughed and said "Ke Sera Sera". He encouraged me, "If you look forward, you can do something about it." I think it is the duty of human beings who accept words and thoughts to pass on what they have learned from their predecessors to the next generation.
At the concert, there is also time to play songs with nature as a medley. The plants sprout, foliage and bear fruit. There is no end, but the spilled seeds take root again and become a new breath. Like nature, we live by connecting our parents and grandfathers to life. I would like to pass on music to the next generation as well. I would like people who come to listen to classical music relaxedly without stretching their shoulders because classical music is difficult.
――Finally, what are your goals for 2022?
The big goal is "I want you to know classical music widely. I want to broaden the base." To that end, I want to improve my sound as a performer every day. I was keenly aware of the value of connecting with people on YouTube, which I started with Corona, so I would like to value the people who listen to the performance even more. I want to spread the sound of happiness.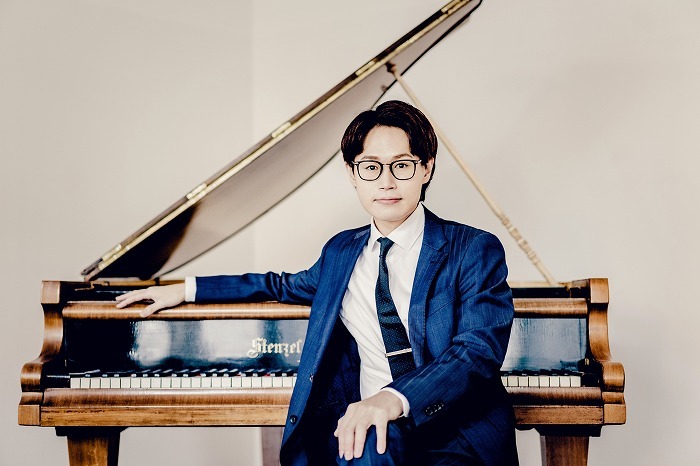 Interview / text = Ayano Nishimura
Takuma Ishii Profile
Takuma Ishii
Born in Naruto City, Tokushima Prefecture. Started playing the piano at the age of three. Graduated from Tokyo University of the Arts, Faculty of Music, Department of Instrumental Music, Piano Major. Completed the Master's Program in Concert Piano at the University of Music and Performing Arts Vienna with the unanimous best of the judges. Currently enrolled in the post-gradual course at the same university.
Received the first prize and the audience award at IKA Murrhardt (Murrhardt, Germany) in 2015. Received the second prize in the piano category of the 2016 George Enescu International Competition (Bucharest, Romania). Held since 1958, this is the first Japanese pianist to win a prize in the history of a traditional competition in which world-famous pianists such as Radu Lupu and Elisabeth Leonskaya are named as champions. With this award, he started full-scale music activities in Europe.
Won the 2017 Dichler Competition (Vienna, Austria). Performed in various parts of Europe, including the Wiener Musikverein and Konzerthaus, and gained popularity. In 2018, he was invited to the George Enescu International Music Festival (Bucharest, Romania), one of the largest music events in Europe, and held a solo recital at the Athens Conservatory, which was well received. In 2019, he will be the first Japanese to take the master class of the world-famous pianist Daniil Trifonov as the representative of the University of Music and Performing Arts Vienna.
In addition to performing in Japan and overseas in 2020, he opened a Youtube channel under the name of "TAKU-Oto TV Takuon". The total number of views has exceeded 7 million in just one year, and the number of subscribers has exceeded 30,000, and it is still increasing. (As of November 2021)
June 2021 8th place in the 15th popularity poll "Your favorite Japanese pianist best 3" of NHK "Lalala Classic". In the ranking entered in No. 1, he won 5th place.
Thank you for all 6 performances held in Japan in 2021.5 of them are
Sold out in less than 10 minutes after launch. A review article of the concert will be published in the magazine "HANAKO" WEB. In the same month, the 1st album "WIEN" was released. The first limited edition is sold out on the same day as the release.
October 2021 Released collaboration goods from Village Vanguard Co., Ltd., and gained popularity by monopolizing from 1st to 12th place on the company's online site "Sales Ranking".
Studied under Michiyo Wada, Keiko Iida, Akira Matsumoto, Hideto Nishikawa, Peter Effler, Roland Keller, Jasmineka Stantur, and Anna Malikova. While focusing on good old classical music that is orthodox, he is active as a new type of pianist who also distributes videos with the concept of "making classical music closer".
Performance information
DAIKI GROUP Charity Concert-A Bright Future for All Children-
"Takuma Ishii Piano Recital"
Schedule: February 10, 2022 (Wood)
Start: 18:30~ (Opening: 18:00~)
Venue: Hyogo Performing Arts Center Kobe College Small Hall (Hyogo Prefecture)
Schedule: February 12, 2022 (Soil)
Start: 13:30~ (Opening: 12:45~)
Venue: Shirakawa Hall, Sumitomo Mitsui Marine (Aichi Prefecture)
Schedule: February 22, 2022 (Fire)
Start: 18:30~ (Opening: 17:45~)
Venue: Kioi Hall (Tokyo)
Cast: Takuma Ishii
Song / Performance:
Schumann / Forest scene
List / Rhapsodie españolhe