Tesla will begin European sales of the relatively affordable Model 2 electric car in 2023. The car, which will be the cheapest in the range of the American brand, will compete with Nissan Leaf, Volkswagen ID.3 and Kia Niro. This was reported by Autocar.
According to preliminary data, prices for the new product will start at 25 thousand dollars (23 thousand euros). Thus, the new Tesla model will be half the price of the current most affordable model Model 3, whose prices in Europe start from 47 thousand euros.
Tesla's Model 3 is the most sought-after electric car in the world
According to a study
Tesla owner and CEO Elon Musk has repeatedly said that the company needs a relatively cheap electric car, but before launching such a car it was impossible due to the high cost of batteries. In the 13 years of its existence, Tesla has managed to reduce the cost of producing batteries by about 50%, while their capacity has increased several times.
The Tesla Model 2 is expected to be a compact hatchback, offered with a capacity for autonomous battery mileage, which will allow it to travel from 200 to 450 kilometers on a single charge.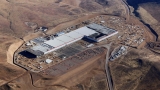 A year after the start of construction of Tesla's giga factory in Berlin, nothing is clear yet
It is important for Tesla to start production by the end of this year, but will it happen after it has been postponed?
Earlier, Musk said he would develop two different versions of the new model, one for the European market and the other for the Chinese market. The cars will be produced both at Tesla's plant in Shanghai and at Gigafactory's new European plant, which is currently under construction in Berlin. Musk said each of the factories would assemble "original cars" that would be different from each other.
.