[Epoch Times November 25, 2021](Epoch Times reporter Xu Naiyi reported in Taoyuan, Taiwan) Taiwan's 24th Visually Impaired Art Season Vocal/Life Concert will be performed on November 27 at the Performing Arts Hall of the Cultural Affairs Bureau of Taoyuan City Government. The lineup is strong , The activity content is diversified, welcome to watch.
Performers include trans-disabled art organization-Dreamers Alliance, Phoebe Orchestra, Taiwan's No. 1 golden melody performer-Zhang Linfeng, Diversified Flute and Singing Skills-Xu Zongrong, Taiwan's Beethoven visually impaired pianist/violin Home-Huang Dongyu, Social Welfare Angel in the Dim Light-Zhu Wanhua.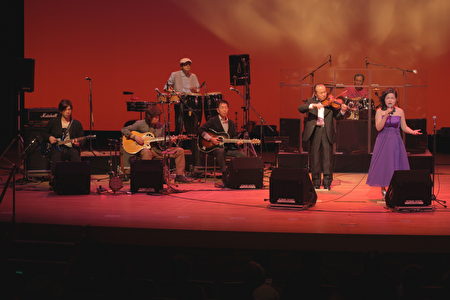 The organizer would like to thank the Arbo Orchestra and Taiwan's first blower Zhang Linfeng for opening the classic golden song through the saxophone quintet: Watching the sunrise with me, the gift of love, Taiwanese folk songs (white peony, roast pork dumplings, rural music), through Passing the blind and blind communion performance showed the true meaning of artistic equality, and opened the show with familiar classics, so that everyone's hearts boiled together.
A series of visually impaired and physically handicapped singers of different styles sang the cross-generational popular classic songs in the rhythm of the Phoebe Orchestra: the yearning person, the singing all over the world, the road of life, persistence, move forward, thank you for your love and dreams Love words in China, Dreamers Alliance… etc.
There are also male and female duet, male solo, female solo, heavy singing… etc., various forms of beautiful singing, as well as saxophone and violin performance: Youth Ridge, Happy Sailing, Nandu Nocturne, Tamsui Twilight… etc., familiar melody . In addition, there are two wonderful dances dedicated to visually impaired dancers who can hear the sound even though they can't see the world, making the whole event worth watching. ◇
Editor in charge: Tang Yin
.