What a dramatic canine story: The four-legged friend Chance was so ill that only a $10,000 doctor's treatment could save him.
Houston (Texas) – What a dramatic Dogs-Story: The four-legged friend Chance was so ill that only a $10,000 doctor's treatment could help him. Luckily he's doing much better now.
His new owner Monique Montoya and the animal rescue organization PETronus Rescue from the city of Houston in the US state of Texas have reported on the poor dog on their social media channels.
At the end of August, Monique took in Chance, who was completely emaciated and obviously quite ill at the time. He weighed just 16.7 kilos and you could see all the bones on his thin body. That's why the Texan wanted to pick him up and nurse him back to health.
But that turned out to be difficult: the four-legged friend simply didn't keep any food in himself, he had to throw up again and again. A vet then determined that Chance appeared to be suffering from a serious infection.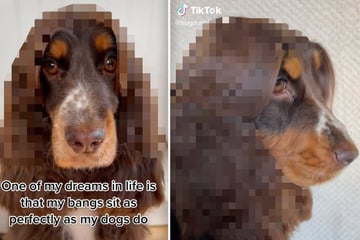 Dogs
What a hairstyle! Bitch amazes millions of viewers with beautiful fur
He then had to have an operation. The procedure lasted five hours and was only possible because the expensive doctor's costs of 10,000 US dollars (equivalent to 10,027 euros) could be collected by collecting donations beforehand. Luckily everything went well and the fur nose survived the procedure.
Since then, Chance has been on the mend – and how well he's doing is now in a recent video to see, which has developed into a viral hit in a very short time.
In the clip, Chance is initially seen in his late August state, with a skinny body and little happiness on his face. In the course of the video, however, he gets fitter and fitter: he can eat properly, gains a lot of weight (after four weeks he already weighs 22.6 kilos) and can even run around like a healthy dog ​​again.
On TikTok, the heartwarming clip has already accumulated more than 4.2 million views and 493,000 likes within five days, on Instagram there are also another 1.2 million views and almost 157,000 "likes" hearts.
There was also a lot of encouragement and praise for the dog and his loving new owner in the comments. But Monique also explained there that Chance had to go to the vet again because the tip of his dog's tail had died and fallen off.
The poor animal is probably not spared anything. Let's just hope he continues to recover as well.