Being 40% above its capacity, the Austin Animal Center announced that it stopped receiving animals as of September 13, for which reason the population is urged to consider adopting a dog or cat that is in its shelter.
This is the third time entry to the shelter has been restricted since it eliminated animal deaths in 2011. In 2016 it was due to capacity issues and in 2020 due to the COVID-19 pandemic. The AAC will only attend specific cases and emergencies (such as injured animals or those that present a public safety risk).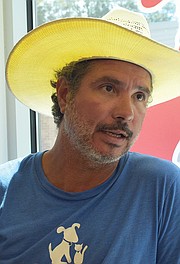 Due to the lack of capacity in the facilities – they house nearly 700 animals – dozens of dogs are temporarily living in cages or pet boxes, waiting to be claimed by their owners or to be adopted.
"We've been above capacity basically all summer," he told The World NewspaperKelsey Cler, Marketing and Communication Manager of the Austin Animal Center, a shelter that in 2022 will celebrate seven decades of existence.
In a memorandum addressed to the mayor and the City Council signed by Don Bland, chief officer of Animal Services of the City of Austin, where this determination is reported, it is reported that since January 1 of this year the Austin Animal Center has taken in 1,055 more dogs and cats than have been adopted or placed in foster homes; an average of 28 dogs arrive each week and during August there were 121 more animals that were claimed, adopted, fostered or rescued.
At least once a month on Saturdays, this center has held adoption events called Clear the Crates. On August 27, they managed to find a new home for 63 cats and 47 dogs; while on September 17, 18 dogs moved to a new home and another 5 were placed in foster homes.
"We don't have enough staff, volunteers or secured space so we've had to restrict more animals until we can fit the dogs in the crates," Cler added.
Luis Herrera, public educator at the Austin Animal Center, explained that, although it must be taken into account that a pet implies expenses, the benefit is much greater since dogs help regulate heart rate and blood pressure; they keep us entertained and thinking; they help people with depression or anxiety because it gives them a feeling of happiness; and by having to take them out for a walk daily we exercise. In addition, 90% of the houses that have a dog are not broken into.
"When you adopt, you are giving a pet a second chance and you are helping two pets to live well: the one you are taking with you and the one that is coming to the shelter," says Cler.
On a tour of the AAC facilities, it was observed that most of the dogs are of the Staffordshire Bull Terrier (pit bulls) breed, which have been stigmatized for their strength and energy, but whose history has made them very resistant, hard-working, intelligent and affectionate.