Ryuhei Matsuda and Shota Matsuda made a surprise appearance in the first episode of Season 2 of the drama "Oliver na Inu, (Gosh!!) Kono Yarrow," written, directed, and edited by Joe Odagiri, and played by Sosuke Ikematsu. Do you get it.
In season 1, Mr. Odagiri in a "dog costume" plays the lazy "police dog", and the main character played by Mr. Ikematsu, the handler of the police dog, Ippei Aoba, is a hot topic. This work became.
Ryuhei Matsuda and Shota Matsuda appeared as "Magari Brothers" as surprise performers who had not been revealed until now in the first episode of Season 2, which was broadcast on September 20th. It was a mysterious role that continued the conversation while preparing the kitchen car.
In the future, it is impossible to predict how he will be involved with Ippei, played by Mr. Ikematsu, and Ippei's partner, the police dog, Oliver, played by Mr. Odagiri, and how it will affect the story. It is said that the appearance of these two brothers, who are brothers in real life, was realized by the director Odagiri's own efforts, and the thoughts of the two people who felt their enthusiasm came to fruition.
Masatoshi Nagase, Kumiko Aso, Tsubasa Honda, Amane Okayama, Tina Tamaki, Eita Nagayama, Shota Sometani, Taiga Nakano, Nijiro Murakami, Yui Sakuma, Takako Matsu, Hana Kuroki, Minami Hamabe, Jun Fubuki, Yutaka Matsushige, Akira Emoto, Isao Hashizume, Koichi Sato and other gorgeous performers are a hot topic in this work. In season 2, the momentum is increasing more and more, but the surprise appearance of Matsuda "brothers" has become the ultimate.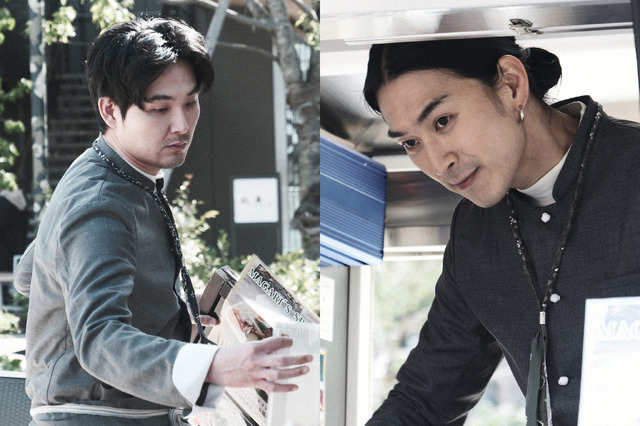 Season 2 is set 10 days after season 1 of all 3 episodes. In "Episode 4" broadcasted yesterday, unique performers appeared one after another in unique roles. In Season 2, how will the mysteries scattered in the remaining two episodes converge?
In addition, "Episode 4" that was broadcast this time, and "Special Edition", which was re-edited by Director Odagiri himself for Season 1 that was broadcast last year, are being distributed on NHK Plus.
Drama 10 "Oliver's Dog, (Gosh!!) This Yarrow" Season 2 will be broadcast on NHK General from 22:00 on Tuesday, September 27th and Tuesday, October 4th.
September 27th (Tuesday), October 4th (Tuesday), 11th (Tuesday) from 15:10 to rebroadcast on NHK General (3 episodes in total).