Young Kyrgyzstanis are dissatisfied with the quality of school education. They would like to get more modern knowledge. This conclusion can be reached by examining the data of the U-Report online platform survey conducted by UNICEF together with the Ministry of Education.
How was the survey
The survey involved 2,158 respondents from all regions of the country. 38% of them are girls, 62% are guys. Most of the respondents were from Chui oblast and Bishkek (921 people), least of all from Issyk-Kul and Talas oblasts – 70 and 73 respectively.
Modern knowledge
Most of the young Kyrgyzstanis interviewed noted that they would like fundamental changes. So, in their opinion, the program and teaching methods in the country's schools are outdated. Against the backdrop of globalization, the younger generation needs knowledge of a different format. They would like to see in schools, in addition to general knowledge, children were taught communication skills, time management, digital technologies, IT, so that vocational guidance lessons were included in the schedule. In addition, the respondents added, schools need to open additional circles and sections for the development of children.
Comfortable learning environment
Decision makers must provide a comfortable environment for learning. This includes repairing and equipping schools, unloading classes, providing schoolchildren with high-quality textbooks and teaching materials.
Another observation of young Kyrgyzstanis: children can reveal their potential with an individual approach.
"First of all, this is a loyal attitude and an individual approach, an understanding that not all children are geniuses, it is difficult for someone to learn something that another can easily master. An explanation in simple language, answers to questions without shouting and sidelong glances – understanding and support, love and respect," wrote one respondent.
Transportation is also an important issue. Children have to travel to schools from far away. It physically and emotionally exhausts children. Education decision makers and local authorities should pay attention to this problem.
Teacher Competence
An important issue for young people was the issue of teacher qualifications. The proposals concerned not only the need to hire professionals in their field and improve their skills, but also proposed to strengthen the training of future teachers at universities and provide teachers with widespread support.
Financial questions
A number of respondents asked to introduce vouchers and provide financial assistance to low-income families. Also, they noted, the requirement for a uniform school uniform creates problems for children. Not all children want to dress like this, and not all families can afford a set of school uniforms.
Another serious problem that prevents children from getting a quality education is racketeering and corruption.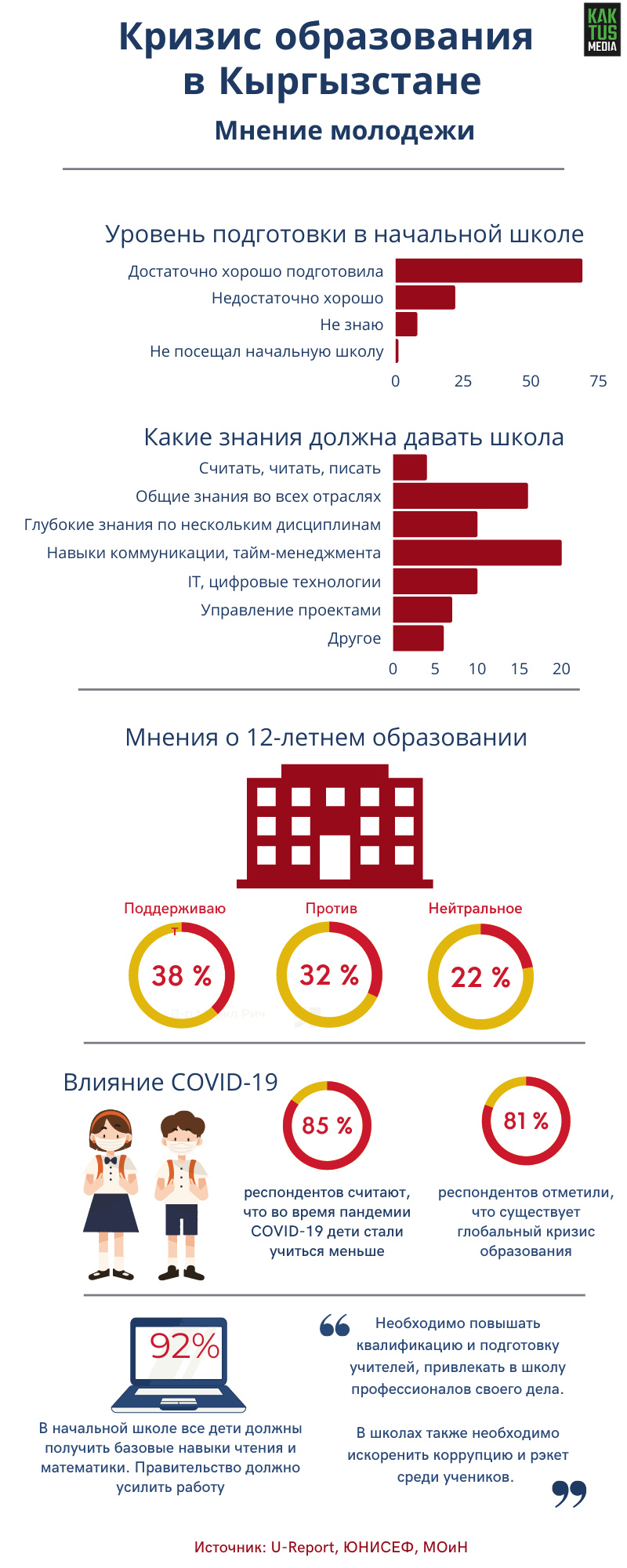 ***
The Ministry of Culture, Information, Sports and Youth Policy of the Kyrgyz Republic and UNICEF launched U-Report in 2021. Young activists can subscribe to U-Report via WhatsApp and social media messengers, participate in surveys and express their opinion on issues that are important for their lives and the lives of their communities. The results of the surveys will be immediately reflected on the website kyrgyzstan.ureport.in.
To join U-Report and participate in surveys, send the word "start" to 0779 91 91 19 on WhatsApp or one of the following channels:
Participation in surveys is free and anonymous.