Indonesia is in its strongest wave of infections to date and has in recent days reported more than 20,000 cases of infection daily.
On Wednesday, a record 21,807 new cases of infection were registered, according to Reuters.
The Red Cross warns of lack of oxygen, testing and vaccination. And about bursting capacity at hospitals in Jakarta and other parts of the country.
"Every day we see this delta variant take Indonesia one step closer to a corona disaster," said Jan Gelfand, head of the International Federation of Red Cross and Red Crescent Societies (IFRC) in Indonesia in a statement on Tuesday.
Indonesia has had more than 2.1 million cases of infection since the start of the pandemic, and more than 57,500 deaths.
These are the highest numbers among the countries in Southeast Asia, according to the AP.
Dissemination of delta
More than 20 percent of corona tests currently taking place in Indonesia are positive, according to Al Jazeera.
– These are large numbers. And a strong indication that there is a lot of unconfirmed, or hidden infection among the population, says Olav Aasland, emergency aid coordinator in the Red Cross to NRK.
– Our colleagues in the Indonesian Red Cross report that the covid-19 hospital they run is overcrowded, and that they have set up extra tents to be able to receive more patients. They also report a lack of oxygen in the country, he says.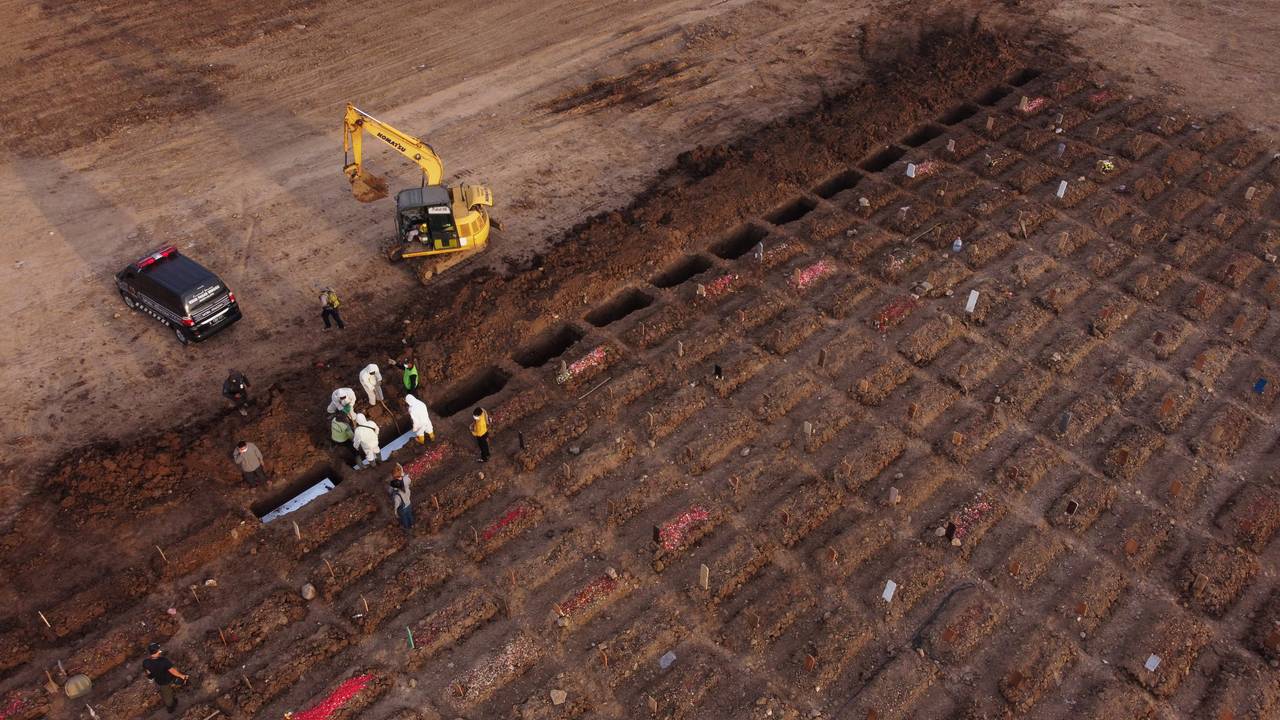 Lack of oxygen
Oxygen prices in Indonesia's capital Jakarta have more than doubled since Tuesday, according to Reuters.
When several suppliers in the city reported that there was a shortage of oxygen.
Now the price of a single oxygen tank has gone up from 50 to 140 dollars, which is equivalent to around 1200 Norwegian kroner.
"I have to refill oxygen for my wife and son who have covid-19," Taufik Hidayat (51) told Reuters, while standing in an oxygen queue in Jakarta.
– I have gone to several places, but it was sold out everywhere, he says.
Local health authorities claim that the oxygen deficiency is only temporary and that it is due to distribution problems, which are now being solved.
Depending on Chinese vaccine
The serious infection situation in the country is also affected by the low pace of vaccination. Less than 5 percent of Indonesia's population is fully vaccinated, according to the Ministry of Health.
Indonesia mainly uses the Sinovac vaccine from China to vaccinate the population. But new deaths in the country have contributed to questions about the vaccine's effect against the delta variant.
At least 10 Indonesian doctors, all of whom were fully vaccinated, died this month of covid-19, according to The Guardian.
The authorities are now considering whether health professionals should receive an alternative vaccine dose to increase immunity.
Great shortage of vaccines
Indonesia is also one of the countries affected by the skewed distribution of vaccines, according to the Red Cross.
– You work hard with the vaccination program. But only 5 percent have been vaccinated and you need a staggeringly high number of 360 million doses to be able to vaccinate 70 percent of the population, says Aasland.
He believes that Indonesia, like many other countries in the world, has too little access to vaccines.
– We experience that the poorest countries in the world receive the fewest vaccines, and that the only thing that stops the pandemic is that you get a high vaccine coverage in the population, he says.