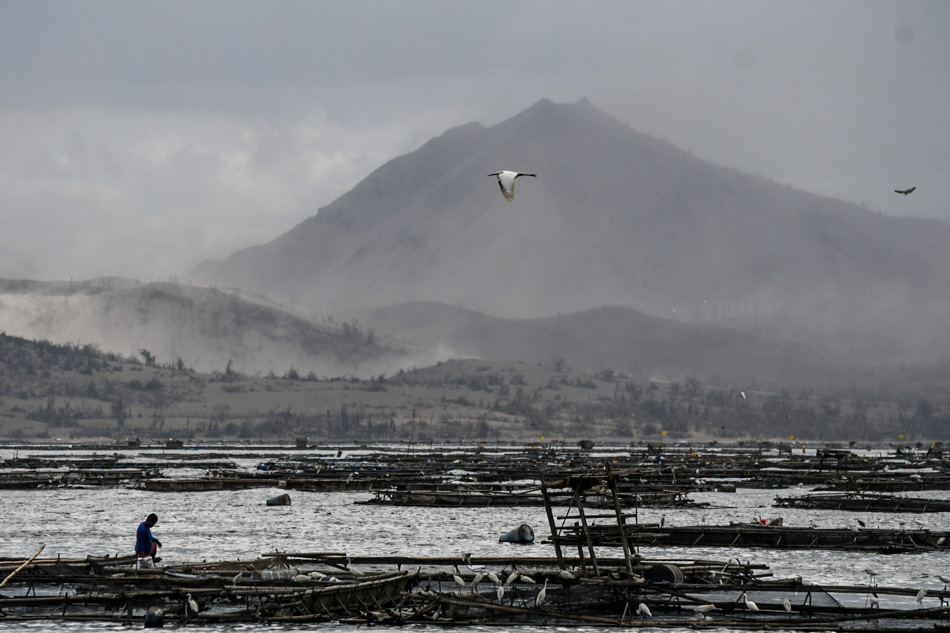 Here are today's great stories in photos.
Residents rush to drink a bottle of water given by a citizen passing in a town near Taal volcano, Tagaytay, Cavite on Sunday. Many poor families living near the Taal volcano have been affected by the loss of income after business closure in the area. Filipino officials said on Sunday that the government will no longer allow villagers to return to an island full of craters where an erupting Taal volcano is located, warning that living there would be "as if they were pointing you with a gun." Aaron Favila, AP
A fisherman checks his fish cage in Laurel, Batangas, while continuing to raise and harvest tilapia, on Monday, more than a week after the Taal volcano erupted on January 12. The governor of Batangas, Hermilando Mandanas, recently ordered the mayors of the city to cancel the "window hours." , allowing residents to control their homes and livestock amid the possible "dangerous explosive eruption" that can occur in a matter of hours or days. Mark Demayo, ABS-CBN News
A motor taxi navigates through a main road in the city of Quezon on Monday. All motorized taxi service groups such as Angkas, Joy Ride and Move-It were requested to stop operating as of next week as imposed by the Technical Working Group of the Board of Regulations and Transportation Franchises Land. Jire Carreon, ABS-CBN News
Police officers from Regional Police Office 7 dance with the hit song "Tala" at the Cebu City Sports Complex during the awards ceremony of the Sinulog Festival Dance competition on Monday. The group expressed their solidarity with the people of Batangas who were recently affected by the eruption of the Taal volcano. Alren Beronio, ABS-CBN News
A staff member hangs the decoration of a lantern arch in a park before the Chinese Lunar New Year celebrations in Beijing on Monday. China reported an increase in the number of people infected with a new strain of coronavirus, including infections in Beijing, which fueled fears of an outbreak when millions return to their home cities to celebrate the Lunar New Year. China Daily through Reuters
A woman organizes her belongings when a child waits at Alfonso Central School, which serves as an evacuation center in Alfonso, Cavite, on Monday. A group of teachers called for separate evacuation centers so that students can continue to use schools during calamities.
The Secretary of Education, Leonor Briones, also recently requested the relocation of families that stay in schools to other evacuation sites, as classes must be resumed to make up for lost school days. Mark Demayo, ABS-CBN News
.