"We have reported it many times and it is yet to come."
He declined to comment further, but said there was no fundraising page for his father and donations should not be made through Donorbox.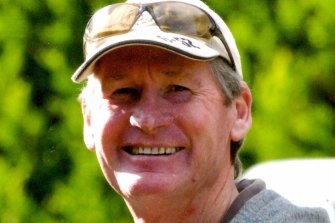 When he was contacted by The Age on Wednesday morning, a spokesman for Donorbox said the fundraiser had already been withdrawn, and that they were looking for "several ways to eliminate this type of fundraiser before they are activated."
"We are sorry to see fraudulent fundraising and we have eliminated it after your report," he said.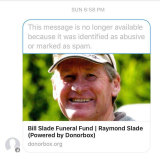 "The fundraiser accumulated less than $ 140 AUD."
The Australian Competition and Consumers Commission has received almost 250 reports since it launched a hotline dedicated to forest fire scams last week, resulting in the elimination of illegitimate crowdfunding efforts.
The GoFundMe crowdfunding platform is working 24 hours a day to prevent scammers from obtaining a portion of millions of dollars raised to help those affected by the forest fire crisis.
Slade's death took the toll to four during Victorian forest fires this season.
Loading
"This is a significant loss for the Forest Fire Management family and the Victorian community in general," said Chris Hardman, fire chief of Forest Fire Management.
Hardman said he was offering support to Slade's family, coworkers and friends.
The police will investigate the death with Worksafe and prepare a report for the coroner.
Parks Victoria Chief Executive Matthew Jackson said he had the honor of presenting Mr. Slade with his 40-year service acknowledgment in November last year.
"It was a privilege," he said. "Not only for our peer group [and the] recognition of his service to the Victorian community in conservation, but to ensure that his legacy continues.
"Bill was a very dear colleague, friend and community member. Parks Victoria will miss him deeply and our thoughts are with his family."
Slade had spent 40 years as a field service officer for Parks Victoria, helping to fight forest fires and taking care of national parks, urban parks and waterways in the South Gippsland area.
He started working for the organization when he was only 17 years old and was instrumental in the Fox eradication program on Phillip Island, and then helped fight the Ash Wednesday fires in the 1980s.
He was also known as a mentor to other firefighters, transmitting his extensive knowledge to many who continue to fight the fires that plague East Gippsland.
Loading
"Bill has been one of our most experienced, service and most fit firefighters," Jackson said.
Former colleague Peter Dell said "it was always a pleasure" to work with Slade.
"Bill was a great person from a big family. My relationship with Bill was through working with him in my role as a CFA volunteer," he said.
"Bill was always prepared to share his vast skills and experience with anyone."
Rachel is a breaking news reporter for The Age.