Published on06/08/2022at09h00
News from the edge of the Black Sea twenty kilometers from the Georgian border. A beautiful day that closes a week during which I experienced one of the most difficult physical trials of my life.
You will have understood that I managed to take my trains from Izmir to Erzurum with small supplements and discussions with the controllers. Or 1,700 km, two nights and three days by train, 30 € (sheh SNCF).
Great encounters on the road
A very beautiful journey with varied landscapes ranging from vast desert expanses to mountain valleys. On the train I meet Nazli, tourist guide, as well as my roommates Mustafa and Mevlut, kindness incarnate!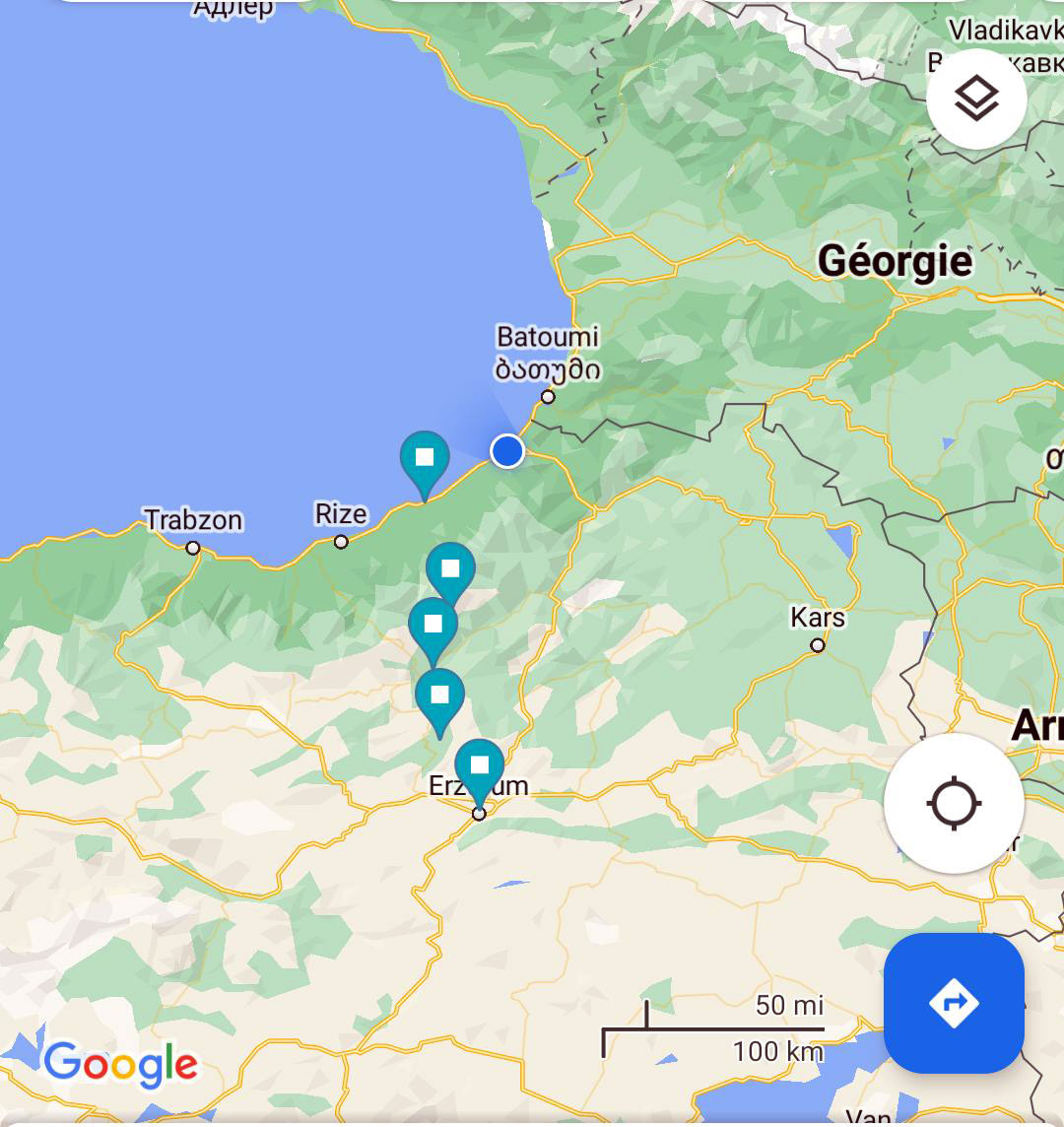 Mevlut is going to spend a vacation in Georgia, we decide to stop in Erzurum, him to take a bus and I to ride in the mountains north of the city. We take a hotel and we offer a very good restaurant.
It was an opportunity to discuss his military service, the army and the carrying of firearms. The next day we separate and he gives me one of his two military plates, I am moved by this gift which I know is important.
I take the train to Tajikistan – I decided not to take the plane. From the beginning of the organization of this trip I had set myself this destination with the aim of going to ride in majestic mountains. But it happens that on my way, after India, there is Nepal, another country famous for its mountains!
So I decided not to embark on an additional plane trip but to go ride in Nepal in December-January, the dry period, ideal it seems to visit the country.
Do not break the rhythm of the bike trip
This decision not to take the plane relieves me. It's quite hard to explain but there is a dynamic in my bike trip that broke when I took the train. The week of waiting in Izmir, due to a specific departure date, and the impression of arriving too quickly at a place without having taken the time to let oneself be penetrated by its environment disturbed me.
It's still the same country, of course, but Erzurum is higher (1,700 m) with a different climate and atmosphere from Turkey and I feel rushed by this change.
Traveling by bike, on the other hand, allows me great freedom and to move forward while seizing all the opportunities. Like a river flowing around obstacles, this way of traveling contributes to a protective fluidity because my rhythm allows me to move forward on familiar ground. Taking a transport gives me the impression of rushing things. And flying is particularly in conflict with my ecological ideals.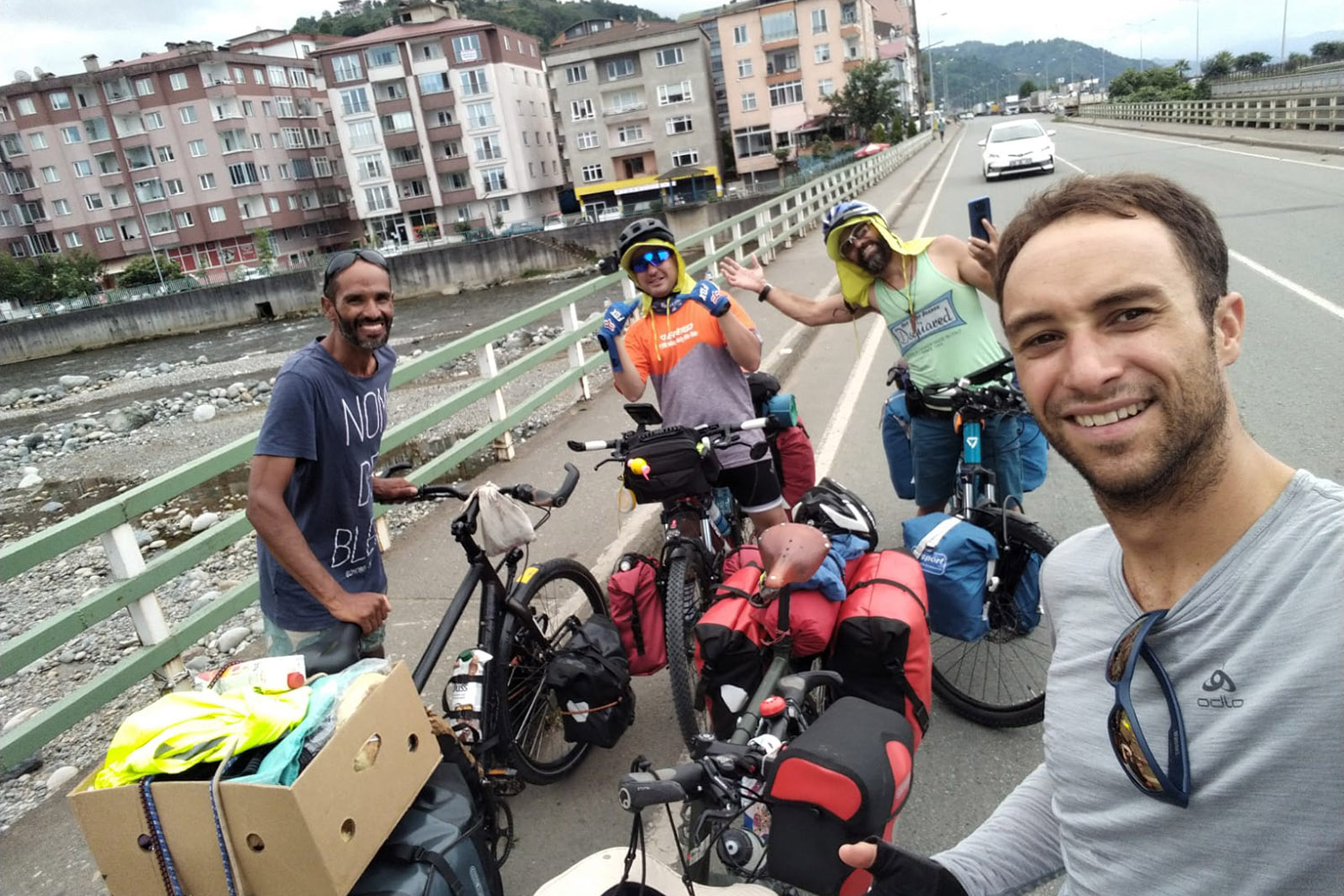 A new option has been added to the Iranian southern route, a northern Russia-Kazakstan-Uzbekistan-Kyrgyzstan route
The two options, south and north, will still force me to take the plane, to fly over Pakistan in the south route and China / Afghanistan in the north route… I give myself time to make my decision but I am much more serene than last week, probably because I started moving again, the movement calms me down.
Having made the decision not to go to the Pamirs, I jovially told myself that I was going to take revenge on the mountains that I had within reach, namely Mount Kackar.
Two parallel mountain ranges oriented east-west between Erzurum and the Black Sea. I pass the first in a pass which seemed to me passable on sight but was not indicated on the GPS. I climb to 2,700 m very proud of my track and my mountain sense sharpened by my youth in Grenoble.
The next day, after descending to 900 m, I embark on the crossing of the second chain, following the GPS this time but which I had programmed for mountain biking… I tackle 3,100 m of elevation gain during which I find out from the inhabitants of the region if I can pass or not.
But I don't want to hear anything because I've already done three hours of climbing in 30°C, half pushing the bike. So I continue! After a night in the last village at 2,000 m, I embark on the last section, pleasant surprise the path is passable, until it becomes more rocky and steep, then turns into a scree. Impossible to ride, I push my 50 kg mule and the further I go the less I can go back because the road is too bumpy. The few shepherds I meet ask me if I have a bear gun… Ah yes, because there are bears in Turkey too!
Crossing the pass cost me a tire whose side finally exploded on a rocky edge after 5 hours of being badly abused; blood in the abdomens of the flies and horseflies that attack me and tears of rage, fatigue, exhaustion.
Pulling, pushing, carrying a 50 kg bike over 700 m of elevation gain in a natural park populated by bears and wolves allowed me to find the physical and mental limits that I had supposedly come to find!
But once again, the encounters with a pickup on the road to the valley or at the campsite of two whimsical Iranian cyclists and a couple of French backpackers relieved me of my day. All accompanied by two kebabs to compensate for the missed lunch (that is to say if I was taken by my collar!).
So off I go to Georgia with these two damn Iranian lads with a stop at the first bike shop I come across to change my tire which I sealed as best I could with four patches, let's hope it holds up by then! By the way, given what the bike has been through on the way, leaving only one tire is once again the mark of its reliability.
So if I want to prepare for Nepalese mountains I better lead a hunt for weights in my equipment! Unfortunately, experience has shown that apart from the first twenty days with my friend Charlie, the two places in my tent were of no use. I may humbly switch to a one-person tent…
Well, this week will end in the eleventh country of the trip after a hell of an emotional rollercoaster, that's the trip and tonight I tell myself that I wouldn't want to be anywhere else but rolling here under the setting sun.
See you later friends.
Tanguy
To find out more about the Tanguy adventure, go to https://cyclotourisme-mag.com/2022/06/11/rencontre-avec-tanguy-cleirec-laureat-de-la-bourse-jeune-voyageur/
Text: Jean-Pierre Giorgi / Tanguy Cleirec – Photos: Tanguy Cleirec