LEO, the main vocalist of the 6-member group VIXX and also active as a solo artist, will hold a solo concert in Japan.
After a solo concert in August 2019 and a concert in Japan as VIXX in October of the same year, LEO, who returned from military service, will perform at CLUB CITTA' in Kanagawa Prefecture for the first time in about three years on September 9th (Friday). Japan concert "2022 LEO 3rd CONCERT [PIANO MAN OP.9] IN JAPAN" will be held.

VIXX's new song "PARALLEL" to be released on 12/18 will be unveiled for the first time in Japan!Great success of solo concert at Pacifico Yokohama, forming strong bonds with fans

「VIXX LIVE FANTASIA [PARALLEL] IN JAPAN" October 17 @ Pacifico Yokohama National Convention Hall[Official Report]
Ahead, August 23rd 3rd MINI ALBUM [Piano man Op. 9]LEO announced that it will release the
Fans are raising expectations for the long-awaited release of the new album and the holding of a concert featuring new songs.
Also, after being discharged from the military, LEO himself, who had not been able to come to Japan due to the effects of the coronavirus, commented, "I've always wanted to go to Japan, but I'm happy to finally be able to meet him."
Tickets for LEO (VIXX)'s solo concert in Japan for the first time in 3 years after being discharged from the military will be available for fan club lottery from 12:00 on August 10 (Wednesday).
VIXX Leo to start alternative service as a public service worker from December 2nd! Send a message with a handwritten letter (full Japanese translation)
2022 LEO 3rd CONCERT [PIANO MAN OP.9] IN JAPAN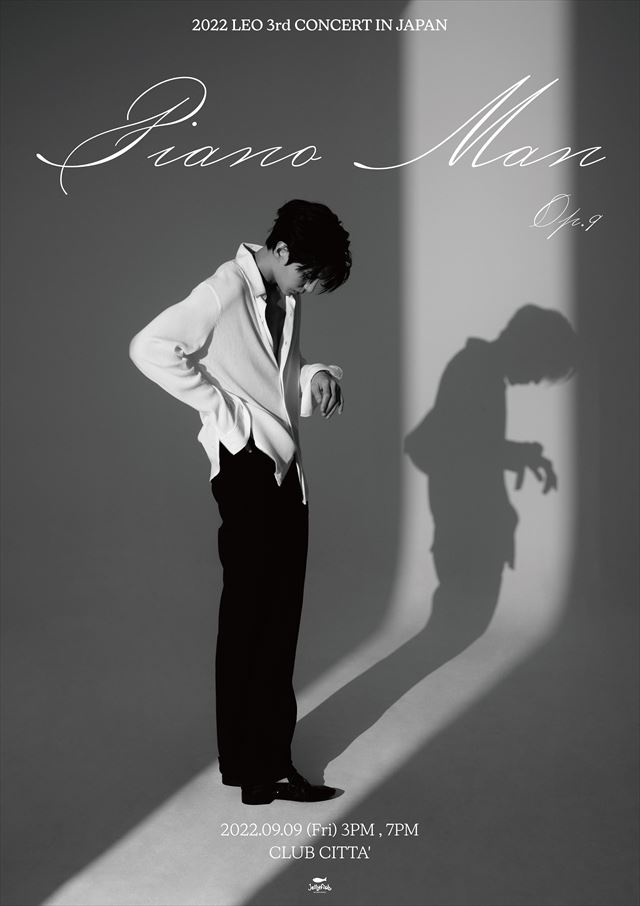 Date and time:September 9, 2022 (Gold)
[昼公演] 14:00 opening / 15:00 opening
[夜公演] 18:00 Start / 19:00 Start
venue:CITY CLUB
5-7 Ogawamachi, Kawasaki Ward, Kawasaki City, Kanagawa Prefecture
Ticket price:
1st floor rear standing (with reference number) 9,900 yen (tax included)
1st floor front reserved seat/2nd floor reserved seat 11,000 yen (tax included)
* A separate drink fee of 600 yen is required at the time of admission
*Tickets are required for ages 5 and older, no admission for children under 5
Ticket reservation period:
● Fan club lottery advance
Reception period: August 10 (Wednesday) 12:00 to August 15 (Monday) 23:59
●Mobile lottery advance
Reception period: August 16 (Tuesday) 12:00 to August 18 (Thursday) 23:59
● Rakuten ticket lottery advance
Reception period: August 20th (Sat) 12:00 to August 24th (Wed) 12:00
Organizer: Jellyfish Entertainment Japan Co., Ltd.
Planning and Production: Jellyfish Entertainment Japan Co., Ltd. / Interactive Media Mix Co., Ltd.
Cooperation: THE STAR JAPAN Co., Ltd.
Operated by: Kyodo Yokohama