Photo = SBS 'Miu Bird' broadcast screen.
Actress Lee Yeon-hee revealed that she fell in love with her husband at first sight.
In the SBS entertainment program 'My Little Old Boy' (hereinafter referred to as 'Miu Bird'), which was broadcast on the 24th, Lee Yeon-hee appeared as a special MC after 2 years of marriage.
On this day, Lee Yeon-hee said, "It was just the first time we met," said Lee Yeon-hee, who married the person she met on the first blind date in her life. .
Then, Lee Yeon-hee said, "I like people who buy me food well. I also eat well with my husband," she added.
Lee Yeon-hee has never had a big fight with her husband. "When I'm angry, I take time to think. Then the fight doesn't go well," he said.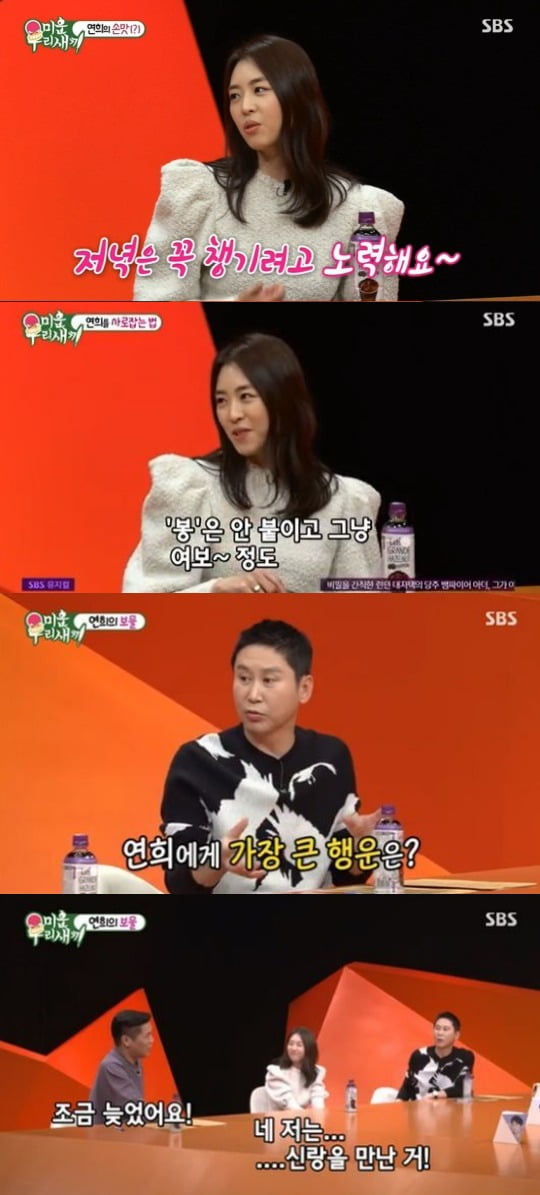 Photo = SBS 'Miu Bird' broadcast screen.
What is your husband's nickname? Lee Yeon-hee said, "I saved my husband as 'Honey Bong' in my cell phone. When I actually call her, she says honey. Rather, it seems to be more charming in the text."
Lee Yeon-hee, who likes to cook, showed herself to Korean food, saying, "I am good at stir-frying squid." Seo Jang-hoon, referring to Girls' Generation's Sooyoung's words, said, "They say that pasta doesn't taste at all, parsley and celery, too?" evoked
Fortunately, my husband enjoys Lee Yeon-hee's dishes. He said, "I'm very busy these days, so I'm only going to make dinner."
Lee Yeon-hee also showed the side of a sweet lover, saying that the greatest luck in life is "meeting the groom."
Lee Yeon-hee, who said that her nieces and nephews were so pretty that she thought she would never even think of getting married, asked if there was anything she would like her future child not to look like.
20 years ago, Lee Yeon-hee, who was selected as 'SM's good looks' after breaking through the competition ratio of 8,000 to 1, said, "It is important to be managed" as the secret to her appearance is "a generous investment." I also need to train well, so I take medicine as well," he confessed.
By Tae Yuna, staff reporter for Tenasia youyou@tenasia.co.kr
ⓒ Hankyung.com, unauthorized reprinting and redistribution prohibited