* Click the photo to enlarge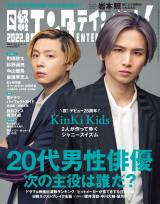 "Nikkei Entertainment! 』 KinKi Kids decorating the cover
The popular duo KinKi Kids will appear on the cover and opening interview of the August issue of the entertainment magazine "Nikkei Entertainment!" (Nikkei BP) released on July 4th. He talks about his style of activity as a player and as a creator.
The theme of the interview is "Johnny's Ism Created by Two People". They have been the longest unbeatable group for 25 years as a group doing music activities at Johnny's office. Currently, there are many individual activities, but KinKi Kids also holds concerts at the dome every year. Koichi Domoto cites "I didn't get on the trend" as the biggest reason for the unchanging feeling of activeness, and "I'm doing this kind of dance music right now, so I've never tried to do it. Record company There is almost no talk from people who say, "This is the current trend." I was thinking about what kind of song would be new to KinKi now, and that attitude was old. It's consistent from. "
Individually, two people who are active in completely different genres, "musical actor Koichi Domoto" and "funk musician Tsuyoshi Domoto". The edgy activity style that Johnny's theory did not have may seem to be at the mercy of the surroundings, but Tsuyoshi said, "Mr. Johnny (former president of the office, Mr. Johnny Kitagawa)'s head. "The result of living trying to shape what's inside," he said. "When two people make something, and when one person makes something, do something completely different. Mary. (Mary Kitagawa, the former chairman of the office). In that sense, I think that the "ism" in Johnny is all about what the two KinKi are doing. " And recollection.
Plenty of secret stories about the production of the new song "Amazing Love" (released on the 27th) are also posted. The song was composed by Tatsuro Yamashita, who worked on their debut song "Glass Boy", and was written by KinKi Kids. Surprisingly, this is the first poem written jointly by Koichi and Tsuyoshi, and in the process of making it, there were new discoveries about each other. In addition, Mr. Johnny's feelings for KinKi that Yamashita felt were also revealed.
The main feature of the issue is "Who is the next protagonist of a male actor in his 20s?" As top runners such as Masaki Suda and Ryunosuke Kamiki approach their thirties, find out who will stand out next in this generation from "affiliation agency x age research", "TV & movie appearance ranking", etc. There is. In addition, we have a lineup of projects such as the "Summer Drama Perfect Guide" that covers the hottest works of the July period, and the "Music Festival Latest Report" that is moving toward a resurrection. Keita Machida, Teru Iwamoto (Snow Man), Yosuke Sugino, Yuma Nakayama, Nijigasaki Gakuen School Idol Club, etc. will appear in the long interview.