The National Day is just over 2 weeks away!
What do you think everyone is going to do?
Have you gone somewhere to play?
This year's Mid-Autumn Festival and National Day holidays coincide with each other
September 29 (Friday) to October 6 (Friday)
A total of 8 days off.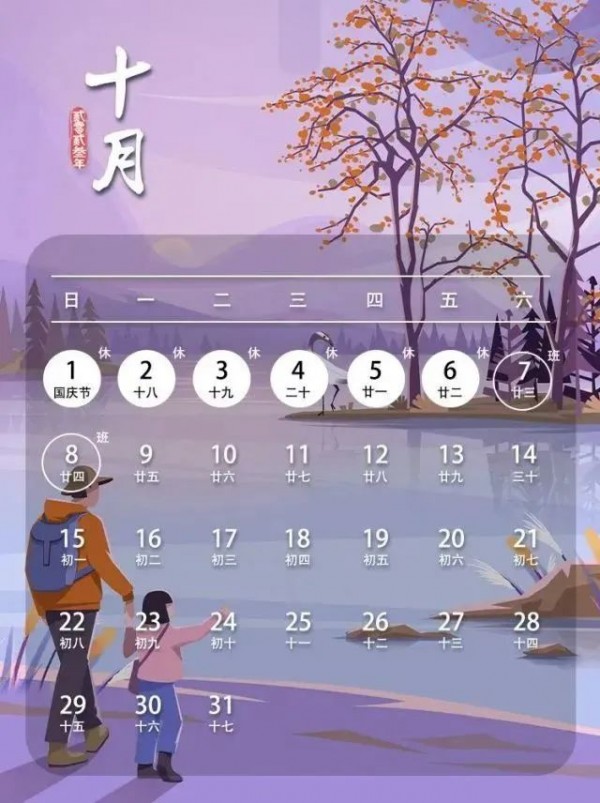 Here, Xiao Nong reminds everyone,
Mid-Autumn Festival and National Day holidaytrain ticket
On sale starting tomorrow!
The most popular ticket buying window of the year,
Don't be too busy to forget!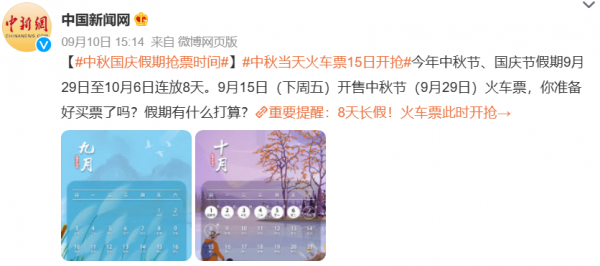 Hurry and collect this ticket purchase calendar↓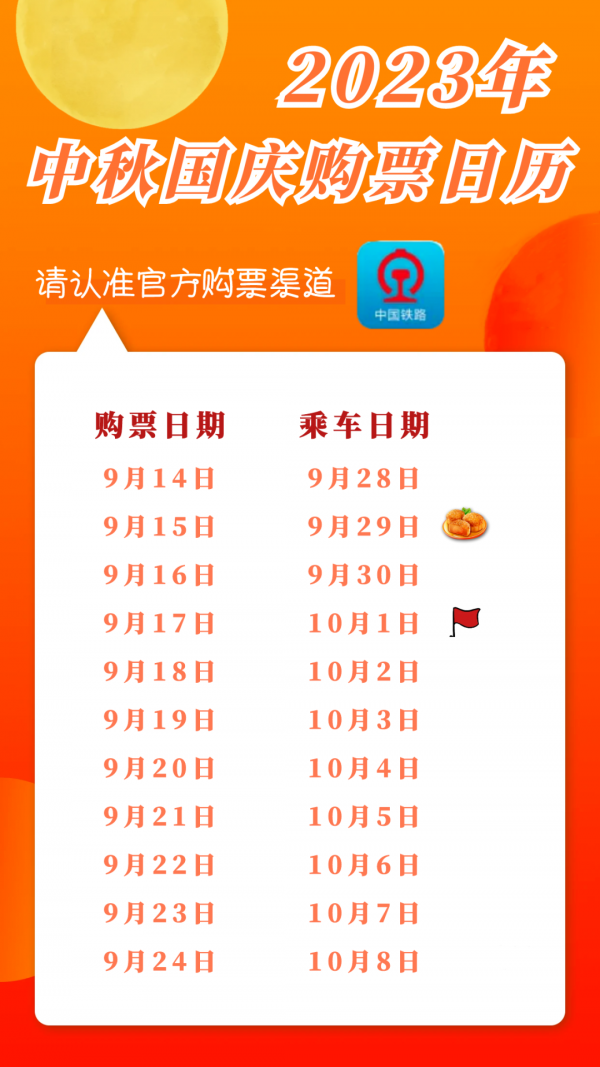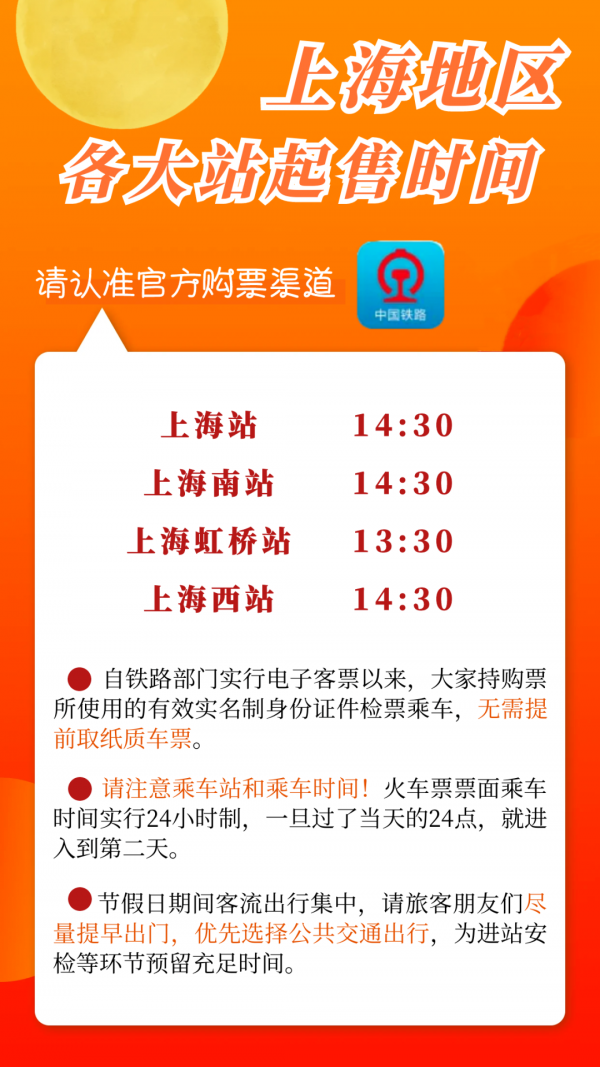 According to China State Railway Group Co., Ltd. (hereinafter referred to as "State Railway Group"), railway transportation during the National Day Golden Week will last for 12 days starting from September 27 to October 8. Railways across the country are expected to carry 190 million passengers. Railway 12306 will start selling National Day Golden Week train tickets on September 13, and September 15 is expected to be the peak day for ticket sales.
"Top 10" predictions of popular destinations across the country
The person in charge of the Passenger Transport Department of China Railway Group introduced,
This year's Mid-Autumn Festival and National Day holidays overlap.
As long as 8 days, passengers have a strong desire to travel.
The flow of visiting relatives and the flow of tourism are intertwined,
Railway passenger flow will show strong growth.
According to the railway department's estimates:
Beijing, Shanghai, Nanjing, Suzhou, Tianjin,
Guangzhou, Shenzhen, Chengdu, Xi'anWaiting for cities
They will become popular areas for travelers to depart and arrive.
In addition, the Golden Week overlaps with the Asian Games.
Hangzhou will also become a popular destination for high-speed rail travel。
The peak rush for tickets is expected to be September 15th
Peak ticket sales during the Mid-Autumn Festival and National Day Golden Week this year
Expected to appear on September 15th,
On sale on the same day, September 29th holiday
Ticket for the first day.
The railway department reminded that during the Golden Week, passenger travel demand was "clustered", resulting in tight capacity in some areas and time periods. Especially on lines in some popular directions, some trains have more suitable departure and arrival times and shorter overall travel time. , and is the preferred travel option for many travelers. When tickets for these trains go on sale, due to the high level of attention they receive from passengers, passengers will use various ticket sales channels such as 12306 online ticketing, mobile APPs, and station windows to quickly "snatch" tickets, and there may be a "second flash" Phenomenon.
However, the railway department also stated that the railway 12306 waitlist ticket purchase function operates stably, and the waitlist redemption success rate reaches more than 75%. Passengers can increase the waitlist success rate by submitting waitlisted orders with multiple combinations of "dates, train numbers, and seats" to extend the waitlist redemption time.
As for each train station
The sales start time is different.
For example, Beijing West Railway Station and Nanjing South Railway Station are at 8:00 in the morning.
Guangzhou South Railway Station is 10:00 am,
Shanghai Hongqiao Station is 13:30 pm.
You can use "Railway 12306"
The "sale starting time" query function in the official APP,
Check the sales start time at the designated station.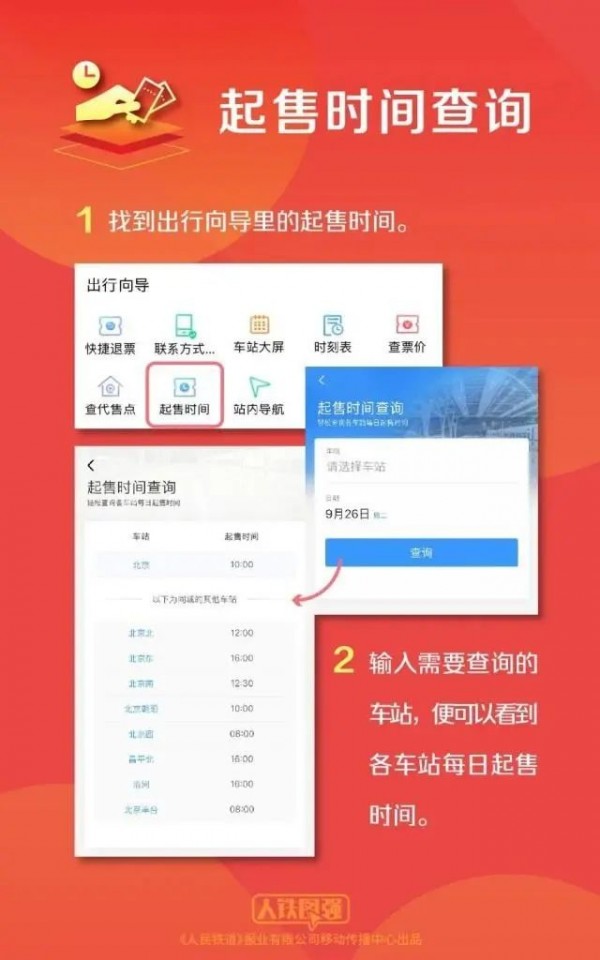 See here,
Xiao Nong also took a deep breath,
Just recovered from the rush to get tickets for the concert
I have to fight for my train ticket again.
… …
Friends who have travel plans for the Mid-Autumn Festival and National Day
Be sure to set the alarm clock
Shanghai people, please tell me in the message area,
Where do you most want to go during the long vacation?
[Nong Hao Shanghai·Tian Xiaoyu Comprehensive Editor]
The material is synthesized from: @上海released@shangguannews@东网, if there is any offense, please contact us.
Copyright statement: Unauthorized reproduction is strictly prohibited.