The number of full-time registered dietitians involved in nutritional management and education for college athletes in the United States has more than quadrupled in the last decade. While assessing the usefulness of the rapidly increasing number of sports nutritionists, a narrative review has been published that states that issues such as insufficient intake of major nutrients and micronutrients and overdose of some major nutrients remain. I will introduce the summary.
Introduction: Three issues that registered dietitians belonging to the university athletic club have tackled
It was in 1994 that the first full-time registered dietitian was hired by the athletic club of a US university. After that, the "Collegiate and Professional Sports Dietitians Association" was established in 2010, and the number of registered dietitians working in the university sports club is increasing exponentially to meet new demand. The challenges faced by registered dietitians in the college athletic club over the past decade are summarized in three categories: inadequate major nutrients, inadequate micronutrients, and excess major nutrients.
Low Energy Availability (LEA) due to inadequate intake of major nutrients is common in all disciplines of student athletes. LEA occurs intentionally or unintentionally and is often accompanied by a lack of knowledge of the athlete's nutritional requirements. In addition, relative energy deficiency in sport (RED-S) increases the risk of fatigue, infectious diseases, and various other diseases, resulting in decreased performance.
Second, inadequate intake of micronutrients, which also has a direct correlation with health and performance. Conversely, some research reports suggest that some supplements may be useful in preventing disease in college athletes.
Subsequently, overdose of some major nutrients is likely to be recognized when the advantage can be obtained by maximizing the body shape, such as the lineman of American football. Longitudinal studies have reported that athletes in these positions are significantly more likely to die from hypertensive heart disease, coronary artery disease, and left ventricular hypertrophy.
Literature search method
In this study, a literature search was conducted to investigate the impact of sports nutritionists on the health and performance of student athletes. Since there are still few reports in this area, the narrative review was adopted as the research method.
PUBMED and Web of Science were used for the literature search. The search keywords were "nutritionist / athlete" and "athlete / nutrition / knowledge", and we searched for human studies published in the last 10 years until March 31, 2021 and written in English. 121 reports were hit by "Nutritionist / Athletes" and 253 reports were hit by "Athlete / Nutrition / Knowledge". As a result of examining research subjects and methods, 8 cases were evaluated for the nutritional knowledge of athletes, and the effectiveness of nutritionists was evaluated6. A total of 14 studies were extracted.
Need for nutritional knowledge of student athletes
A questionnaire on the knowledge of sports nutrition was conducted among 123 NCAA (National Collegiate Athletic Association) Division I university student athletes who do not have a sports nutritionist, and the level judged to be sufficient knowledge was 75%. The average score was 56.9%, with only 12 being above 75%. There was no significant difference in team, level, gender, or previous nutritional education.
In a study of 77 college volleyball players who conducted a sports nutrition knowledge questionnaire, 70% was set as a passing score, but the average was 46 ± 9%, and no athlete reached the passing score.
A survey of 196 student athletes on their nutritional knowledge and regrets about past eating habits was also reported. They found that the average score was 48% for men, 49% for women, and less than 25% for supplement-related questions, all below the lower bound for proper knowledge. No association was found between nutritional knowledge and nutrition-related regrets, suggesting that much support was needed to change the behavior of student athletes, even if the subjects were knowledgeable.
A study evaluating dietary intake and dietary habits of NCAA Division I female college athletes found nutrients that most athletes did not meet. Total energy intake and carbohydrates were below the recommended lower limits, only 9% met energy requirements, and an additional 73% did not eat breakfast on a regular basis.
A study of Division III football players showed an average nutritional knowledge questionnaire score of 55.2%, indicating inadequate knowledge. Also, less than half consume fruits and vegetables daily. Nutritionally educated athletes performed significantly higher than other athletes.
Usefulness of sports nutritionist
In a study comparing college athletes who received educational intervention by a sports nutritionist with college athletes who did not receive position-matched educational intervention, weight changes were similar between the two groups, but energy intake, protein, and Carbohydrate intake was significantly increased in the intervention group, and body fat percentage was significantly reduced in the intervention group. In the intervention group, the shuttle run test was significantly improved.
Female athletes may not be aware of the lack of energy intake, not only themselves but also their coaches. The results of a four-month individual intervention by a sports nutritionist for volleyball players have been reported. It shows that the recommended energy requirements were not met before the intervention and that the intervention significantly improved it. This effect was also significant on average for the team.
In a case study of Division I athletics female athletes, weight loss stopped and body fat percentage stopped after a one-month nutritional counseling program by a sports dietitian for a condition showing continuous weight loss and menstrual dysfunction. Increased. No adverse performance was seen during the 16-month follow-up period.
There is also a report investigating the nutritional behavior of NCAA Division I baseball players at three universities. In that study, two universities had full-time sports nutritionists, and the other one had no sports nutritionists. As a result of the survey, there was a significant difference in the dietary habits of athletes between universities with and without sports nutritionists. Specifically, college athletes without a sports nutritionist have a high intake of fast foods and sweet carbonated beverages, while college athletes with a sports nutritionist have a high intake of multivitamins, early after training. He ate meals on the belt, had a low rate of skipping breakfast, and had a high percentage of preparing three meals himself, so he planned meals in advance before the expedition.
Studies have also shown that sports nutritionists not only educate student athletes, but also train other staff.
The authors conclude that "these predominantly observational studies have confirmed the usefulness of sports nutritionists. The next step is to verify the effectiveness of more rigorous studies, such as prospective cohort studies and comparative studies. It will show the need for sports nutritionists in the athletic club. "
Literature Information
原題のタイトルは、「Nutrition Knowledge of Collegiate Athletes in the United States and the Impact of Sports Dietitians on Related Outcomes: A Narrative Review」。〔Nutrients. 2021 May 22;13(6):1772〕
Click here for the original (MDPI)
Copy the URL and title of this article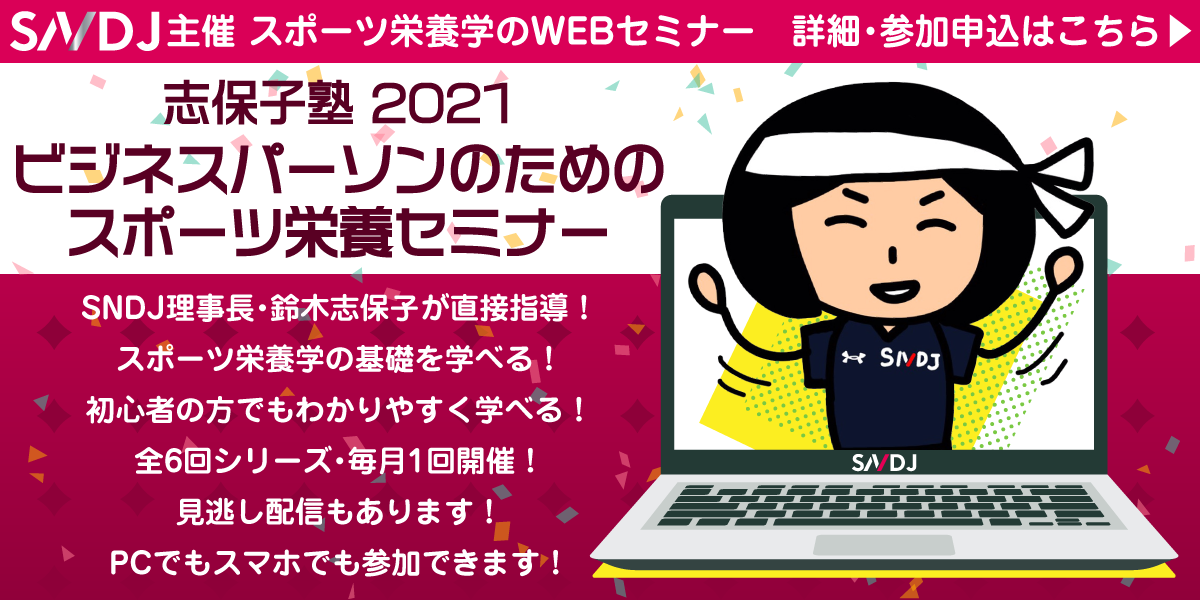 Related article
【 Sports Nutrition Web Editorial Department 】