January 28, 2022 (Friday), one-night-only dream concert『Japan Musical Festival 2022』Will be held at LINE CUBE SHIBUYA (Shibuya Public Hall). It is said that a completely new experience can be experienced by staging that makes full use of the latest video technology such as gathering gorgeous casts who are active in various genres such as talented people, young people, and 2.5-dimensional stage, and making avatars appear on the stage.
One day in January, less than a month before this event was held, we interviewed a studio in Tokyo where training is being held.Akinori Nakagawa、Masaaki Fujioka、Hanamura think too、Keisuke Higashi、Yasuhiro YamanoWe will report on the singing performance by these five people and the pattern of the surrounding coverage with photos.
Upon entering the studio, a part of the "Jersey Boys Medley" special version, which is currently being practiced, was unveiled. At the photo session, the five people showed a friendly chat, but when they started singing with a stand microphone in their hands, the studio was wrapped in beautiful harmony and entered the world of "Jersey Boys".
(From left) Akinori Nakagawa, Sota Hanamura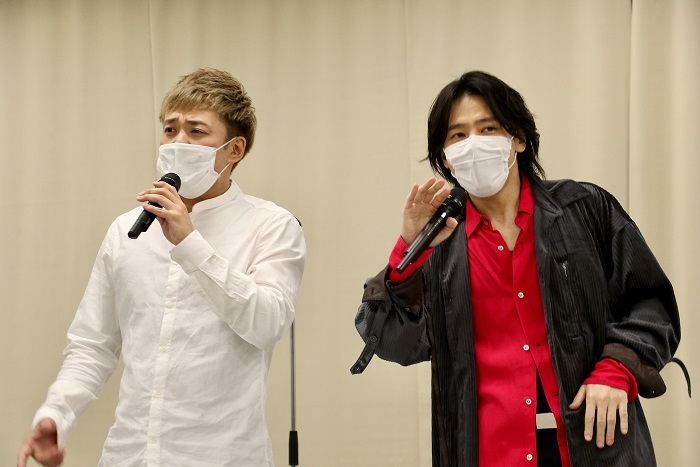 (From left) Masaaki Fujioka, Akinori Nakagawa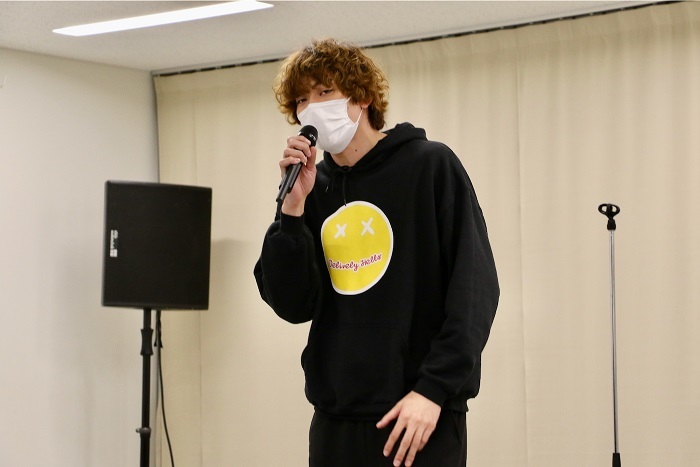 Keisuke Higashi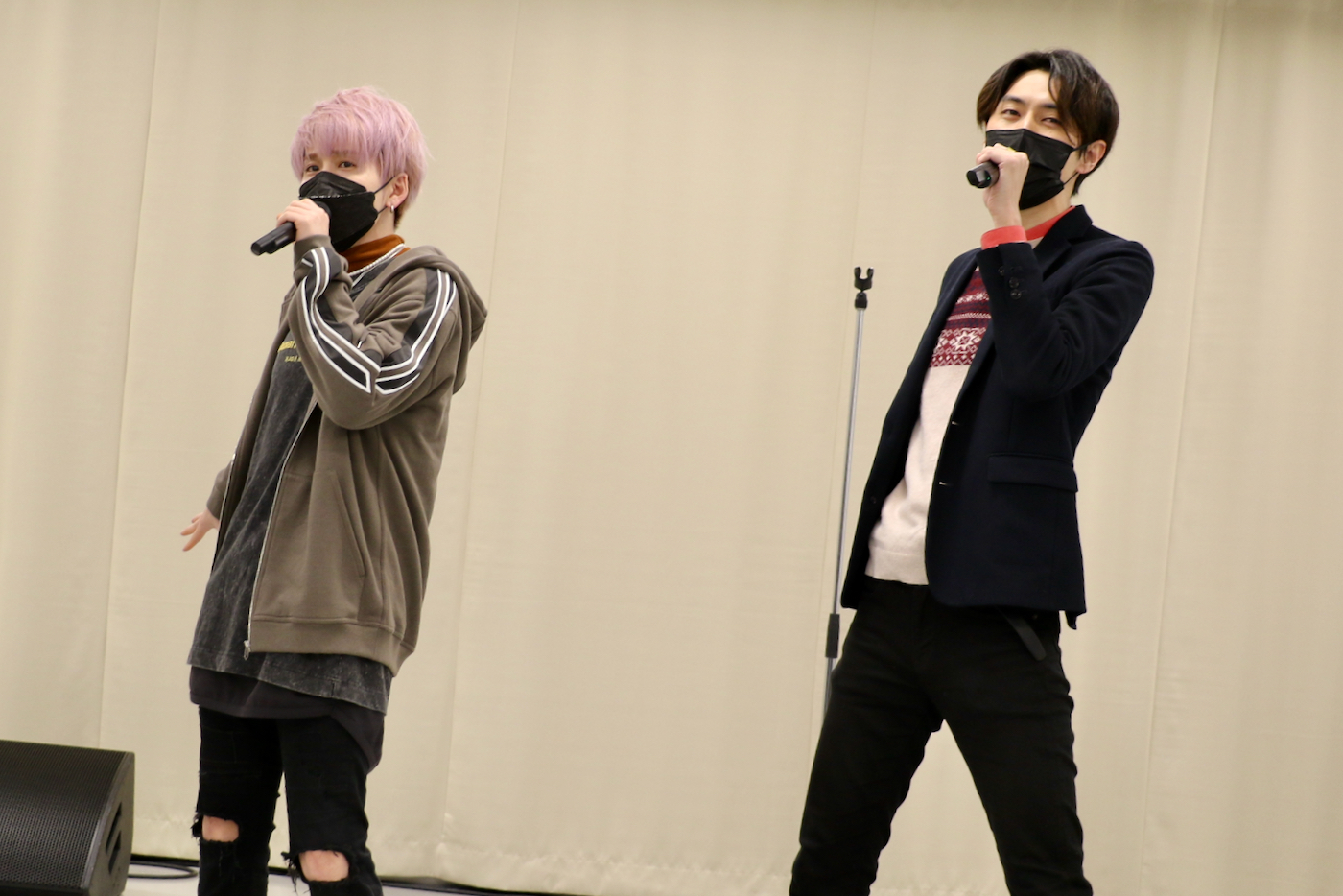 (From left) Sota Hanamura, Yasuhiro Yamano
Nakagawa, Fujioka, Hanamura, and Higashi are planning to perform in the musical "Jersey Boys" in the fall of 2022, and Yamano, who participated in the chorus this time, has also performed in "Jersey Boys" in the past. In the first half, five choruses sang "December 1963 (Oh, What a Night)", "Big Girls Don't Cry", and "Sherry", and in the second half, Nakagawa and Hanamura, who are also W casts of Frankie Valli. People performed "Can't Take My Eyes Off of You" with chorus. Even though he was practicing, he fascinated me with his rich singing voice and breathtaking performance.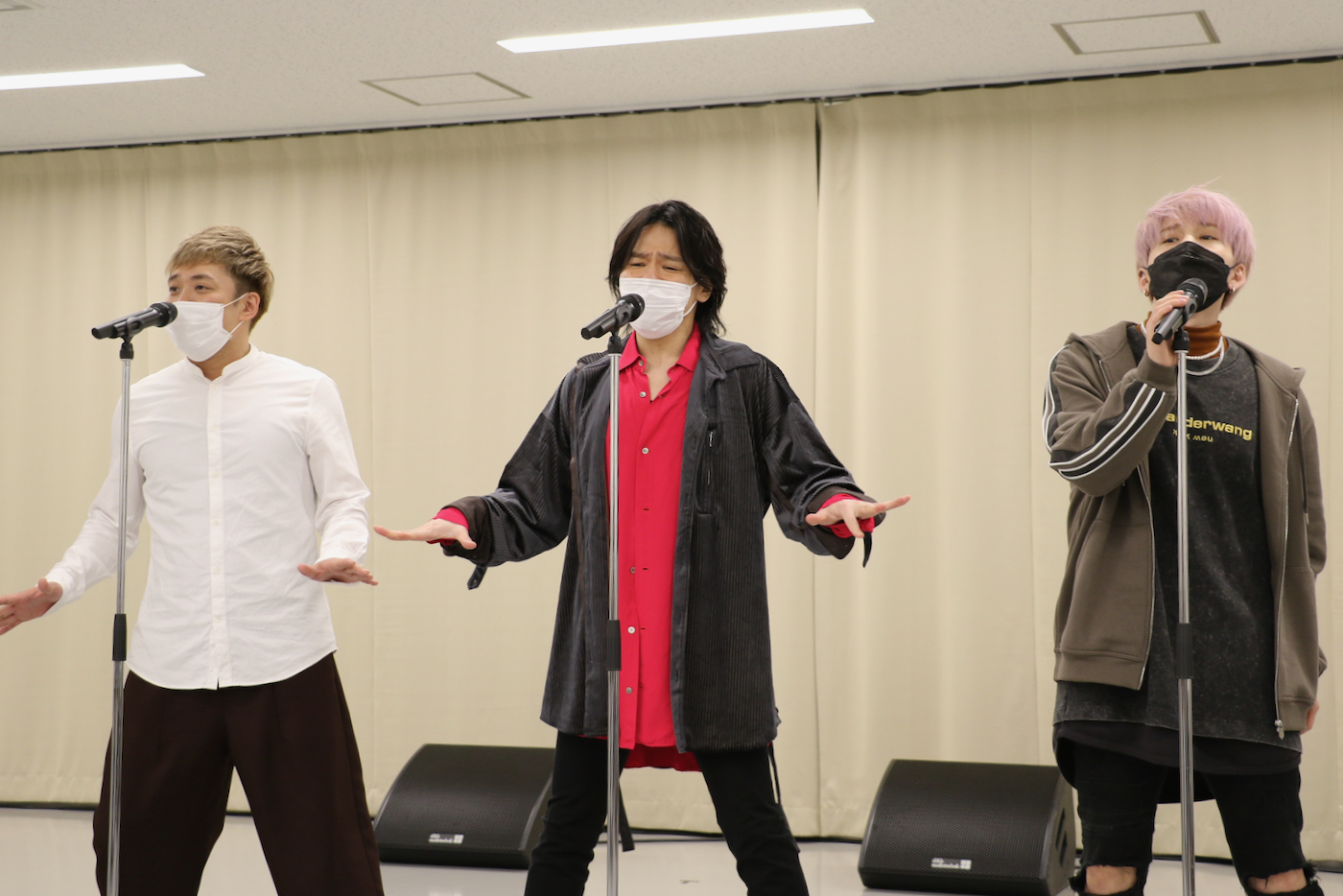 (From left) Masaaki Fujioka, Akinori Nakagawa, Sota Hanamura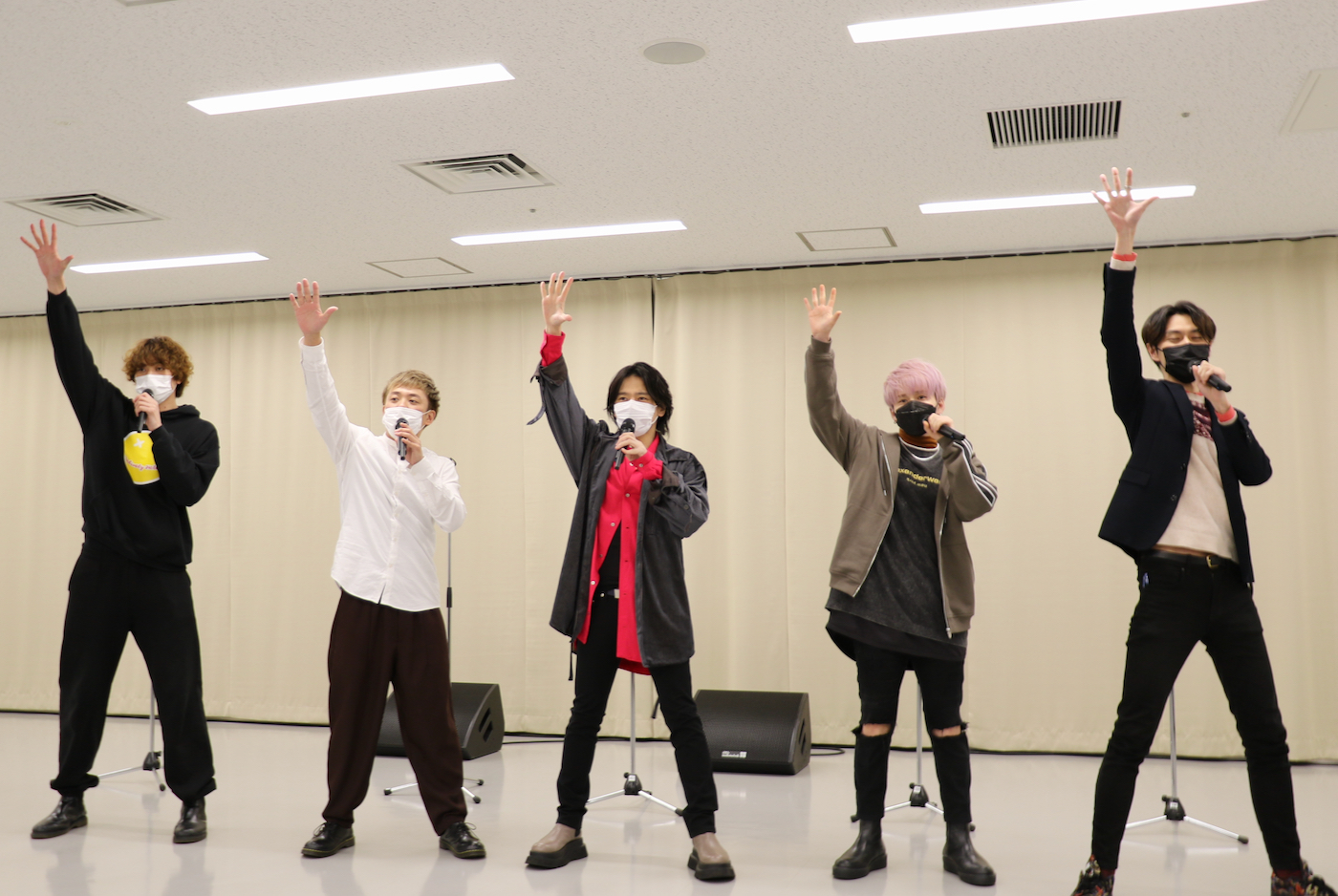 (From left) Keisuke Higashi, Masaaki Fujioka, Akinori Nakagawa, Sota Hanamura, Yasuhiro Yamano
Shortly after the singing performance, the members (Nakagawa, Fujioka, Hanamura, Higashi, Yamano) were interviewed on the spot.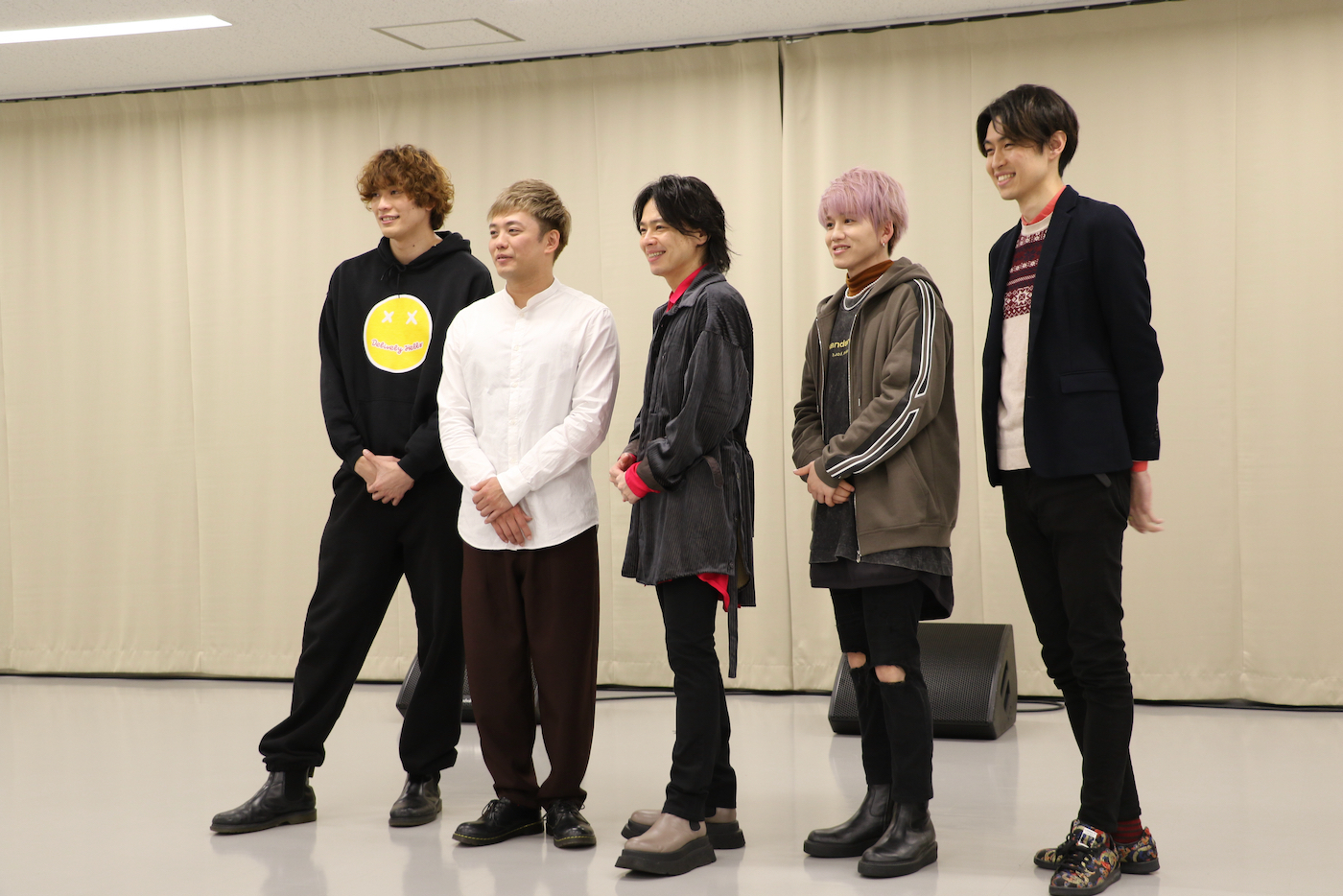 (From left) Keisuke Higashi, Masaaki Fujioka, Akinori Nakagawa, Sota Hanamura, Yasuhiro Yamano
— "Japan Musical Festival 2022" is a gathering of gorgeous cast members. How did you feel when the project was decided?
Nakagawa: I have performed at the "Starlight Musical Festival" held in South Korea. It was held from morning till night in an outdoor space that could accommodate 10,000 people, and I was shocked that "so many different customers can enjoy the musical festival." I wondered if it would be this time that I was hoping to have a festival where musicals play the leading role in Japan someday. The technology that NTV is proud of is also incorporated into the production, and everything is a gorgeous cast and set list that would be a waste in one day. I would like to do my best with that feeling so that the first time will be exciting and successful.
Hanamura: I was allowed to stand on the musical stage for the first time in 2020. I'm really happy to be able to sing with such amazing people while I don't know right or left. I don't have much time until the actual performance, but I think it will be the first place for everyone to see the songs of "Jersey Boys" by practicing hard, so I will do my best to sing.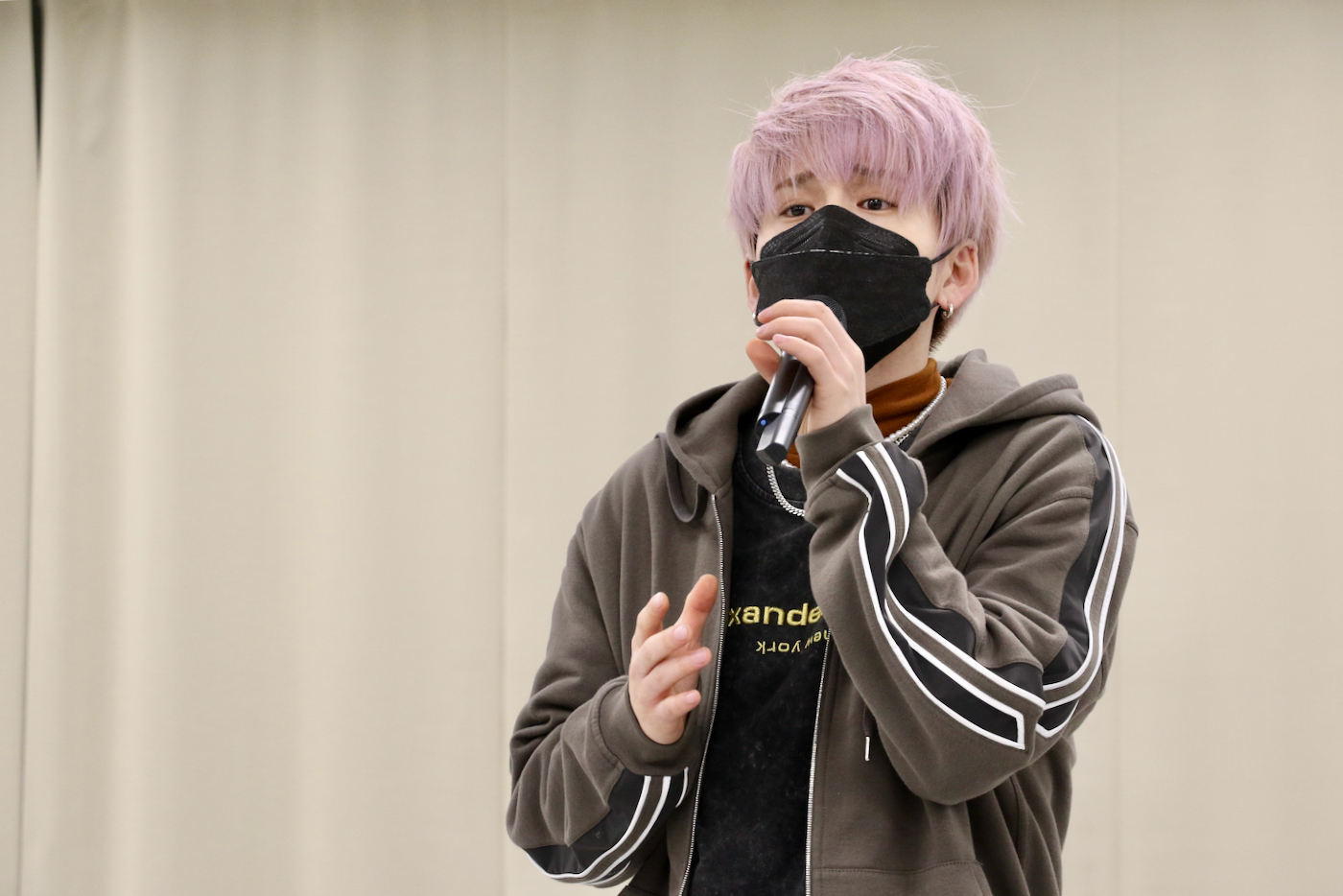 Hanamura think too
Fujioka: There are various works in musicals. Not only is it cool, glittering, nice and gorgeous, but on behalf of the workers in the Japanese musical world (laughs), I don't want to be able to convey the goodness of various musicals, including those parts. I am truly grateful to NTV for their efforts to make the musical even more exciting. First of all, I would like to make a big success in the first time, and then in the second and third years, until about "Japan Musical Festival 2222"! (Lol)
East: First of all, I'm honored to be able to work with this member, and I'm really looking forward to some of them co-starring for the first time. I'm also happy that musicals are getting excited recently. At this musical festival, we will sing various musical songs, so we hope that you will get to know the various works and at the same time love the musicals. It's a one-night festival, so I'd like to do my best while having fun.
Yamano: I will participate in the form of chorus this time, and I am really proud to be able to participate in the first memorable event with such wonderful people. I will do my best to prepare and make a wonderful stage.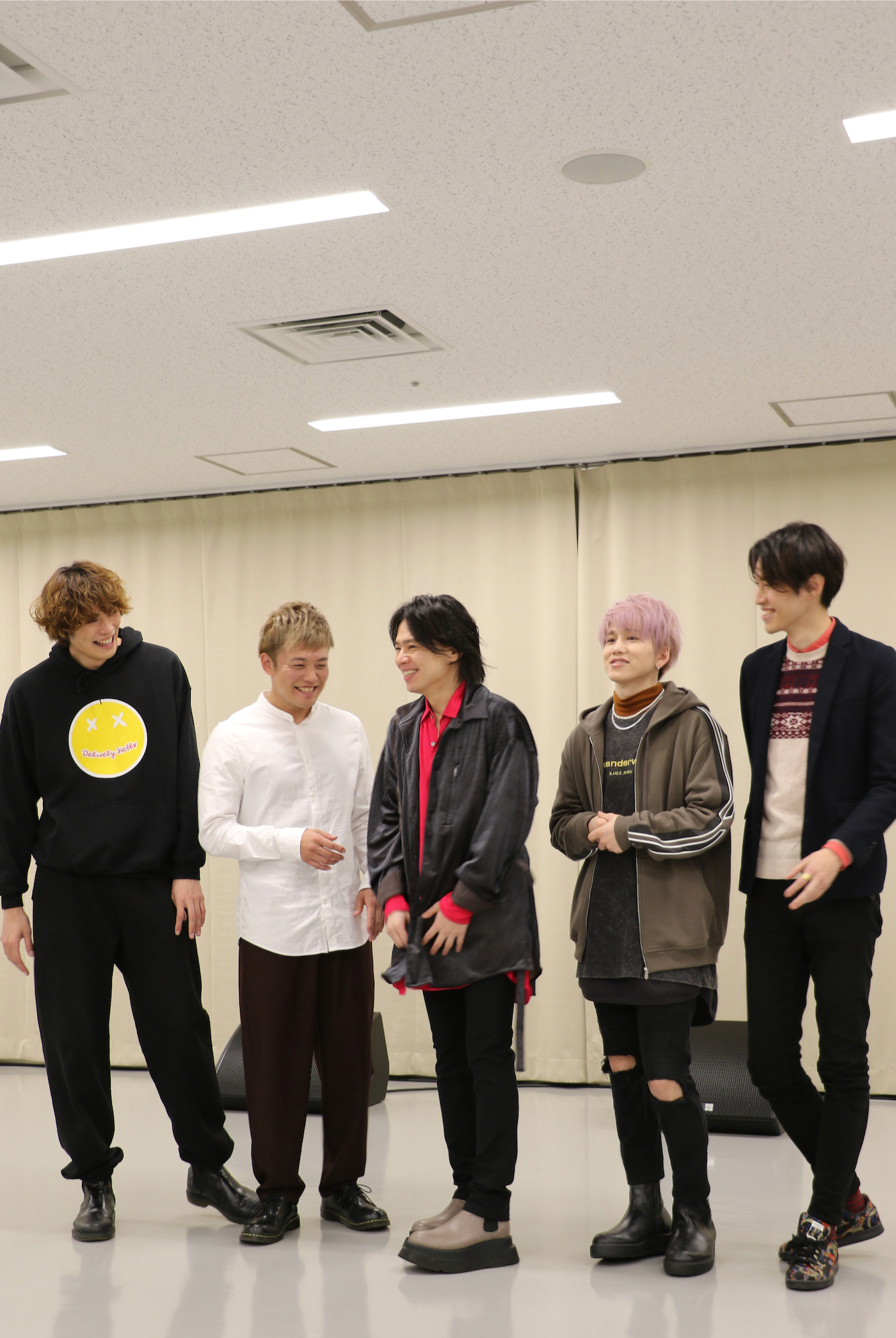 (From left) Keisuke Higashi, Masaaki Fujioka, Akinori Nakagawa, Sota Hanamura, Yasuhiro Yamano
–How did you feel when you actually talked to each other in today's song lesson?
Nakagawa: (Looking at Mr. Fujioka next door) Leader!
Fujioka: Oh, me! Eh, am I the leader? (Lol). What I thought was amazing was that Hanamura-kun was the first to meet today, right? We've sung many times, and the choreography has come so far. That's why I remember it, but Hanamura-kun pretended for the first time today, right?
Hanamura:Yes.
Fujioka: It's not a hump! ??
Hanamura: Insanely Sparta, I just did it twice.
Fujioka: Is it a little frustrating?
Hanamura: No no no no! I thought it was unreasonable (laughs).
Fujioka: It's amazing because it can be done with that!
Hanamura: If you can see it softly …
Fujioka: It's still a little until the actual performance, so I think we can brush up from here and show off the best "Jersey Boys Medley" at "Japan Musical Festival 2022".
Nakagawa: We (Nakagawa & Hanamura) play the role of Frankie Valli, a characteristic vocalist, and we have to sing from the solo part to the chorus part. There is a part that speaks out as one of everyone's harmonies, and a part that is better than everyone else as a solo, and that is not written on the score. When I practiced earlier, I thought that there are many things that can be understood only after creating and experiencing a musical work called "Jersey Boys". Including that, I felt that the brilliance of Mr. Hanamura, who is truly fresh and fresh, and that he will deliver with all his heart at this moment, must be in this work called "Jersey Boys". I had a great feeling that a different harmony of "Jersey Boys" would be born.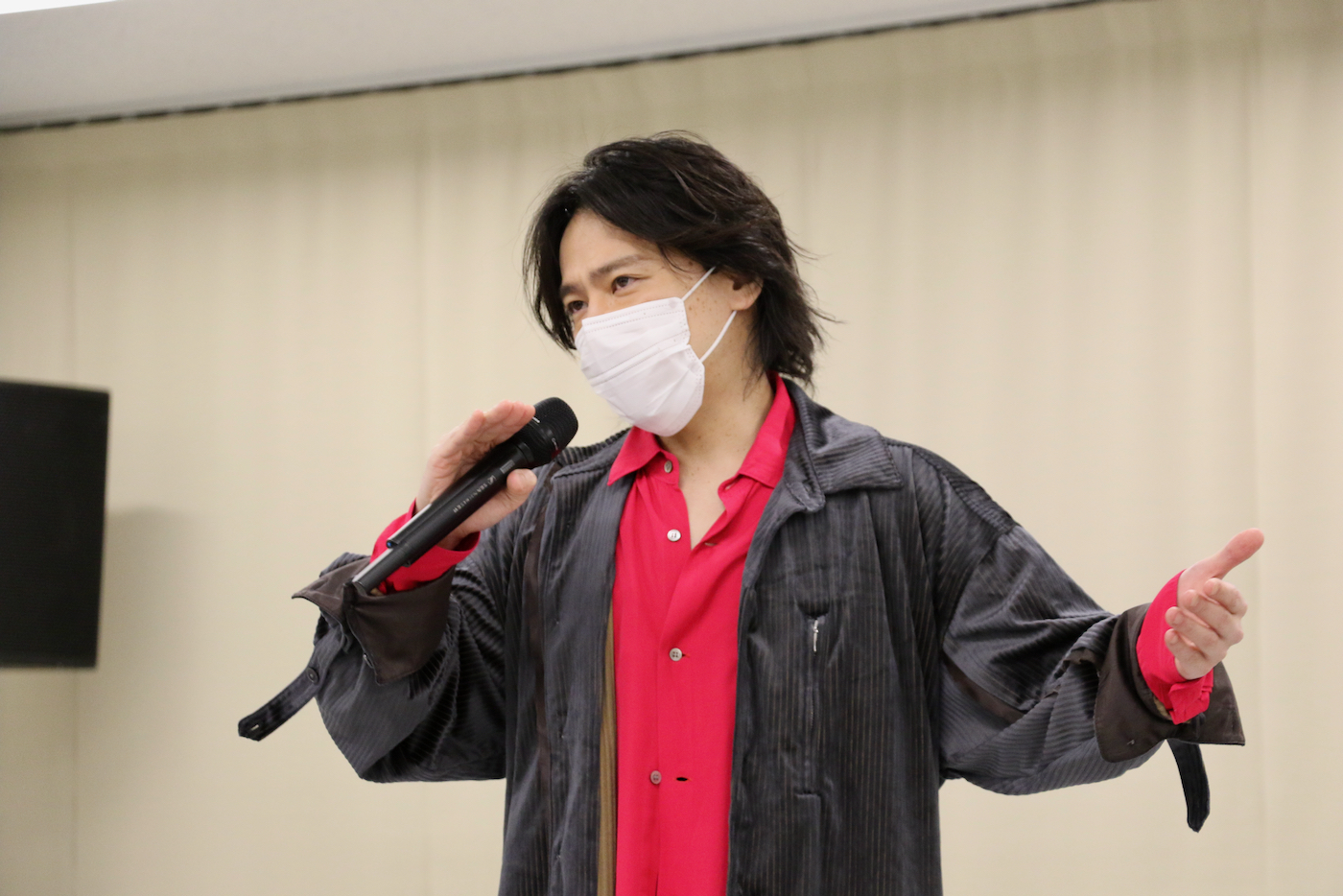 Akinori Nakagawa
–The set list has been announced, but please tell us the points of interest for each of you.
East: I'm singing with Kazuki Kato, a song called "The Darkness Spreads". While neither of them has experienced "Elizabeth", I think we can deliver to you a completely new shape of Tote and Rudolph that can only be seen here. And the song "Waving Through A Window" from "Dear Evan Hansen", which was recently released as a movie. It's actually a solo song, but I think we'll see something different because the four of us will sing it separately.
Yamano: I'm singing "The Greatest Show" and "This is Me" from "The Greatest Showman". I'm really looking forward to seeing what happens when the voices of truly great people, including those who are active on the 2.5-dimensional stage as well as grand musicals and Kabuki, gather. I hope that it will be amazing if the sound of the orchestra led by music director Ryo Sonoda is added to that.
Fujioka: For the first time in a long time, I will sing "Like the night when the world ends" from "Miss Saigon" with Rina Chinen. It's been about 14 years, so I'm really looking forward to it. Also, Hanamura-kun was doing the "RENT" mark, and in fact I used to do Roger a long time ago. So I'm really looking forward to being able to sing a song of friendship between the two, "What You Own" from "RENT".
Hanamura: After all, "Jersey Boys Medley" for me. Because there are some difficult songs in the top class among the music I have sung so far. I'm worried about how close I can get it in the remaining time, but I'd like to practice and do my best with the feeling of dying.
Nakagawa: I'm with Haruka Kinoshita, "Mozart! "If you love me, you can understand each other." Although I haven't co-starred in the work, I think I can deliver the moment when I met across generations in this one song.
–Lastly, please tell us your aspirations for this year and your enthusiasm for the concert.
Yamano: First of all, I would like to do my best so that we can be healthy and have a wonderful music time.
Hanamura: I received the grand prize at the "Japan Record Awards" last year, but I feel that I received the prize for the song "CITRUS". So this year, I would like to have you remember the name Da-iCE, and I want to make it a year where you can make a lot of musical and personal expressions.
Nakagawa: Anyway, I want to deliver a lot of dreams this year. I think that each and every one of the things I have experienced in the world of musicals is truly a miracle. I think that kind of thing will surely reach the hearts of the customers who are in the audience and those who are looking forward to entertainment. I would like to have my own fruit in the vague thing of a dream, seriously think about what stage, music, and musical to deliver it, and pour it into each work.
Fujioka: It's been the third year since 2020. Regardless of how long it will last, I would like to give a small gift of courage to the customers who come to see each one or watch it by distribution. My personal goal for this year is to win the Record Awards (laughs).
East: I have been experiencing drama at work since last year, and at the same time I was involved in musicals. I want to become a bridge where I can get to know musicals by appearing in the media such as TV. I want you to know more about musicals through "Japan Musical Festival 2022", and because of Corona's evil, I was able to enjoy the new entertainment of distribution, and in this restrained world, listening to our singing voice, I was energized. I hope you will have hope. Please look forward to it!
The performance time is 2 hours and 30 minutes including breaks, and a total of 28 songs are planned.Of this performance
Is already sold out, but for LIVE distribution and live viewing
Is now on sale. Don't miss the moment when a new musical festival is born.
Interview / text / photo = Ran Matsumura
Performance (delivery) information
『Japan Musical Festival 2022』
Schedule: 18:00 on January 28, 2022 (Gold)
Venue: LINE CUBE SHIBUYA (Shibuya Public Hall)
Cast:
Akinori Nakagawa Kazuki Kato Rina Chinen Mario Tashiro Masaaki Fujioka
Ukon Onoe Sota Hanamura Haruka Kinoshita Shogo Suzuki Ryo Hirano Keisuke Higashi
"The View Upstairs-You saw that day-" Company
(Soichi Hirama, Yuta Koseki, Kojiro Oka, Hiroshi Hatanaka, JKim, Shogo Sakamoto, Haruko Sekiya, Shunsuke Omura (SHUN), Takumi Omine)
Video appearance: Yoshio Inoue Naoto Kaiho
Music Director: Ryo Sonoda
Organizer: Nippon Television Network Corporation, CS Nippon Corporation
Inquiries about the performance: Kyodo Tokyo 0570-550-799
Operator reception hours (weekdays 11: 00-18: 00 / weekends and holidays 10: 00-18: 00)
[Live viewing]
Schedule: Starts at 18:00 on January 28, 2022 (Gold)
Venue: Movie theaters all over Japan * Opening hours vary depending on the movie theater.
Price: 4,500 yen (tax included / all seats reserved) 6,300 yen with pamphlet (tax included / all seats reserved)
General release: January 15, 2022 (Sat) 12:00 to January 27 (Thursday) 12:00
[Live viewing information site]https://liveviewing.jp/jmf-musical2022/

[Pamphlet advance reservation reception]
Advance reservations for performance pamphlets will be accepted on Nippon Television Mail Order (Nittele Poshre).
Price: 1,800 yen (tax included) Shipping: 820 yen (tax included)
* Membership registration (free of charge) is required to place an order.
* Products are scheduled to be delivered in late January.
[Japan TV mail order (Nittele Poshre) pamphlet reservation page]https://www.ntvshop.jp/shop/c/cjmf/
set list
Scheduled song for "Japan Musical Festival 2022"
Singing work:
"Les Miserables" "Miss Saigon" "Elizabeth" "Mozart! 』
"1789 -Les Amants of Bastille-" "Phantom of the Opera" "The Lion King"
"Mary Poppins" "Little Mermaid" "RENT" "Jersey Boys"
"The Greatest Showman" "Dear Evan Hansen"
"Jack the Ripper" "The View Upstairs",
Musical "Moriarty the Patriot" and others

From "Les Miserables", "I Dreamed a Dream" (Chinen), "Bring Him Home" (Fujioka)
"One Day More! (Kato, Chinen, Tashiro, Kinoshita, Suzuki, Hirano)
"Like the night when the world ends" from "Miss Saigon" (Chinen, Fujioka)
"Darkness spreads" from "Elizabeth" (Kato / Higashi) "Night Boat" (Tashiro / Kinoshita)
"Mozart! "If you love, you can understand each other" (Nakagawa / Kinoshita)
"Bokukoso Music" (Inoue / Nakagawa)
"Sa Ira Monamour" from "1789 -Les Amants of Bastille-" (Kato, Suzuki, Hirano, Higashi)
"The Phantom of the Opera" from "The Phantom of the Opera" (Nakagawa)
"Circle of Life" from "The Lion King" (Tashiro)
"Part of Your World" from "The Little Mermaid" (Kinoshita)
From "RENT" "What You Own" (Fujioka / Hanamura) "Seasons of Love" (all)
"Jersey Boys Medley" special version from "Jersey Boys" (Nakagawa, Hanamura, Fujioka, Onoe, Higashi, Yamano)
"The Greatest Show" (all) "This is Me" (all) from the movie "The Greatest Showman"
"I like this night" from "Jack the Ripper" (Kato)
"Waving Through A Window" (Nakagawa, Fujioka, Hanamura, Higashi) and others from "Dear Evan Hansen"