In the 2022 academic year, students will look for new ways to save
A photo: Vadim Akhmetov © URA.RU
Students entering Russian colleges and universities this year will have a much harder time than their predecessors. In the conditions of the changed economic reality, they will have to look for new financial life hacks. URA.RU talked to representatives of student organizations and universities and compiled a list of useful tips for those entering an independent life.
How to qualify for a scholarship
According to Valeria Avdeeva, chairman of the primary trade union organization of students at the Ural State Forest Engineering University (UGLTU), today students live on an average of 10,000 rubles a month. About three to five thousand is a scholarship, the rest of the money is given by the parents.
According to experts, this amount, although it seems extremely small, can actually be enough for all the minimum needs. The main item of expenditure for students is food. In order not to remain hungry on a limited budget, experts recommend not to get involved in public catering, but to try to cook on your own. That will work out cheaper. Moreover, it is necessary to cook, and not to warm up semi-finished products, because the same frozen cutlets, dumplings and their analogues always include an extra charge for cooking.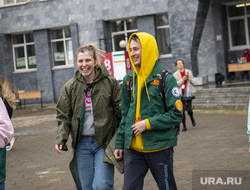 Experts advise students to keep a budget
A photo: Sergey Rusanov © URA.RU
"If we talk about recipes, then during my studies, naval pasta and buckwheat with goulash and vegetables helped me out a lot," recalls Sofia Avramenko, specialist of the scientific department of the Ural Institute of Management of the Russian Presidential Academy of National Economy and Public Administration (RANEPA). "It's very tasty and quick to prepare."
To save even more, you can open a cashback card. So, the card "Your cashback" from PSB bank allows you to return a good percentage of the cost of purchases. At the same time, the maximum cashback can be obtained if you select a certain category of goods, for example, the same products. If this is not done, then the cashback will also be, but less, and the same from all purchases.
Another universal rule necessary for optimizing costs is control over finances. You can keep a budget today not only in the old fashioned way in a notebook, but also with the help of banking mobile applications. In one of the materials on financial literacy, URA.RU has already written about this.
What course to work from
If the money is still not enough, there is always the opportunity to find a part-time job. True, experts interviewed by URA RU still advise doing this not immediately in the first year. The first year and a half is the most crucial period that is needed to get used to new loads. At this time, it is better to give all your strength to adaptation. And from the second year it is quite possible to consider options for additional earnings.
At the same time, part-time work for students, experts are sure, should not be regular. It's better to hand out flyers a few times a week or work as a steward for one-time events than skip couples due to daily cafe shifts. Ideally, find a part-time job as a tutor or related to creativity. Then it will be possible to devote time to her in between couples.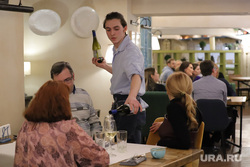 Exhausting himself on shifts in a restaurant, a student risks a place in a university
Photo: Razmik Zakarian © URA.RU
For salary purposes, debit cards are suitable, for example, the "Your Bank" debit card from PSB. Such cards allow you to transfer up to 100 thousand rubles per month without commission. You can easily receive money from your parents and salary funds for them.
"In general, if you need money, it's better to study well, because for excellent studies it gives an appropriate scholarship," says Avdeeva. If you try hard, you can receive up to 30 thousand rubles a month on various payments.
What if a dorm roommate interferes with studying
In addition to finances, in an independent life without parents, students may have other problems. One of them is difficult dorm roommates who interfere with studying.
In this case, in order to prepare for an important exam or retake in silence, former students recommend going to a special study room, if there is one in the hostel. If not, the nearest co-working space will do. Now in large cities this is a very fashionable topic.
If the neighbor violates personal boundaries (listens to music loudly, refuses to clean up according to the schedule, leads strangers), then you will have to contact the curator or members of the student council. They will tell you how to resolve the conflict.
How to move away from parents
Coworking is one of the salvations from a dorm roommate interfering with learning
Photo: Eduard Kornienko © URA.RU
If we talk directly about moving from the parental home to the big city, then the main advice, according to experts, is to do it lightly. "It's better to move to a hostel light, because everything that is not paramount can be bought in addition or brought from home when you settle down and understand how to equip the space," says Avdeeva. So, in the hostel, she recommends taking seasonal clothes and shoes, a bathrobe, slippers, personal hygiene products, a first-aid kit with drugs for ARVI, stationery and a laptop.
All of the above will come in handy more than stocks of homemade food and clothes for the winter. You can take them later, having arrived home for the weekend by train. Those who have moved too far and do not visit their homes often can get a down jacket and other warm clothes in the mail.
And, of course, URA.RU experts advise those entering adulthood to develop time management and independence. "Before moving, teach yourself to keep a sleep schedule, because how much you sleep, have time to have breakfast and take a shower, your mood for the whole day depends," says Avramenko
More than a hundred thousand Russians read our news in telegram! Join and you – subscribe to the channel "URA.RU"
Students entering Russian colleges and universities this year will have a much harder time than their predecessors. In the conditions of the changed economic reality, they will have to look for new financial life hacks. URA.RU talked to representatives of student organizations and universities and compiled a list of useful tips for those entering an independent life. How to reach the scholarship According to Valeria Avdeeva, chairman of the primary trade union organization of students of the Ural State Forest Engineering University (UGLTU), today students live on an average of 10,000 rubles a month. About three to five thousand is a scholarship, the rest of the money is given by the parents. According to experts, this amount, although it seems extremely small, can actually be enough for all the minimum needs. The main item of expenditure for students is food. In order not to remain hungry on a limited budget, experts recommend not to get involved in public catering, but to try to cook on your own. That will work out cheaper. Moreover, it is necessary to cook, and not to warm up semi-finished products, because the same frozen cutlets, dumplings and their analogues always include an extra charge for cooking. "If we talk about recipes, then during my studies, naval pasta and buckwheat with goulash and vegetables helped me out a lot," recalls Sofia Avramenko, specialist of the scientific department of the Ural Institute of Management of the Russian Presidential Academy of National Economy and Public Administration (RANEPA). "It's very tasty and quick to prepare." To save even more, you can open a cashback card. So, the card "Your cashback" from PSB bank allows you to return a good percentage of the cost of purchases. At the same time, the maximum cashback can be obtained if you select a certain category of goods, for example, the same products. If this is not done, then the cashback will also be, but less, and the same from all purchases. Another universal rule necessary for optimizing costs is control over finances. You can keep a budget today not only in the old fashioned way in a notebook, but also with the help of banking mobile applications. In one of the materials on financial literacy, URA.RU has already written about this. From what course to go to work If money is still not enough, there is always the opportunity to find a part-time job. True, experts interviewed by URA RU still advise doing this not immediately in the first year. The first year and a half is the most crucial period that is needed to get used to new loads. At this time, it is better to give all your strength to adaptation. And from the second year it is quite possible to consider options for additional earnings. At the same time, part-time work for students, experts are sure, should not be regular. It's better to hand out flyers a few times a week or work as a steward for one-time events than skip couples due to daily cafe shifts. Ideally, find a part-time job as a tutor or related to creativity. Then it will be possible to devote time to her in between couples. For salary purposes, debit cards are suitable, for example, the "Your Bank" debit card from PSB. Such cards allow you to transfer up to 100 thousand rubles per month without commission. You can easily receive money from your parents and salary funds for them. "In general, if you need money, it's better to study well, because for excellent studies it gives an appropriate scholarship," says Avdeeva. If you try hard, you can receive up to 30 thousand rubles a month on various payments. What if a dormitory neighbor interferes with studying In addition to finances, students may have other problems in an independent life without parents. One of them is difficult dorm roommates who interfere with studying. In this case, in order to prepare for an important exam or retake in silence, former students recommend going to a special study room, if there is one in the hostel. If not, the nearest co-working space will do. Now in large cities this is a very fashionable topic. If the neighbor violates personal boundaries (listens to music loudly, refuses to clean up according to the schedule, leads strangers), then you will have to contact the curator or members of the student council. They will tell you how to resolve the conflict. How to move away from parents correctly If we talk directly about moving from the parental home to a big city, then the main advice, according to experts, is to do it lightly. "It's better to move to a hostel light, because everything that is not paramount can be bought in addition or brought from home when you settle down and understand how to equip the space," says Avdeeva. So, in the hostel, she recommends taking seasonal clothes and shoes, a bathrobe, slippers, personal hygiene products, a first-aid kit with drugs for ARVI, stationery and a laptop. All of the above will come in handy more than stocks of homemade food and clothes for the winter. You can take them later, having arrived home for the weekend by train. Those who have moved too far and do not visit their homes often can get a down jacket and other warm clothes in the mail. And, of course, URA.RU experts advise those entering adulthood to develop time management and independence. "Before moving, teach yourself to keep a sleep schedule, because how much you sleep, have time to have breakfast and take a shower, your mood for the whole day depends," says Avramenko