Photo: Press service of the administration of Belogorsk
AvtoDorSfera, within the framework of the concluded contract, began to sterilize stray dogs that were brought from the streets of the city.
– On June 17, a contract was signed for catching and keeping animals without an owner. Since the 20th, 9 individuals have been sterilized, of which three are males. There are 97 individuals in the sector of temporary keeping of neglected animals," says Oksana Kiparisova, an AvtoDorSfera specialist.
Males and females are kept separately in enclosures. However, some animals were brought in already pregnant.
"Naturally, puppies will soon be born in such dogs," she noted. ― Which employees of the enterprise feed and care for them. Puppies will be spayed when they are 6 months old. Sterilization takes place in a veterinary clinic. We take two dogs a day. They stay there for a day and then we bring them back. We keep in a separate enclosure according to all the rules and regulations. After 20 days have passed, according to the contract, all sterilized dogs will be released into their natural habitat, in the places where they were brought from.
As soon as the enclosures are vacated, the acceptance of dogs from the residents of the city and the capture of homeless animals by the enterprise will be resumed.
Residents of Belogorsk can help — a special account with a QR code has been issued to raise funds for food. Special stickers are placed in crowded places of the city, the press service of the mayor's office reports.
Age category of materials: 18+
Related materials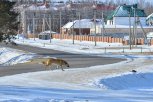 In Svobodny, a dog attacked a nine-year-old boy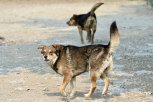 The budget for trapping and keeping neglected animals in the Amur region is planned to be tripled
"Take me home": plush dogs attracted the attention of Blagoveshchensk residents to animals from shelters
In Belogorsk, unknown people released three dogs caught from the streets from the enclosures
Vasily Orlov: "Large dogs should be removed from the streets first of all"
In Belogorsk, dogs caught on their own will be returned to their owners for 5,800 rubles
"Legislation requires adjustments": Vasily Orlov gave instructions to catch stray dogs
Vasily Orlov announced the need to create a network of shelters for homeless animals in the Amur region
In connection with rabies in the Amur region will increase the amount of funding for trapping animals
A new dog shelter in Ignatiev will be closed for quarantine if residents do not stop throwing puppies