The United States' southern border remains closed to migration. That was the central message that Kamala Harris spread on her first trip abroad as US Vice President: "Don't come!" She shouted to the people of Guatemala at a joint press conference with President Alejandro Giammattei. "The US will continue to enforce its laws and secure its borders. And I believe that if you get to our border, they will turn you away."
Indeed, US migration laws were far from welcoming immigrants, says migration expert David J. Bier of the non-party think tank Cato Institute in Washington. "The policy of the Biden government is to restrict asylum as much as possible," he wrote to DW when asked.
Strong signals of inauguration
In the last presidential election campaign in the USA, the future election winner Joe Biden had raised the hope of many voters, but also people in Latin America, that the White House would allow more migration under his leadership. And at first he seemed to be delivering.
On the day of his inauguration, Biden got going: He stopped the wall builder on the border with Mexico and abolished the "Muslim Ban" with which Donald Trump's government had banned people from seven predominantly Muslim countries from entering the United States. Shortly afterwards, the US opened its border crossings to tens of thousands who had been waiting at the border in Mexico for months, thereby enabling them to apply for asylum.
Migrants still undesirable
Biden also abolished the highly controversial deterrent tactic of separating children of illegal immigrants from their parents and brought about the reunification of the families. The new President also put President Barack Obama's so-called Dreamer Program back into force. There are young people who were illegally brought to the USA by their parents as children and grew up there, a chance of permanent residence permits.
As announced, Joe Biden took the most controversial decrees of his predecessor Trump. But since then there have only been a few, minor changes to the legal situation that do not favor immigration to the USA, explains the migration expert Bier. By and large, the new US administration is sticking to the restrictive border regime of its – two – predecessors. Because even under Barack Obama, the USA was by no means a country with open borders. The United States deported around three million illegal immigrants in the eight years, 1.5 times as many as in the two legislative terms of George W. Bush. "In the meantime, more visas are being processed again," says Bier, "but the immigration system continues to seal off the US heavily."
A diplomatic paradigm shift
With Harris' speech in Guatemala at the latest, the hopes of many people should have given way to disillusionment. It was no coincidence that she traveled to the two countries that all people have to cross if they want to get to the USA from Latin America by land.
Indi-Carolina Kryg from the Leibniz Institute for Global and Regional Studies (GIGA) in Hamburg said that the new US government made it clear early on that it did not Wants to encourage immigration. " Nevertheless, Kryg recognizes a paradigm shift in politics: "Apparently she wants to approach the problem differently than her predecessor."
Partnership instead of confrontation and isolation
Harris' appearance in Mexico and Guatemala testifies to this, says Kryg: "She does not travel to neighboring countries to threaten them, but to build partnerships." In Mexico, she spoke of deepening economic ties and promised work visas for people on the border. In April 2021 alone, 178,000 migrants arrived there. "The US needs the workforce from Latin America and it needs more legal routes to immigrate," says Kryg.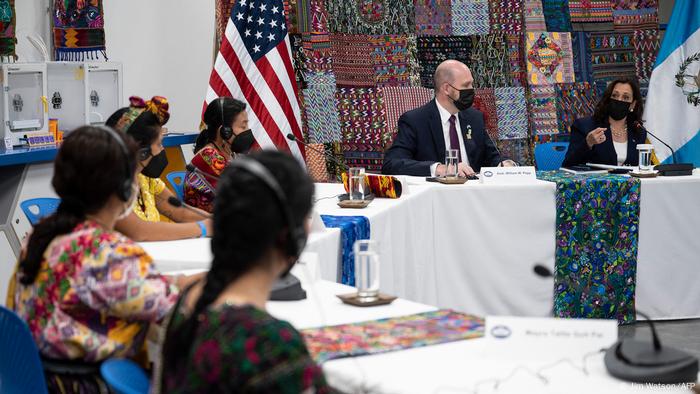 Kamala Harris also met with civil society representatives in Guatemala
But the USA also wanted to improve living conditions in the countries of origin themselves, Harris emphasized several times. Kryg finds this quite credible – not only because the government has reserved four billion US dollars for it, but also because the money should go as directly as possible to people affected by corruption, crime, natural disasters or sheer poverty. Not least to find out how the money would best be spent, Harris also met with human rights activists and other representatives of civil society. "That may seem like a secondary aspect," says Kryg, "but it could still be significant."
The sword of Damocles: decay into old patterns
However, it is also clear to the US government that the new strategy is anything but a sure-fire success. The problems could not be solved "overnight", said Harris at her meeting with Mexico's President Andrés Manuel López Obrador. The states of the region are riddled with corruption at all levels. And many heads of government care little about international pressure: "Central American governments seem to feel more comfortable ignoring or even openly challenging Washington today than at any other time I remember," writes Brian Winter, editor-in-chief of Polit – America's Quarterly magazine in one column.
This does not exactly help with one of the fundamental tasks that the US government wants to set itself: the fight against corruption and the strengthening of democratic institutions. "This lengthy process harbors the risk that the US government will lose patience and take measures to achieve visible results in the short term," says GIGA researcher Kryg. And that would then again mean above all: closing borders.
.