11143915
Guangxi Animal Health Supervision Institute launched a warm visit and condolence activity before the festival
20
Guangxi Animal Health Supervision Institute
Kamshu drill
2022-01-14
47365
rural revitalization
When the Spring Festival is approaching, in order to consolidate and expand the achievements of poverty alleviation and help the rural revitalization, on January 13, the condolence team of Guangxi Animal Health Supervision Institute visited Lianjia Village, Yinhang Township, Tiandeng County, a paired assistance village, and sent them to life. condolences and Chinese New Year wishes.
The condolence team delivered condolences to the paired households, talked to them face-to-face and asked them about their health and living conditions, told them to take care of their health, encouraged them to maintain a positive attitude, continue to work hard after getting rid of poverty, and firmly follow the Communist Party of China to a well-off life Confidence.
The Guangxi Animal Health Supervision Institute has carried out the "send warmth" condolence activity, organized cadres to participate in visiting and condolences to the people in difficulty many times, and continuously strengthened the close contact with the masses, so that the masses can truly feel the care and care of the party and the government.The cordial greetings and the New Year's blessings have strengthened theThe communication between cadres and the masses makes the masses feel the care and warmth of the party and the government from the bottom of their hearts, and they are full of hope for the future.
Condolences to the needy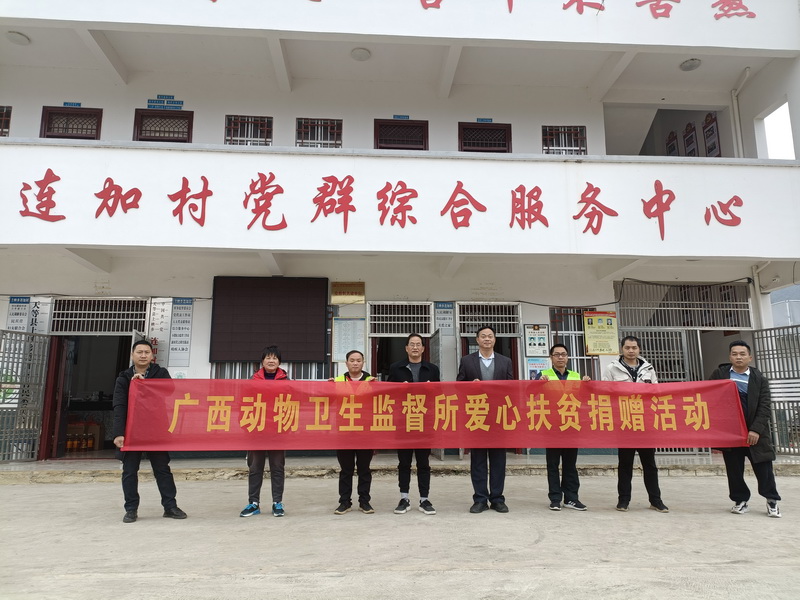 Donation event site
Publisher: Nongji Leather Auditor: Liang Yiling
Visit Statistics | Sitemap
Note: This website is a government public welfare website, and the reprinted articles are to provide free information consultation for "agriculture, rural areas and farmers". If the author or unit of the reprinted article does not agree to reprint, please contact our center.
Organizer: Department of Agriculture and Rural Affairs of Guangxi Zhuang Autonomous Region Tel: 0771-2182500
Organizer: Agricultural Information Center of Guangxi Zhuang Autonomous Region Tel: 0771-2182857
Address: No. 8, Qingshan Road, Qingxiu District, Nanning City, Guangxi Zhuang Autonomous Region (530021)