Archaeologist illustration. (Shutterstock)
Hitekno.com – Swedish archaeologists found gold pieces or gold foil featuring a number of figures engraved inside.
Interestingly, in this gold foil find there is a carving of a couple hugging each other,
The unique figure is 1,300 years old and was found in the ruins of a large hall at the Aska site, Sweden.
Archaeologists and experts are still trying to collect the broken gold foil figures to reveal more about the person engraved on them.
"We estimate to find 22 foil figures. The exact numbers are not very clear as they are mostly fragmented and there is some uncertainty as to which of the fragments came together, "said Martin Rundkvist, professor of archeology at the University of Lodz, quoted from Live Science, Friday (12/3/2021).
Although damaged, the fragments have regularity. When found, many of the pieces were folded untidy.
A gold expert named Eddie Herlin opened it and one of the figures had a tip that folded toward the center.
Although several gold figures have been found at other sites in Sweden, no written records remain of them.
One possibility is that the pair embracing was a god and goddess pair.
"We know that kings at that time claimed to be descendants of gods or they might represent princes and princesses who were getting married, "added Rundkvist.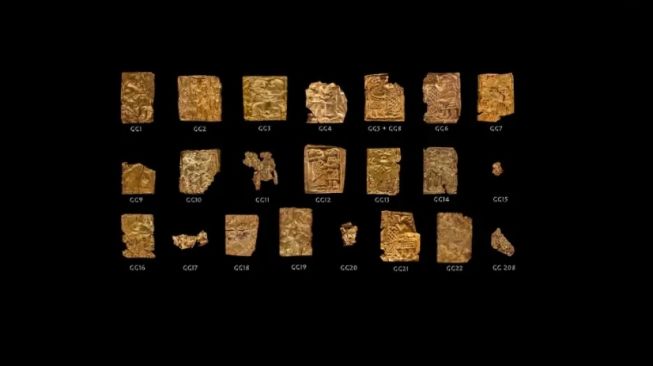 In addition to gold foil, archaeologists also found the remains of two game pieces made of whale bones and three iron pendants in a spiral pattern.
Radiocarbon dating shows that the hall at the site was built between AD 650 and AD 680.
Meanwhile, the demolition of the hall is predicted to have taken place around 940 AD. There were no signs of violent damage and the hall was probably dismantled by the people who used it.
That's the discovery of a Swedish archaeological archaeologist who found gold pieces with unique images that are thousands of years old. (Suara.com/ Lintang Siltya Utami).
.