(Photo credits: Pexels – bongkarn thanyakij)
Café de la Bourse analyzed the e-commerce sector around the world. The COVID-19 pandemic has catalyzed the growth of the online retail sector and experts estimate this acceleration to be in the order of 5 years. How is the e-commerce market structured? What has been the impact of the COVID 19 pandemic? What are the trends for the next few years? Should you choose to invest in Zalando stock or Shopify stock on the stock market? Discover our analysis!
Presentation of the E-Commerce market
E-Commerce is the digital activity of buying or selling products or services on the Internet. There are three main types of online business, depending on who is the buyer and who is the seller. We describe them below.
L'E-Commerce B2B (Business to Business)
It is simply the sale of products or services, from one company to another, through a digital channel. These can be wholesale sales platforms like Alibaba in China or Amazon in the USA, service platforms in multiple areas (Qonto for banking, Salesforce for CRM, Shopify for e-merchants, etc.). B2B is well ahead in terms of sales on the global e-commerce market: for example, it represents 79% of the market share in Germany and up to 90% of the market share in certain European countries.
L'E-Commerce B2C (Business to Consumer)
In this market segment, companies sell products or services to individuals. We can of course cite Amazon, Aliexpress, Wish, or even Zalando for the big names in the sale of products, but also all the small local traders who sell on the internet. On the service side, we can cite the best known: Booking.com for travel, AirBnb for vacation rentals, Walmart for consumer goods, Pinduoduo for products from agriculture in China. In 2020, the B2C market weighs nearly $ 3.670 billion and the weighted annual growth rate is expected to be 9.7% from 2021 to 2028.
L'E-Commerce C2C (Consumer to Consumer)
These are sales made from person to person. The exchanges are generally made via marketplaces like Ebay, Wallapop, Leboncoin or even more recently Vinted for the textile industry. Sales are also made via social networks. C2C e-commerce is particularly popular with younger generations who are more aware of the challenges of the circular economy. It is a much smaller market, but it is gaining in attraction.
Who are the players in e-commerce?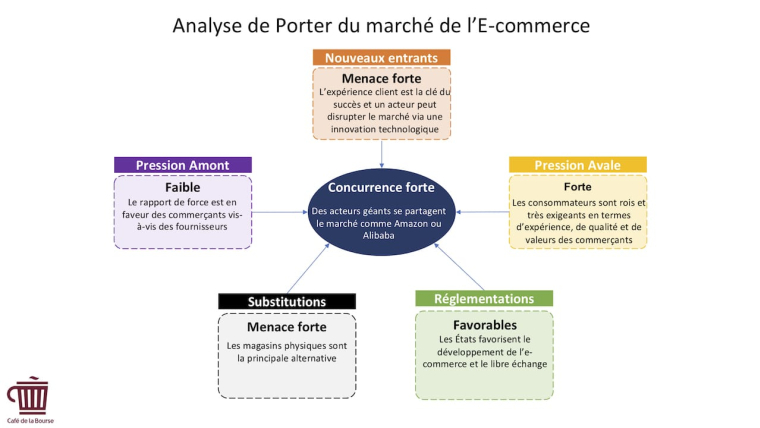 E-commerce: a good deal on the stock market?
What impact of the pandemic on the e-Commerce sector?
The dramatic increase in e-commerce amid COVID-19-induced health restrictions has propelled the share of online retail sales in total retail sales from 16% to 19% in 2020, according to estimates by a UNCTAD (United Nations Conference on Trade and Development) report published on May 3, 2021.
It is further estimated that the pandemic has accelerated the transition to e-commerce by almost 5 years. Online retail sales have grown significantly in several countries, according to UNCTAD, with South Korea posting the highest share at 25.9% in 2020, up from 20.8% the year before. China and the UK also saw their online sales grow by 24.9% and 23.3% respectively.
However, businesses have benefited unevenly from this incredible momentum linked to the pandemic. For example, online travel companies that were among the stars of e-commerce suffered. In terms of business volume, Expedia went from 5th place in 2019 to 11th place in 2020, Booking Holdings from 6th place to 12th place and Airbnb, which launched its IPO in 2020, from 11th place to 13th place. Shopify for its part goes from 9th place to first place in the world: it is one of the solutions that has enabled physical merchants to continue their activity, everywhere in the world.
What are the trends and developments in e-commerce expected after the COVID epidemic?
The online commerce industry is constantly evolving. We describe the major trends expected below.
Mobile, the new normal
M-commerce, or mobile commerce, involves making purchases online through a mobile device such as a smartphone or tablet. M-commerce will continue to grow over the next few years as advancements in technology make it easier for consumers to shop on their phones. Indeed, three out of four American consumers say they buy from their smartphone because it saves them time. Insider Intelligence predicts that m-commerce volume will grow at a compound annual growth rate (CAGR) of 25.5% through 2024, reaching $ 488 billion in sales, or 44% of all e-commerce transactions.
The West overtaken by Asia Pacific
According to Statista, e-commerce retail sales in Asia-Pacific are expected to exceed those of the rest of the world by 2023, with $ 1.4 trillion in retail sales made in Asia compared to $ 1.3 trillion in the West. This is due to several factors: on the one hand rapid urbanization and technological progress, on the other hand more than 85% of the growth of the middle class in the world is expected in the Asia Pacific region; finally, a multitude of government and private initiatives in China are promoting the development of online commerce. Traders around the world are trying to enter the Chinese market through a local supplier, a field team or even a local distributor like JD or Tmall. It is generally a real headache for Western brands!
Technologies related to visual stimulation
Visual stimulation innovations are expected to develop to help the consumer in making purchasing decisions.
On the one hand, the images and videos used on product pages, in advertisements and on social networks must be even more attractive, of high quality and, if possible, 360 °.
On the other hand, virtual reality has opened a new era in the customer experience and will allow prospects to take a closer look at the items of interest to clarify whether the product or service meets their need and once again facilitate the purchase decision.
In addition, online visual merchandising seeks to integrate the visual identity of the brand in the virtual store, enriching the shopping experience and the brand's interactions with the customer.
Finally, image search, which is already a reality in search engines and among e-commerce giants (Amazon, Ebay, Taobao, etc.) will also be present in virtual stores. This will make it easier and faster to find specific products to provide a better shopping experience.
Zalando stock market analysis
Zalando: the benchmark for online fashion in Europe
Zalandoo is a German company founded in 2008 and the European leader in the online distribution of footwear and clothing for children, men and women.
Zalando records impressive growth since its IPO in 2014: a weighted annual growth rate of 26%, 2 to three times the growth rate of the E-commerce market in Europe
Site visits total 5.4 billion, making it the most visited fashion site in Europe ahead of Zara. Finally, the company has around 39 million active customers
The geographical distribution of turnover is as follows: Germany-Austria-Switzerland accounts for 46% of turnover and Europe accounts for 54%.
Zalando financial results
The following data relates to the year 2020, except for the market capitalization (07/07/2021).
O Market capitalization: 27.7 billion euros
o Turnover: 8.0 billion euros
o Operating profit: 421 million euros
o Net income: 226 million euros
o Net cash position: 908 million euros
Shopify share analysis on the stock market
Shopify: Online Store Software Solution for Merchants
Shopify is a Canadian company founded in 2006 with the ambition to simplify the creation and operations of merchants. Shopify provides a multi-channel commerce cloud platform. The solution is aimed more at SMBs (Small & Medium Business). Through the platform, merchants can manage their activities across all of their sales channels, such as websites and mobile sites or physical stores. The platform is intended to be "all in one" and also makes it possible to manage the product catalog, stocks, manage shipments and analyze its activity and process payments.
Shopify Financial Results
o Market capitalization: 189 billion euros
o Turnover: 2.9 billion euros
o Operating profit: 437 million euros
o Net income: 320 million euros
o Net cash position: 5.6 billion euros
Should you invest in the stock market in Zalando stock or in Shopify stock
Close match between Shopify and Zalando stocks and we give the victory to Zalando in terms of valuation levels. With a PER of 437x for Shopify, the stock is very expensive compared to the Zalando stock which has a PER of 114x. A conclusion for the two values ​​all the same: fantastic prospects but of which the market is aware.
.