Jackson Briggs (Channing Tatum), a former American soldier, lives a singular existence due to suffering a traumatic brain injury occurred in the war zones of Iraq and Afghanistan. To join a Private Security company, he needs a recommendation from the army, but Captain Jones (Luke Forbes) refuses to serve him.
One day, Briggs finds out that his best friend, the soldier and canine trainer Riley Rodríguez, Ranger K-9, has died and his dog Lulú, a Belgian Malinois, in the absence of the "friend" suffers mental disturbances. post traumatic stress so hard, that the trainers have given up. She will have to be euthanized, unless Briggs agrees to take her to the place where Riley will be buried, as requested by her family.
Assassin without memory, action without much rigor
Read more
Already together, but against the will of both, they come together to start their march along the Pacific coast, from Fort Lewis (Washington) to Nogales (Arizona)… There are 2,414 kilometers of road. Already in the old Ford Bronco, Lulu will become a real problem because she is taught to attack and kill… To do?
I don't know where I read that as long as you haven't loved an animal, part of your soul is asleep. 'Dog: A Wild Ride' has the power to corroborate it and, although it is an uneven film, it is worth seeing.
Channing Tatum performs here his first directorial attempt and he does it properly under the tutelage of Reid Carolin: furthermore demonstrating that he is a good actor, because he executes his work solidly and always attached to the well-designed character.
The chemistry between him and Lulú, as well as the script, are unified to enhance emotional sequences full of warmth. But, it is fair to write it…. without his participation, it would be illogical to keep the applause. Also, every time she emerges…the feature film is stolen! The scene that involves a citizen who because of her clothing resembles an Arab becomes for her a visual synonym of the enemy, it makes an impact… even if a smile escapes.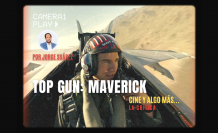 Top Gun: Maverick, a tape superior to its predecessor
Read more
His plot includes a series of characters (a marijuana farmer, sex therapists, pet psychics, etc.) who give him good humor to the story but that, if he had not appeared, the tape would not have been uneven either.
It is surprising that, being a movie about domestic animals, they have included sequences that show the cruelty that a trained canine can have to combat and subdue adverse beings. This takes him away from any cheap sentimentality; It will not be The Invisible Chain (1943 film) and its famous Lassie, but it serves to show a tangible reality: the trained animal follows what is ordered, what has been learned.
All this does not mean total excellence. Often times, situations are predictablethere are manipulated scenes to increase the vibrations, but its favor is that it was executed under the correct tone, a voice that allows Peter Travers of ABC News to say: "It will hit you like a shot to the heart, even if you suffer from canine indifference.".
Marginal note. The story is based on the fact that Tatum saw his dog die and this inspired the argument. Lulu was 'performed' by three different dogs.