Korean Air, Asiana integrated new roadmap
The integration of Korean Air and Asiana Airlines will be promoted with the goal of 2024, two years behind the original plan. However, as there are many challenges to be solved, such as the backlash from competitors due to concerns about monopoly and the problem of affiliated low-cost airlines (LCC), pain is also expected.
According to Park Yong-jin of the Democratic Party, a member of the National Assembly's Political Affairs Committee on the 28th, Korean Air proposed the acquisition time of Asiana Airlines in 2022 and the merger in 2024 in the'Post-acquisition Integration Strategy (PMI)' recently submitted to the KDB Development Bank. By the end of June of this year, it delayed the plan to invest 1.5 trillion won by participating in the paid-in capital increase of Asiana Airlines and incorporating Asiana Airlines into a 63.9%-owned subsidiary. Accordingly, the merger between Korean Air and Asiana Airlines, which was proposed next year, will also be pushed back to 2024.
It seems that Korean Air's plan was to consider a business combination review. Korean Air is waiting for approval of a merger in nine countries, including Korea, the United States, the European Union (EU), Japan, China, Taiwan, Vietnam, and Thailand, to take over Asiana Airlines. Of these, at least four countries excluding Korea must approve it, but only in Turkey last month. If the approval is not obtained, there is a possibility that the aviation business may have to be abandoned in an unapproved country.

View larger
The reason that Korean Air took nearly two years for the business combination examination was because overseas checks against'Integrated Korean Air', which became the world's seventh-largest'mega carrier (large airline),' based on a simple sum of passengers and cargo transportation. to be. A typical case is the US route. Currently, United Airlines, which is part of Star Alliance, an airline alliance like Asiana Airlines, actually operates only Incheon-San Francisco, while the remaining Incheon-New York, Los Angeles and Seattle routes are codeshare with Asiana Airlines. However, if the merger results in the launch of'Integrated Korean Air' belonging to another alliance,'Sky Team', United will be unable to sell seats on routes outside of San Francisco. There is a possibility that the US competition authorities will consider this situation and reflect it in the conditions for the examination of business combinations. The same is true for routes where the number of flights is limited due to the lack of agreements for liberalization between countries. The Gimpo-Tokyo (Haneda) route, which is the only Korean-Japanese route with limited transportation rights, distributed transportation rights to two airlines each to promote competition in both countries, but this balance is broken after the launch of integrated Korean Air. The same goes for Europe and China. It is highly likely that each country will require measures to protect its airlines. The Ministry of Land, Infrastructure and Transport recently analyzed that as of 2019, there will be 32 international routes with an integrated Korean Air route share of more than 50%.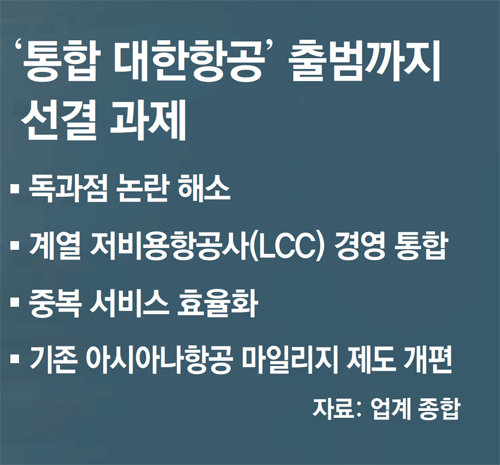 View larger
After the acquisition next year, Korean Air will analyze the mileage value of existing Asiana Airlines customers and begin reviewing to establish an integrated mileage system. In-flight meals with overlapping duties, in-flight sales, crew members, and ground-based positions are also prepared.
Restructuring the governance structure is also a task. After Korean Air's acquisition of Asiana Airlines, the structure will be'Hanjin Kal (holding company) → Korean Air (subsidiary) → Asiana Airlines (grandchild company) → Asiana Airlines' existing subsidiary (great-grandchild company)'. They either own 100% of the stake or settle the governance structure of the great-grandchildren within two years. After the acquisition in 2022, the merger must be completed by 2024 in order to solve this problem by turning a great-grandchild company into a grandchild subsidiary.
Meanwhile, it is known that the integration plan for affiliated LCCs is not included in this PMI. The PMI will be confirmed after review by KDB. An official from the aviation industry said, "When Korean Air affiliates Jin Air, Asiana Airlines affiliates Air Busan and Air Seoul merge, it accounts for 40% of the domestic LCC market. Will be."
Reporter Seo Hyeong-seok [email protected]
Close window
You recommended the article
Delayed'aircraft integration'… "2 years delayed to complete by 2024"
Best Recommended News