Ministry of National Education, Vocational Training and Higher Education
CPGE for students of preparatory departments
Granting of merit and distinction
Scholarship for the Honorable Office for Phosphates
Preparatory classes for schools
Excellence program, merit scholarship and OCP foundation scholarship
2021 /2022
The deadline for online nomination is 11-09-2021
The paper file is between 23-08-2021 and 09-15-2021
CPGE scholarships: best Moroccan students, enrolled in CPGE and entering the 1st year of the Grandes Ecoles d'Ingénieurs and assimilated and the French Grandes Ecoles de Commerce
Merit scholarship OCP Foundation scholarship 2021/2022
| | |
| --- | --- |
| steps | Period |
| Opening of the site for Excellence Program / Merit scholarship / OCP Foundation scholarship | From 06/02/2021 To 09/11/2021 |
| Sending of paper files – Program of excellence / Merit scholarship / OCP Foundation scholarship | From 23/08/2021 To 15/09/2021 |
| Award decision Excellence program / Merit scholarship / OCP Foundation scholarship | From 10/15/2021 |
| Sending of the paper files of the OCP Foundation grant | After the announcement of the results on the dates and address to be specified later |
After loading all the requested documents on the CF and scholarship forms space, the paper scholarship application file must be sent by mail only (secure service with tracking) from 23/08/2021 to 15/09/2021 to the following address :
Annex of the CNIPE
32, rue Essaadiyine
10020 Rabat
The candidate must indicate on the envelope LAST NAME First name, scholarship file number and integrated school.
Only files declared "registered on the portal" are processed.
---
1- Merit scholarship rating and OCP foundation scholarship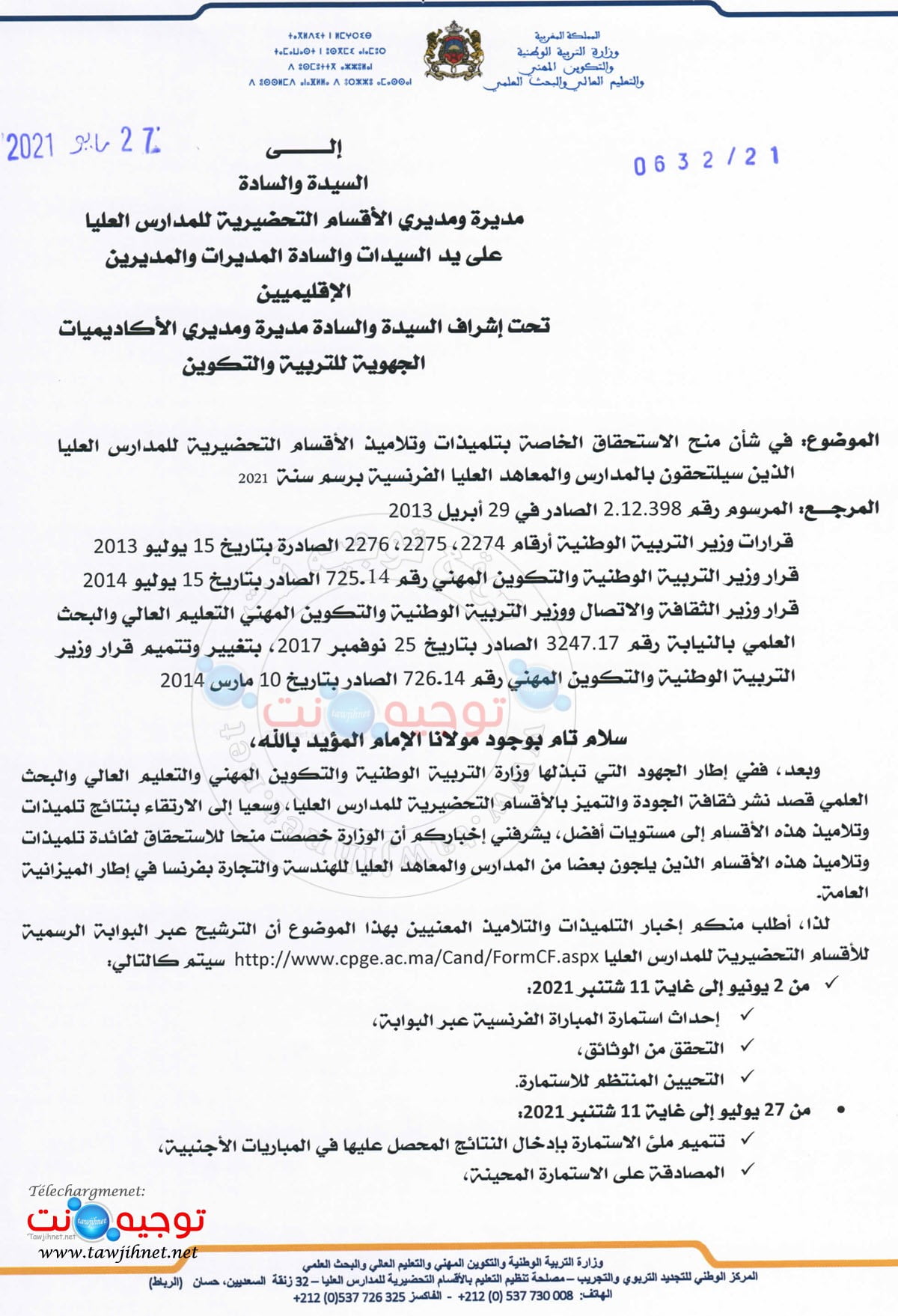 **************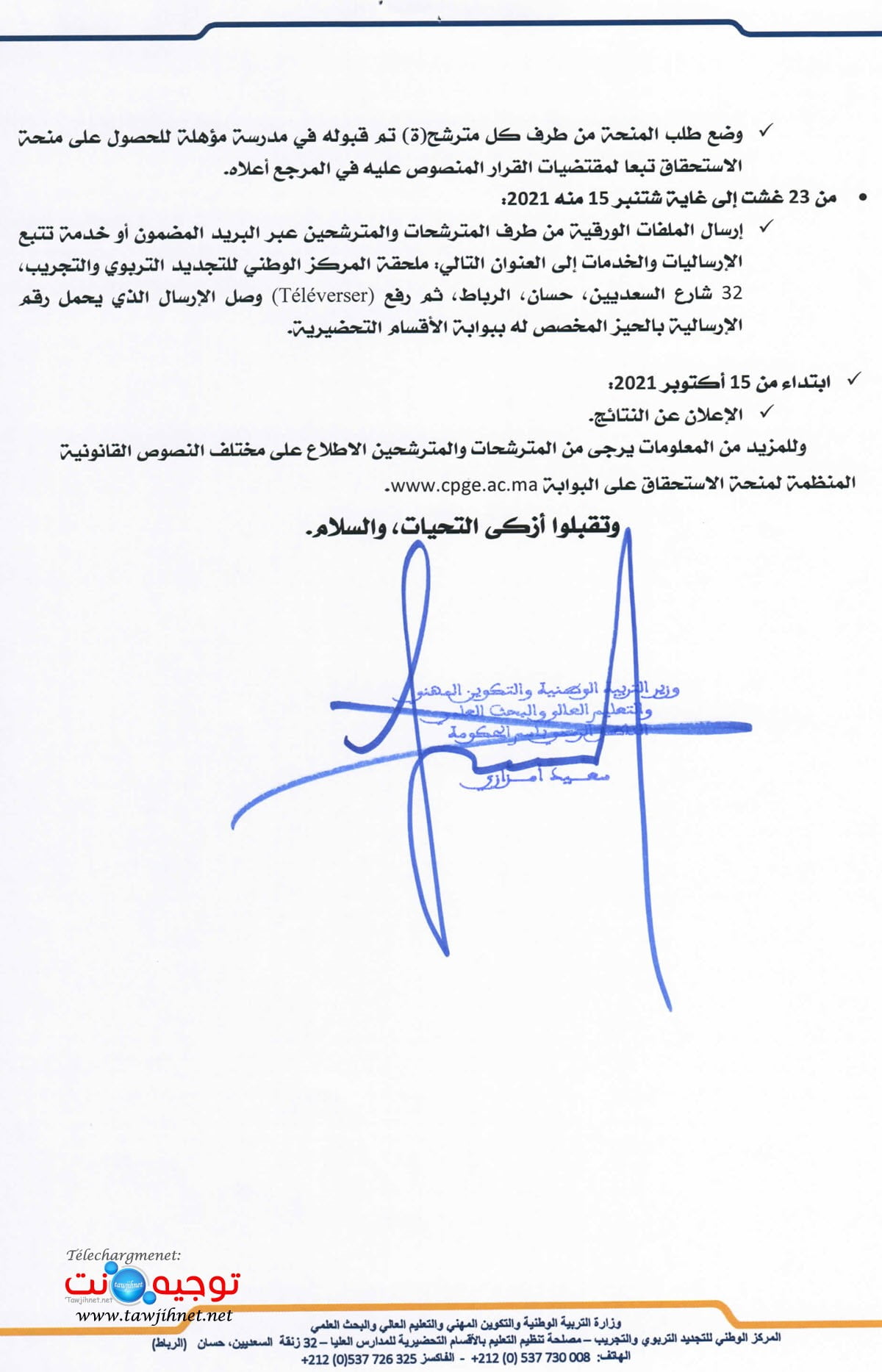 the eligible schools mentioned in the tables:
Engineering schools: École Polytechnique-Ecoles Normales Supérieures-Ecoles Normales Supérieures -Mines-….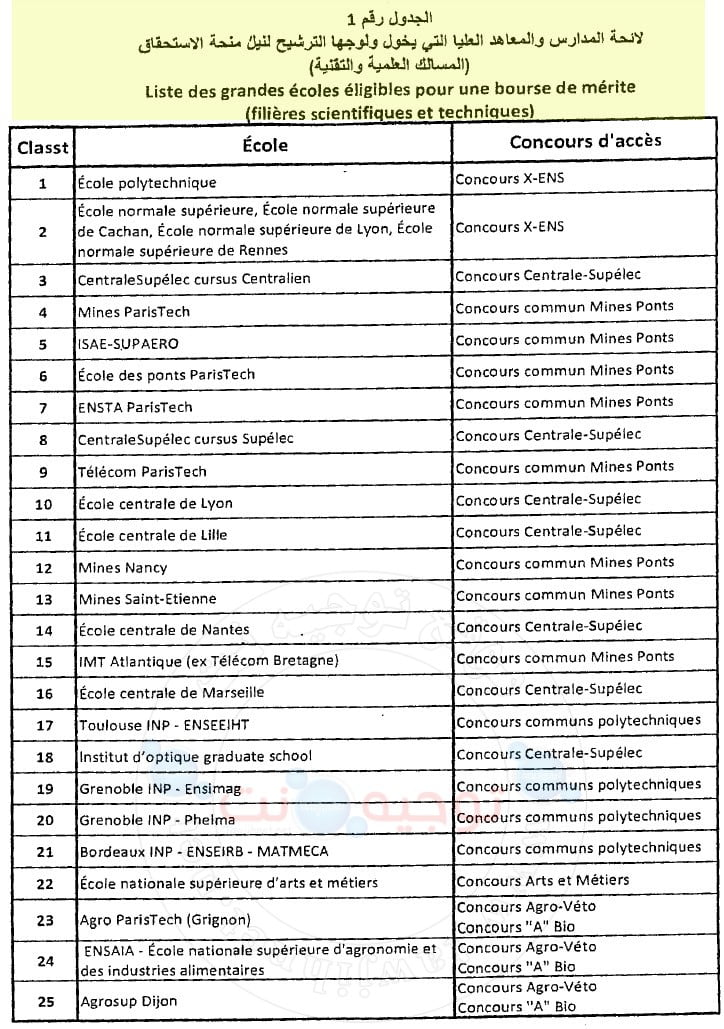 Business schools: HEC Paris- ESSEC Paris- ESCP Europe – School of Management Lyon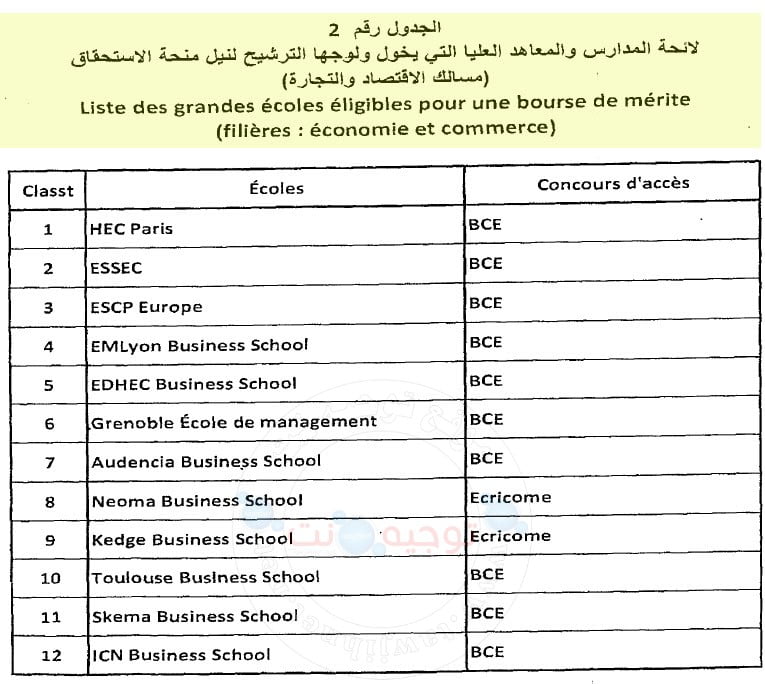 The OCP Foundation, in partnership with the Ministry of National Education, Vocational Training, Higher Education and Scientific Research, is launching the "OCP Foundation Grant" for the 2021-2022 academic year.
This scholarship will be offered to the best Moroccan students, enrolled in a CPGE and entering the 1st year of the Grandes Écoles d'Ingénieurs et assimilées and the French Grandes Écoles de Commerce, the list of which is set by ministerial decree No. 726.14 of March 10, 2014.
Students of Moroccan nationality, eligible for the merit scholarship, having completed their schooling in a CPGE in Morocco or in France and subject to resources are eligible for this scholarship.
The OCP Foundation scholarship is made up annually of a monthly amount of MAD 6000 per month over 10 months, the management of registration fee of 30,000 MAD, of a annual amount of MAD 4000 for the payment of an A / R Morocco-France plane ticket in the amount of 6000 MAD for installation costs.
4-information and application
Excellence program, merit scholarship and OCP foundation scholarship For the year: 2021/2022 – from 06/02/2021
For more information: Cpge scholarship