>>The country adopts a vocational training strategy until 2030
>>Digital transformation of the vocational training system
>>Approval of a vocational training program
In a class at the Tây Ninh vocational school.
Photo : VNA/CVN
According to Vu Lan Huong, deputy head of the office of the General Department of Vocational Training, about 5,000 teachers and executives have studied abroad (Malaysia, Australia, Germany, France, Japan Taiwan (China), South Korea). More than 600 teachers have been trained in particular within the framework of the skills transfer program with Australia and Germany. However, this figure remains modest compared to the nearly 90,000 teachers currently employed in the country's vocational training system.
In the coming times, the General Department of Vocational Training wants to attract foreign investors and companies to participate in the development of vocational education, and further encourage teachers and managers to train with international organizations and to participate actively in large organization forums.
Improve the foreign language level of teachers
Regarding the quality of teachers in the vocational training sector, the said General Department continues to encourage training abroad, invite experts to participate in training in schools in Vietnam and improve the level of foreign languages. teachers.
According to Trân Mai Yên, director of the Asia-Pacific Francophone Regional Center, up to 2016, 470 teachers and managers have been trained in the skills-based approach of the Multilateral Cooperation Program on Vocational and Technical Training (REG 100), supported by the international partners APEFE, WBI, OIF. Since 2021, the program is looking for more resources to train teachers in the APS method (skill-based approach).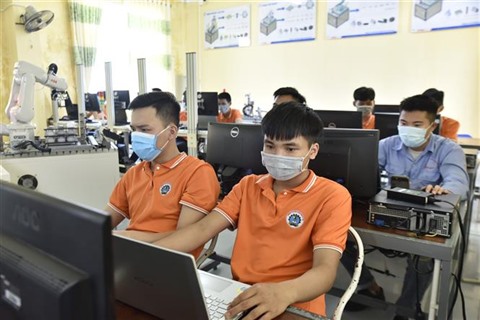 In a vocational school in the province of Hà Tinh.
Photo : VNA/CVN
For his part, Jugen Hartwig, director of the Vietnam Vocational Training Innovation Program of Germany's International Cooperation Organization (GIZ), expressed his wish to help Vietnam build the capacity of the training system. professionalism in the country so that it responds to the needs of the changing labor market.
According to Truong Anh Dung, head of the General Department of Vocational Training, the industry should stimulate the process of digital transformation and renew the training method. In addition, it is necessary to implement the new management model and take advantage of foreign resources to upgrade in professional teaching skills.
In this new context, cooperation with international organizations to improve the capacities of the vocational training system becomes essential.
.