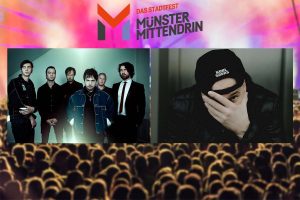 The city festival "Münster Mittendrin" is to take place from August 19 to 21, 2022. The headlining concerts on Friday with Felix Jaehn and Querbeat and on Sunday with Roland Kaiser sold out very quickly for the original date last summer. Now the organizers have announced the top acts for Saturday.
The guys from Mando Diao from Sweden started their triumphal march onto the stages of this world back in 1999. The rock band consists of Björn Dixgård, Patrik Heikinpieti, Daniel Haglund, Carl-Johan Fogelklou, and Jens Siverstedt. However, the line-up changes again and again over the years and Gustaf Norén, Samuel Giers and Mats Björke join the group and others say goodbye to the rock group. Only the frontman Björn Dixgård and the bass player Carl-Johan Fogelklou have been with us from the beginning and until today. Her steep career began in clubs and bars in Sweden and has continued internationally after her first record deal. The band has now played over 1500 concerts in more than 30 countries.
As the main act, Kool will see Savas on the big stage on Domplatz. He is now 45 years old and has probably achieved everything that a rapper in Germany can achieve. Even the numerous gold plates and trophies that have accumulated in his closet over the past two decades do not even come close to doing justice to its importance for the rap scene in German-speaking countries. He raised the radically honest Battlerap to a new technical level and only then made it socially acceptable. His often successful feat of linking aggressive spoken chant to catchy hooks that are compatible with the mainstream continues to serve as an inspiration for a whole generation of different artists to this day. Without causing calculated scandals, Savas has never lost its relevance at any point in his career, has worked with pretty much all the great representatives of his genre over the years and is still considered the strongest live MC in the country.
"The program for the Domplatz Saturday is impressive," emphasizes Ana Voogd, Managing Director of Münster Mittendrin GmbH and promises: "Pure party and music enjoyment! The 'King of Rap' Kool Savas meets the international headliner Mando Diao. We have been striving for this act for years. Now we can finally confirm. "Samy Deluxe, to whom he was originally signed for Saturday, will not perform.
The Saturday tickets go on sale from Thursday (25.11.21) at 11:00 a.m. onwards. For the city festival Friday, some tickets bought in 2020 or 2021 were returned. This means that around 500 tickets will be on sale again. Sunday is completely sold out. Tickets that have already been purchased for 2020 and 2021 are still valid in 2022 despite the postponement.
Die Tickets für die Domplatz-Konzerte kosten 19,40 € inkl. Gebühren und sind unter anderem online auf www.eventim.de erhältlich. 
similar posts