It happened! Cherry season hit the LA markets and deliveries and I am living my truth. Typically I'm a cherry straight to the face kinda gal, but I'll make an exception and bake them for this Cherry Clafoutis!
Okay so let's get a few things out of the way up front. One – pitting cherries can be a pain in the butt at times. However, someone sent me this cherry pitter a few years ago and it's so easy I can't even complain.  Two – before my cherry pitter came into my life, I would only eat cherries raw. AKA – straight from the farmers market, right into my mouth, spit out the seed style. It's really who I am at my core. But the world has opened up to me since I started baking with them and it's time. Cherry season is SHORT so we have to soak it up!
If you've never had or heard of a Clafoutis before, it's a baked French fruit dessert that has a thick flan-like batter piled on top. It's usually dusted with powdered sugar and served semi-warm and in my opinion, should always have a dollop of freshly whipped cream. It's perfection. Easy to make and easier to eat – my favorite kind of recipe!! So hop to it, go grab some cherries from your local market and make this Cherry Clafoutis over the weekend!
Also – you could totally skip the cherries if you're making this at any other time of the year and use another fruit – peaches, blackberries, blueberries… skies the limit!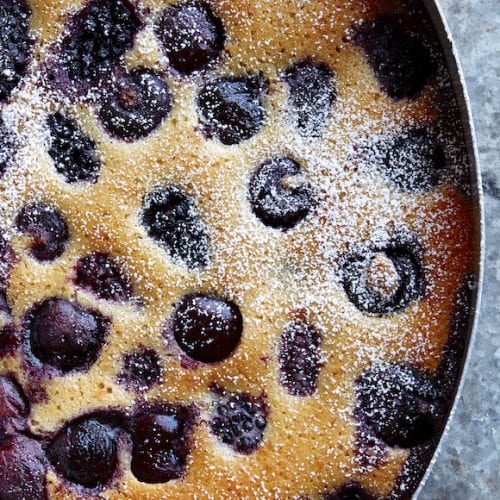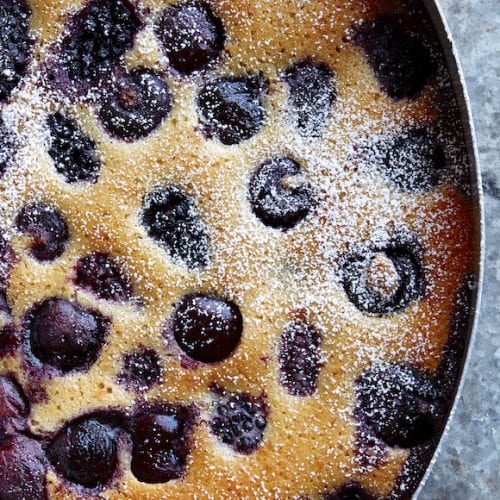 Cherry Clafoutis
Gaby
This Cherry Clafoutis is the perfect way to use all those cherries during the summer season! It's quick, easy and SO FREAKING GOOD.
3

large eggs

¼

cup

white sugar

¼

cup

brown sugar

6

tablespoons

unsalted butter

melted and cooled (plus extra for greasing the pan)

1

cup

all-purpose flour

½

teaspoon

kosher salt

1

cup

almond milk

½

teaspoon

almond extract

½

teaspoon

vanilla extract

1 1/2

cups

sweet cherries

pitted

1

cup

blackberries

Powdered sugar for dusting
For the whipped cream
2

cups

heavy cream

chilled

2/3

cup

powdered sugar

1

teaspoon

vanilla bean paste or 2 teaspoons vanilla extract
Preheat oven to 400 degrees F.

In a large bowl, whisk together the sugars and eggs until pale yellow. Slowly add the melted cooled butter until evenly combined. Add the flour and salt and whisk until the batter is a smooth.

Slowly pour in the milk, whisking until smooth and shiny. Add both extracts and stir to combine.

Butter a 9 inch baking dish or skillet.

Place the cherries and blackberries in a buttered baking dish or skillet. Pour the batter over the fruit.

Bake 25 to 30 minutes, until lightly browned. Remove from the oven and let sit at least 15 minutes before dusting with powdered sugar. Serve and dollop with whipped cream
5 Tips from a Private Chef email series
Get my latest recipes + my bonus 5 Tips From a Private Chef email series