[The Epoch Times, June 23, 2022](Reported by English Epoch Times reporter Louise Chambers / compiled by Zhang Yufei)A three-legged dog fighting cancer in Minnesota, USA, while walking by the river a few days ago, with keen observation, rescued an otter cub from the river that was separated from its mother in time, much to the joy of the owner and his family.
Gus, a 6-year-old golden poodle living in St. Mary's Point, was diagnosed with cancer in early 2021, and in February of this year, his right hind leg was amputated due to a malignant tumor. Still undergoing chemotherapy at the University of Minnesota Animal Hospital. But this friendly, happy dog ​​didn't lose his energy and still faced life positively.
Not long ago, retired breeder Cleo Young (Cleo Young) took his family and Gus to the nearby St. Croix River for a walk.
"Our whole family was out for a walk, and my son was tying a new rope to a flagpole while others watched and offered some help," Cleo told The Epoch Times. "Suddenly, our dog The dog jumped into the river."
After it was launched, it swam about 50 feet (15 meters) away, appeared to be trying to find something, and then returned to shore, apparently with something in its mouth.
"It brought it to the shore and our two granddaughters, Ella and Lucy, ran up right away. They found it was a baby otter about a week old and there were signs of life." Cleo said.
The photo shows that this little otter looks very cute, the eyes have not been opened, the whole body is curled up like a small ball, and the small white pointed nails and the small tail are very prominent.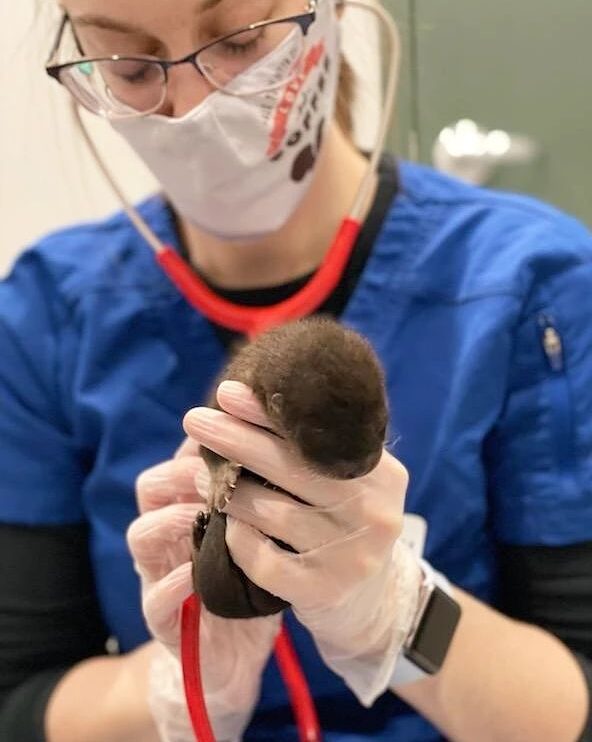 After seeing the baby otter, the family first held it to look for its mother at the scene, but could not find it, so they quickly washed the sand off its body with warm water, wrapped it in a towel, and drove to Roseville. Wildlife Rehabilitation Center of Minnesota.
Medical staff estimated the baby otter was only about a week old and not yet able to swim on its own. Generally speaking, such a small otter should stay in the den with its mother.
"It was very windy that day, maybe their nest was blown into the river, so the baby otters were trapped there," Cleo speculated.
For the first 36 hours, the veterinarian was very worried about the little otter, because it was cold all over and didn't know if it had sucked water, which might lead to pneumonia, but fortunately it was not serious in the end. After a few days of observation to stabilize his condition, he was transferred to another rehabilitation center with a swimming pool for further care.
It is worth mentioning that the local media reported this particular rescue story afterwards, interviewing Cleo and her family, and Gus was called a well-deserved "hero".
Cleo was pleasantly surprised that she was worried that Gus' life would change forever after the amputation, and that he wouldn't be able to run as well as he used to, but instead, he's adapted to walking on three legs, running as fast as he used to, and This heroic rescue also proved that the pain experience in the past two years did not affect its gentle and kind character.
Responsible editor: Han Yu#