GARDERMOEN (VG) Greece has asked Norway for help. A Norwegian team of 22 people will be sent to Moria on Monday to assist.
The Norwegian team consists of 17 doctors and nurses, including pediatricians, midwives and gynecologists, in addition to five people who will take care of security, logistics and information.
They must bring medical equipment equivalent to 40 pallets, and can handle up to 100 patients a day.
The medical director is Johnny Aslaksen, who works daily at the Civil Defense in Hordaland. Earlier this year, he, along with several others in the team, was in northern Italy to help the country during the corona crisis.
Also read: The Norwegian team's field notes from Italy.
The team is EU-certified and is a collaboration between the Directorate for Civil Protection and Emergency Planning (DSB) and the Norwegian Directorate of Health.
– We have good professional conditions and are well trained, says medical manager Aslaksen during a press conference on Monday.
He states that the team was mobilized on Friday and has spent the weekend training on infection control, heart disease planning and preventive measures.
The team will be in Greece for up to four weeks.
– Rests when we get home
– What have you prepared for?
– We do not know exactly what will meet us. We know that it is a difficult situation, says Bjarte Askeland, senior medical advisor at Haukeland Hospital.
He emphasizes that the Greek authorities are doing their utmost to set up a new camp for the refugees who have now lost their homes.
Askeland says that they are unsure whether covid-19 will be the main problem.
– Are you worried about the unrest there now?
– The host nation Greece insures our safety and security, but we do not always have the opportunity to influence the environment, says medical manager Aslaksen.
He emphasizes that they feel confident that everything is being done to make us feel safe down there.
– We go out on special terms, we work as long as the job is needed. Then we rest when we get home, he says.
State of emergency
Approximately 13,000 migrants and asylum seekers have been housed in the Morial Camp on the Greek island of Lesbos, after Europe closed its borders to the country. Last week, coronavirus was detected in the tenant. A little later, violent fires broke out in the tenant, which is now in ruins.
Thousands of migrants have sought refuge in, among other places, ditches.
Greek authorities had previously declared a four-month state of emergency on the island, following growing conflict between asylum seekers and the rest of the population.
Background: This is what the Moria camp looks like after the big fire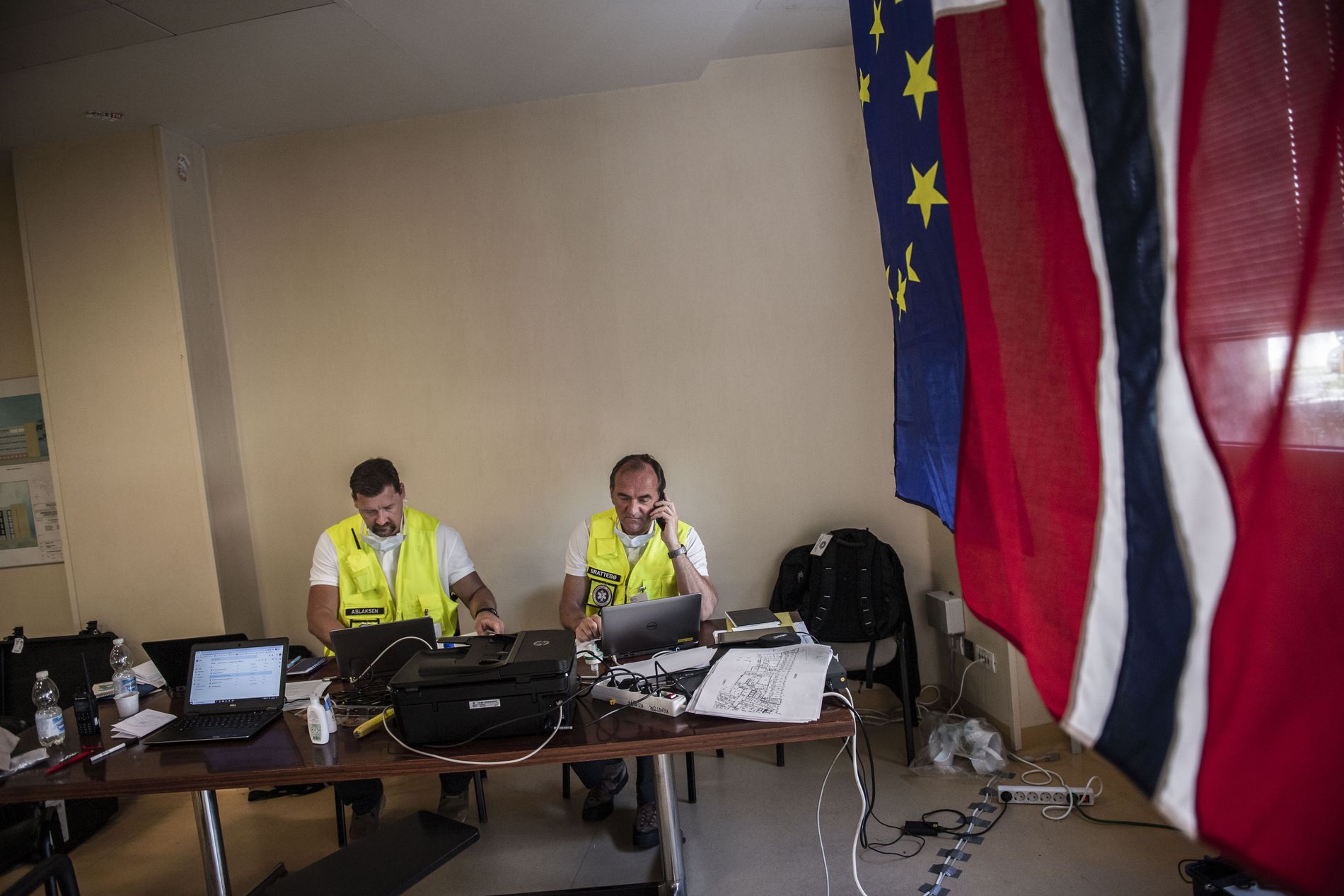 Quick decision
Last week, the Norwegian government decided to send a team to contribute after the fire in the Morial camp, the day after they received a request from the Greek authorities for assistance the day before.
The team is the same that was used in northern Italy this spring, and during the Ebola outbreak in Congo last year. They have great knowledge in assisting in crisis situations, and are always on standby. The 25 come from hospitals across the country.
Initially, the Norwegian team has been asked to assist for two weeks.
The ultimate responsibility for the disaster response team lies with the Directorate for Civil Protection and Emergency Planning (DSB).
How much it will cost to send the team is currently unclear.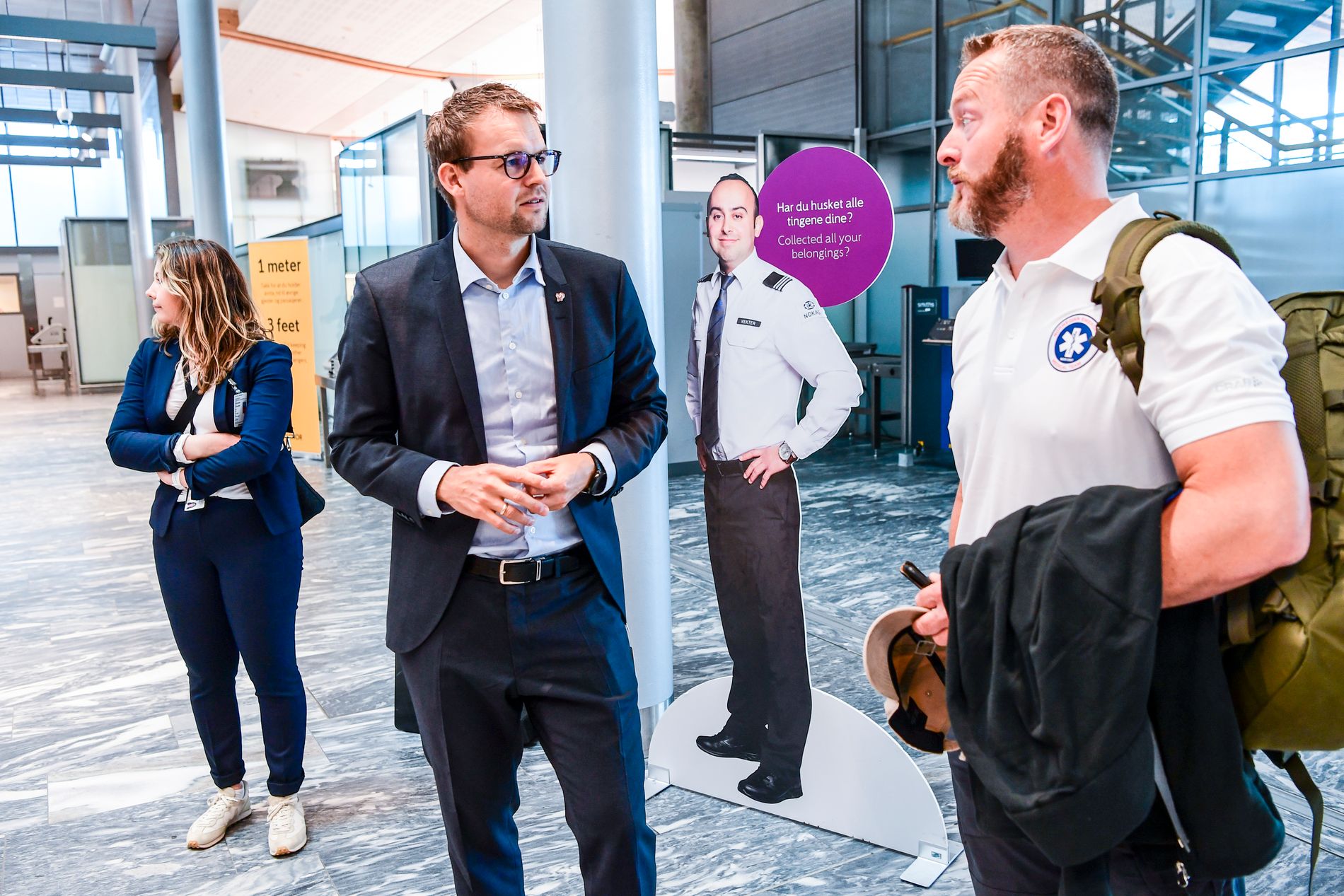 Intense conflicts
In response to the chaotic situation on the island, Greek authorities have deployed rebel police from the Greek mainland to prevent migrants from entering the city of Mytilene. This comes after locals and authorities revolted against the rebuilding of the Moria camp.
At the same time, Greek authorities have used helicopters to transport what is needed to rebuild the camp. In another part of the island, a ship has been ordered to house 1,000 migrants. So far it is not in operation.
Norway has decided to bring 50 children out of Moria. There are criticisms of the decision from several quarters. Many believe that the number of asylum seekers is far too low.
– Why does Norway not consider more than 50?
– We have said that we will get 50, we will carry it out as soon as possible. Then we have said that we will pick up 3,000 refugees in total. We know that there are millions of people on the run and it is a terrible situation above average.
– When do you decide who from Moria will be allowed to come to Norway?
– The government has said that we will pick up Syrian families with children. We know that there are more people there who are not entitled to a residence permit, so we pick up those with the greatest need for protection who are likely to receive a residence permit in Norway.
Ropstad states that it is too early to say when they will have the opportunity to bring the 50 refugees from Mora.
Former Foreign Minister Knut Vollebæk is one of those who have argued that Norway must accept more than 50 refugees from Greece.
VG Discount Codes
A commercial collaboration with kickback.no