The building where the first Cruzcampo beer was made, in 1904, reopens its doors 117 years later. This time, the space turned into Cruzcampo factory is reborn in Seville with a social purpose: to develop the talent of young people to improve their employability in the hospitality industry.
"In the pandemic, we saw that there were two sectors that were having a very bad time: the hospitality industry and the youth sector. So we decided to focus all our resources on training young people to put the best hoteliers in the sector, "says Regla Bejarano, director of the Cruzcampo Foundation. The company and its foundation They have invested six million euros in promoting Talento Cruzcampo, a program with a social purpose aimed at young people of various roots between 18 and 30 years old. "The only thing we ask for is a certain interest in the hospitality industry, an open and inclusive mindset, authentic character, a certain social conscience and, above all, an attitude," he emphasizes.
This year the factory will host 150 students. The first promotion of Talent, made up of 40 students of eight different nationalities, has already completed their training, both in the living room and in the kitchen, according to Javier Solano, one of the teachers. "We listen to the market, we see their real needs and our commitment is to give a real response to what they are demanding, which right now is a very versatile professional profile," he clarifies. Thus, the program is also based on a third objective dedicated to new capacities, such as resilience, awareness of the environment or stress management during service.
The training consists of ten months of apprenticeship at the Factoría Cruzcampo facilities and two months of internships in national restaurants with some of the highest level hoteliers. Among the centers that collaborate with the foundation are, for example, 20 Michelin-starred restaurants, run by leading chefs such as Martín Berasategui, Dani García or Andoni Luis Aduriz.
Starting in June, the space will open its doors to the public as an urban microbrewery to taste the artisan varieties there or enjoy experiences of beer culture. Each visit, of the 15,000 estimated per year, will contribute to the social action of the brewery, since for every euro contributed by the visitor in 2021, the Cruzcampo Foundation will allocate ten in more training for the employment of young talents in the hospitality industry. "Absolutely all the proceeds we get here will be invested in the foundation's social programs," says Bejarano.
It will be a space totally dedicated to beer culture, creation and innovation. In its facilities, the entire beer-making process will be revealed, from the inspiration of its young master brewers, through the creation of recipes, ingredients and the artisanal process of its preparation. In addition, tourists can enjoy experiences such as a blind tasting for ten euros or a paired tasting for 20 euros.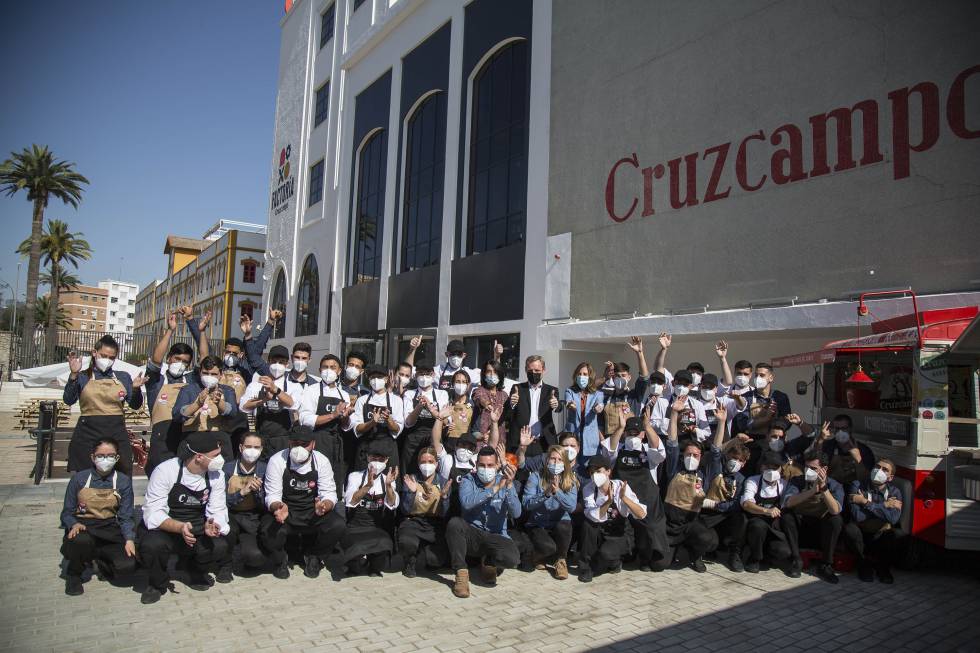 The 1,300-square-meter factory has the capacity to produce up to 95,000 hectoliters of beer per year, about 380,000 reeds. Its beer masters are Juan Jiménez and Irene Pascual, two young people who are in charge of experimenting and innovating with different ingredients and artisan varieties. "We have total freedom
creative to innovate both with local ingredients and with other crazier ones, "says Jiménez. At the moment, Factoría Cruzcampo has seven different artisan varieties, but they hope to reach the 30 recipes throughout the year, some made in small limited batches. All of them, according to Pascual, "with a marked personal accent, very Andalusian". Because "Seville in spring smells of orange and orange blossom, that's why we have added orange blossom honey and bitter orange peel to our wheat beer," he explains about a new beer, La discará.
The foundation has already received more than 500 applications to participate in the program. "Our goal is to help them, prepare them to improve their employability or even start their own business," defends its director.
Seven beers with an accent
In Factoría Cruzcampo you can enjoy up to seven different artisan varieties.
Download it. Belgian variety with orange blossom honey and orange peel.
Mijita. With a mijita alcohol (1.6%), it has spicy, sweet and typical notes.
Flame. Intense flavor and body, with a sweet touch and the leading role of the malt.
Elf. IPA variety with a refreshing, bitter and aromatic touch.
Wheat on the branch. Wheat, with aromas of banana and cloves.
Fetén. APA type. Light, refreshing and very aromatic.
Pinch. The lightest of all, dude session.
.