[Epoch Times, September 23, 2022](The Epoch Times reporter Zelin Atlanta reported) On September 17 (Saturday), the Atlanta Chongyang Association (AASCA) held 31 Anniversary celebration. The celebration will be held from 11:30 am to 3:00 pm and officially open at 12:30 pm. The organizer prepared a sumptuous lunch, congratulatory champagne, and performed well-planned song and dance, variety shows and many lottery shows with members for the celebration.
At the celebration, Mr. Chen Zhaoki, president of the Atlanta Chongyang Association, said that it has been two years since there has been a meeting, because of the epidemic, and this year was finally able to gather to celebrate the anniversary of the Chongyang Association. In the past 31 years, according to Chairman Chen Zhaoki, a total of 832 people participated in the Chongyang Festival. The Chongyang Association has been able to grow steadily. He thanked the previous presidents and the overseas Chinese community for their support in helping the Chinese elders to celebrate their old age.
Chen Zhaoki also pointed out that the Chongyang Festival has recently received sponsorship from many people, such as "golden sponsorship", by six overseas Chinese people, including "Four Seas You Long" Mr. Qiao Weizhi, "Yougu Canglong" Mr. Zhong Bin, "Chengbei Xuanlong" "Atlanta Group of Dragons" formed by Mr. Wu Mingping, "Xiangjiang Shenlong" Mr. Huang Wuxuan, "Yao Tianqinglong" Mr. Liu Jianming, and "Live Hong Kong Dragon" Mr. Feng Jingliang donated 4,000 US dollars to help the Chongyang Association. On behalf of the Chongyang Association, Wu Yue, the chairman of the Chongyang Association, accepted this extra-large "cheque" and expressed his high appreciation for the righteous deeds of Qunlonghui.
Afterwards, the people who attended the celebration opened bottles of champagne and toasted to celebrate the birthday of the Chongyang Club. People watched well-prepared shows and raffles while enjoying a sponsored lunch. Ou Hongwei, director of the Overseas Chinese Education Center, also came to congratulate the anniversary of the Chongyang Association.
In the subsequent performance, the hosts of the program were Sun Dehua and Xu Lin. The well-prepared and lively programs included: fancy drumming "Jiangnan Times", male solo "The Mood of a Prodigal Son", group duets "Remembering Hometown" and "Riding on the Ridge" ", sailor dance "Kangba Love", Chinese and English bilingual girls solo "Tears of a Lover", dance "Water Village in a Dream", folk music ensemble "Pinghu Qiuyue" and "Testing Horses in Spring Suburbs", duet dance "Ten Mile Peach Blossoms", and Line dance and more.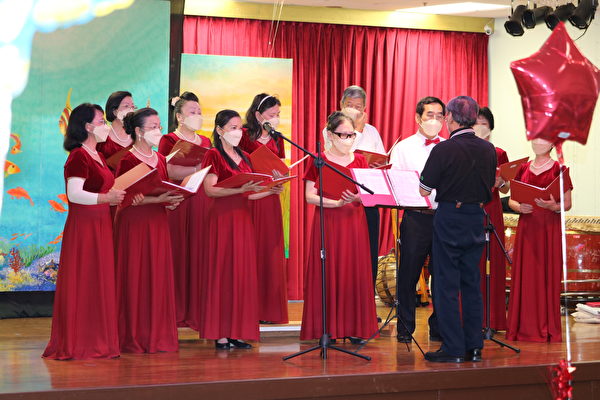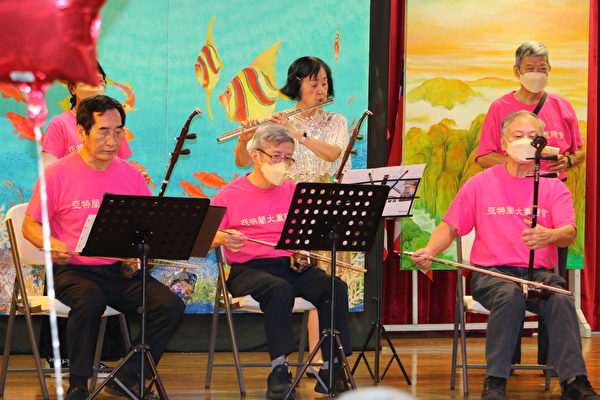 Responsible editor: Hao Li