November 15, 2022
〒329-3223
1042-1 Oshima, Nasu Town, Nasu District, Tochigi Prefecture
Tel: 0287-77-1110 FAX0287-77-2001
URL https://www.nasu-oukoku.com
【PRESS RELEASE】 
To
Olivia the gray parrotFIFAworld cup qatar2022 Predict the outcome of the group league against Japan

At the Nasu Animal Kingdom, Olivia the Gray Parrot will perform a fortune-telling of the match against Japan in Group Stage Group E of the FIFA World Cup Qatar 2022 in front of customers. Group E is a round-robin of four countries, Japan, Spain, Costa Rica, and Germany.
Olivia was famous as a parakeet that told customers' fortunes, but since 2014, she has been active in sports fortune-telling. Since 2017, he has appeared in the Free Flight Bird Performance, and has also performed performances such as flight and chatting. Please refer to the attached sheet for the fortune-telling results of each year.
[Program content]
Reminder Date: November 21, 2022 (Month)
Contents: An Olivia-sized soccer goal will be set up on an artificial turf that looks like a soccer field, and the national flags of the two competing countries and the tie flag will be prepared under the goal. Olivia walks on the artificial turf, holds the expected flag in her mouth, and brings it to the staff.
Venue: Kingdom Farm Sky Stadium (In case of rain, Kingdom Town Animal Stadium)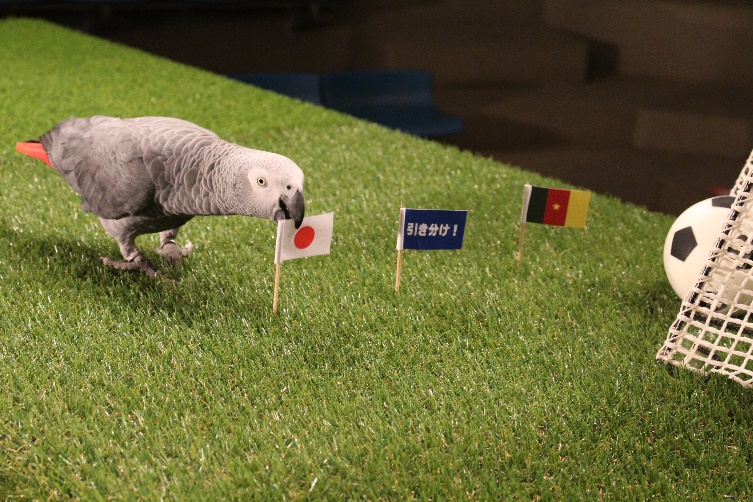 Time: 11:30~ (conducted after bird performance)
Participation fee: Free (separate entry fee is required)
[About Olivia]
Nickname: Olivia
Species: Gray Parrot
Age: 17 years old
Gender: Male
[About the fortune-telling game]
Japan time November 23, 2022 (Wednesday) 22: 00 ~Japan×Germanybattle
Japan time November 27, 2022 (Sunday) 19:00-Japan×Costa Ricabattle
Japan time December 2, 2022 (Friday) 4:00-Japan×SpainBattles A total of 3 battles will be predicted.
* Depending on the infection situation, the event contents may be changed or canceled in a hurry.
* Depending on the state of the animal, it may be canceled suddenly.
Nasu Animal Kingdom Public Relations Manager 1042-1 Ooshima, Nasu-machi, Nasu-gun, Tochigi Prefecture 329-3223 TEL. 0287-77-1110 FAX. 0287-77-2001 Kingdom Public Relations Manager Sakura Miyaji, Azusa Nakabayashi, Moenami Ueda