* Click the photo to enlarge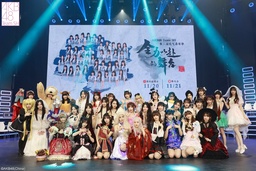 PRNewsfoto/Shanghai ShangYue Culture Development Co., Ltd.
[Image:https://kyodonewsprwire.jp/img/202111243894-O1-p6mfu8jH]
AsiaNet 93247 (2965)
[Shanghai November 24, 2021 PR Newswire = Kyodo News JBN]On November 20-21, 2021, the 2nd Genki Carnival was held at the Quiet Sports Center for two days, and AKB48 Team SH (Shanghai Shangyue Culture Development Co. , Ltd.'s idol) sang dozens of songs, including 5 new singles, and changed into 180 new stage costumes with 40 elaborate stage settings to show fans an energetic experience. .. 37 team members appeared. The concert and Janken tournament event to celebrate the 3rd anniversary of AKB48 Team SH rewarded the fans with the best performance ever. 1st gen Liu Nian was selected as the center of the new single "Ogoe Diamond", and 4th gen Chen Jiayi won the rock-paper-scissors tournament.
On the first day, AKB48 Team SH will start with the opening song "TSH Visit!", The new singles "Zipper", "Uniform Resistance", "DemoDemo no Namida", the classic "No Way Man", and "We". Will not fight "and other 30 songs. In the encore, a dance version of the hit song "D-AAA" of sister group BNK48 was shown as a surprise. With lots of new and fresh content, a rethought-out stage design, a lineup of costumes you've never seen before, and a constantly changing membership of each song sung, the three-hour concert is a truly entertaining audiovisual for the audience at the venue. Provided an experience.
On the second day, AKB48 Team SH performed 10 songs such as "UZA" before the release, Team SH's first Chinese original song "Chiaki Ordinance", and the hit song "Darkness" as a warm-up. After the performance, AKB48 Team SH's first rock-paper-scissors tournament was held to decide the performers of the new single "Chance no Junban", and the members appeared on the stage one after another with self-selected costumes and strange autographs. In the final rock-paper-scissors game after 5 rounds, 4th generation member Chen Jiayi won the championship and won the center position of "Chance no Junban". The tournament reaffirmed the timeless maxim "Luck is power" by AKB48 founder Yasushi Akimoto.
On the night of November 21, 16 members including Liu Nian, Gui Chuchu, and Zhu Ling of the center singing "loud diamond" were announced. Also announced were four trainees who passed the training and became official members.
ソース:Shanghai Shangyue Culture Development Co.,Ltd
Image attachment link:
Link: http://asianetnews.net/view-attachment?attach-id=408506
(Photo description: PR Newsfoto / Shanghai ShangYue Culture Development Co., Ltd.)