Lead The Mosaic Band's first concert will be airborne in Chengdu in October! It will be held in Chengdu Huaxi LIVE on October 30, 2021 (Saturday).
  [Chengdu]Mosaic Band 2021 Synth Live Tour Chengdu Concert
Time: 2021.10.30 Saturday 19:30
Venue: Chengdu | Huaxi LIVE·528M Space
Ticket price: 280/320 yuan
  ➤Click here to enter the ticket purchase entrance
  【Admission Notice】
·This project is a non-seat project, divided into two areas, A and B, regardless of front and back.
·Before entering the venue, please cooperate with the local epidemic prevention inspection work, wear a mask, and show the health code to enter the venue.
·Please cooperate with the ticket inspection for admission. One person, one ticket is required to enter the venue. Tickets for this show are valid for one entry, and sub-tickets are privately invalid.
·All children enter the venue with an adult ticket
·There is a laser light effect in this field. Please do not use mobile phones/cameras and other electronic devices to shoot directly at the laser light, and do not look directly at the laser light with your eyes.
On October 30, 2021, the first concert since the formation of Mosaic Band will start soon!
Chengdu Huaxi LIVE·528M Space-This iconic and advanced super venue is not only the ultimate station of Macross 2021 Synth Live Tour, but also a place to witness the opening of a new chapter in Mosaic's 13-year music career .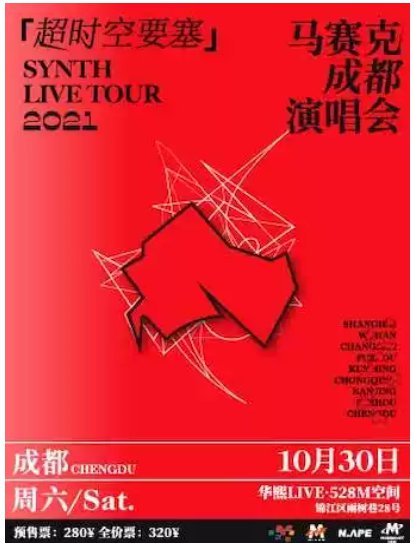 ✌smallHave something to say: Do you want to get more information about the Chengdu concert?WeChat search and follow【Chengdu local treasure]send keywords in the chat dialog box[concert】, you can get the schedule of recent concerts in Chengdu, and you can directly buy performance tickets!Also send keywords[music Festival】, view details of recent Chengdu music festival activities, includingTime and place, guest ticketswait!