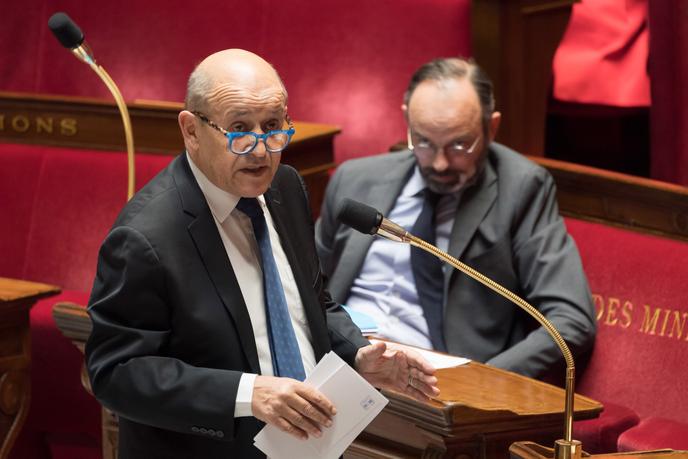 France will devote "Almost 1.2 billion euros" the fight against the spread of Covid-19 in Africa, announced the French Minister for Foreign Affairs, Jean-Yves Le Drian, Wednesday April 8. It will not be new money, but a different allocation, since Mr. Le Drian clarified before the Foreign Affairs Committee of the National Assembly that it will be about the redeployment of"A substantial part of our development aid on health and food issues for almost 1.2 billion euros".
"The needs are immense", he stressed, according to the text of his speech, calling for strengthening "Healthcare systems" in Africa as well as "Detection and scientific research capacities by supporting African research". Must also "Ensure considerable financial mobilization", insisted the French Foreign Minister, inviting the G7 and the G20 to work in this direction.
Read also
Coronavirus: EU guarantees EUR 15 billion for the most vulnerable countries
The European Union (EU) guaranteed the granting of "More than 20 billion euros" to the most vulnerable countries in Africa and the rest of the world to help them fight the Covid-19 pandemic. But then again, these are announcements that do not specify whether it is extra money or the reallocation of funds already planned.
"Catastrophic predictions"
"We will probably have to envisage the organization of a humanitarian air bridge from Europe to transport aid", added Jean-Yves Le Drian, specifying that Paris will notably help the NGO Alima in Senegal, Guinea, Burkina Faso and the Central African Republic for the care of the sick, as well as Doctors of the world at the Kinshasa hospital , where patients in very serious condition are admitted. At the same time, the capacities of the Institut Pasteur's laboratories will also be increased in Cameroon, the Central African Republic, Madagascar, Guinea and Senegal, the minister said.
The French foreign minister also pleaded for " a moratorium " on the payment of interest rates, or even "Cancellations or restructurings" debt in the most affected countries.
Read also
Coronavirus in Africa Endangers Leading Elites
He finally condemned the "Shocking remarks and even morally and humanly scandalous, on experiments which, supposedly, should be done on Africans". Two French researchers have indeed sparked a controversy by suggesting that Africa could be used as a laboratory for tests of vaccine against Covid-19. Jean-Yves Le Drian also rejected "Certain catastrophic predictions" from the analysis center of his ministry, which foresees the collapse of "Fragile regimes" or "At the end of the course" in Africa due to coronavirus. " I do not [les] not sharing at all ", he assured.